Dads, do you struggle sometimes? Who do you reach out to for help? Debbie Pattison, a qualified counsellor at Fegans can answer your questions. Send them in to Ask Debbie at info@dad.info and if she can she will answer. Today's question is from a dad with low self-confidence.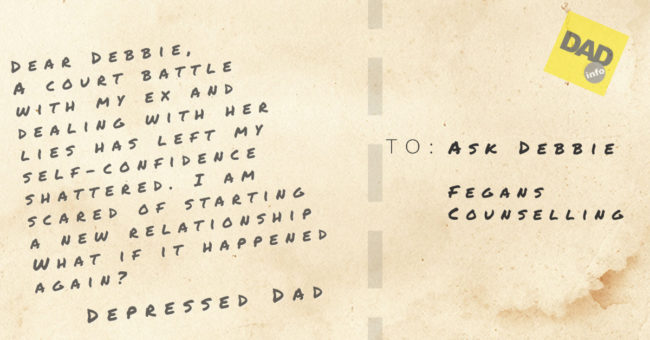 I am a depressed Dad. After a court battle with my ex-partner and dealing with lies about me, I don't have any self-confidence. I am scared of starting a new relationship with anyone in the future. What if it happened again?
Depressed Dad
Dear Dad
You have been through so much. A court battle in itself is quite an ordeal, but together with all of the lies that have been told about you too is doubly impacting. I am not surprised that you are feeling depressed, and feel that your self-confidence is at a low point.
Firstly give yourself a big pat on the back for getting through this difficult time.
I am wondering what you feel you have learnt from this relationship. Now feels a good time to really look at this relationship and to determine what you would like from a new relationship. What qualities would you like in a partner and what do you feel you would be able to bring to a new relationship?
It would also be helpful to look at what you didn't like about this relationship.
Have you considered counselling?
Counselling would be a really good way to explore relationships and to also help you to rebuild your self-confidence. I am sure you have much to bring to a new relationship, and by exploring these things it will help you to see what you do and don't want in a future relationship.
We offer zoom counselling, which is a great way to access counselling at a day and time to suit yourself. Please see the link below to access this.
Warm wishes
Debbie
About Debbie

Debbie is an experienced counsellor and advocates for children and adult's mental health.
Find out more about online counselling with Fegans
Our counselling sessions cost £48 (they are therapy not legal advice, for divorce and separation support please use our forum). If you would like to find out more information about our online counselling, provided by experienced and qualified counsellors leave your details below and Debbie will be in touch for an informal chat to talk through the process and the costs. We work with young people (aged 10 and over) and parents.