Dads, do you struggle sometimes? Who do you reach out to for help? Debbie Pattison, a qualified counsellor at Fegans can answer your questions. Send them in to Ask Debbie at info@dad.info and if she can she will answer. Today's question is from a second-time dad…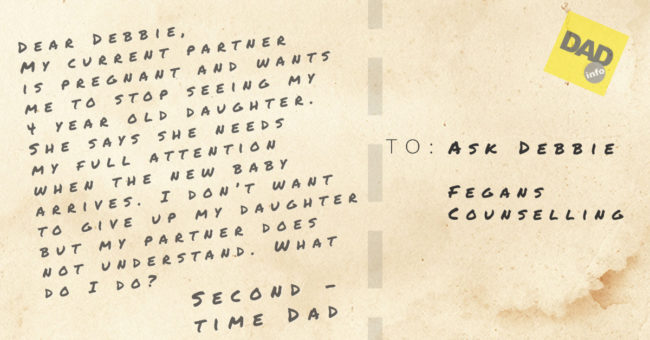 I am a Dad. I have a four-year-old daughter and my current partner is pregnant and wants me to stop seeing my daughter. She said that she needs my full attention when the new baby arrives. I don't want to give up my daughter, she is my best friend but my partner does not understand. What do I do?
Second-time dad
Dear second-time Dad,
I really feel for you in this very difficult situation. Your partner knew that you had a daughter when you met. Her request for you to stop seeing your daughter and to give your full attention to her and the new baby is not ok. This smacks of controlling behaviour and needs to be stopped in its tracks. Stick to your guns here and refuse to stop seeing your daughter. Your daughter very much needs you too and would be very impacted if you suddenly stopped seeing her.
I would suggest sitting down with your partner and gently explain that the new baby will have lots of your love and attention but equally so will your 4-year-old daughter.
I am wondering if counselling would be helpful here. It would offer you a safe, supportive and confidential space to work through this problem and help you to resolve this in a calm and boundaried way.
Warm wishes
Debbie
About Debbie

Debbie is an experienced counsellor and advocates for children and adult's mental health.
Find out more about online counselling with Fegans
Our counselling sessions cost £48 (they are therapy not legal advice, for divorce and separation support please use our forum). If you would like to find out more information about our online counselling, provided by experienced and qualified counsellors leave your details below and Debbie will be in touch for an informal chat to talk through the process and the costs. We work with young people (aged 10 and over) and parents.