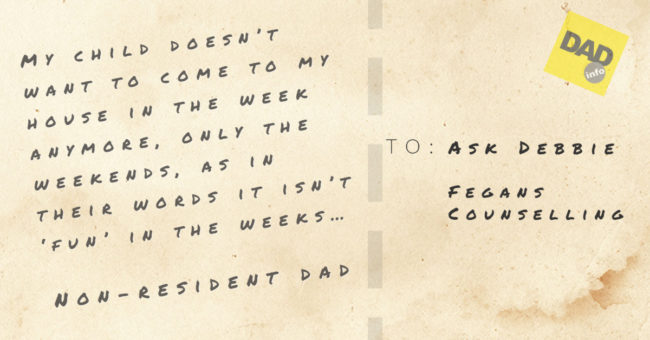 Hi Debbie,
Just before Christmas I was awarded shared residency of our child. We have been in and out of court since they were born. A couple of weeks ago our child didn't want to come to me in the week anymore, because it isn't fun.
They then went home and told mum they felt pressured, it has spiralled out of control since.
Shared residency Dad
Dear Dad
I really feel for you in this difficult situation. It can feel so hard to understand why your child has suddenly made this decision. Especially if up until now this arrangement has worked so well.
Be child-led
The important thing here is to act in your child's best interest. Put your child's needs ahead of your own. It can be common for children with shared residency to sometimes refuse to leave one parent to stay with the other.
There can be many reasons why a child may suddenly refuse to visit at certain times. It can be that the child doesn't feel heard. Often they worry that the other parent may feel sad or anxious whilst they are away. Sometimes it could be that they believe visitation will interfere with their social life, an after-school activity/sport, or other plans.
Try to go with the flow.
Whether you have detected the reason of the refusal or not, try to give your child the space and time that they obviously need. It may have nothing to do with you at all. And take heart; most cases of visitation refusal are temporary. A heart to heart with your ex about the refusal may be challenging and emotional, but can help you figure out what the problem is. Try to remain sensitive and understanding to your ex as you discuss this sensitive subject.
I am wondering if counselling would be helpful for you here. Our zoom counselling would offer you a safe, confidential place to explore your thoughts and feelings here and provide support to you during this difficult time.
Please see the link below for our online counselling.

To find out more about online counselling with Fegans leave your details below
Our counselling sessions cost £48 (they are therapy not legal advice, for divorce and separation support please use our forum). If you would like to find out more information about our online counselling, provided by experienced and qualified counsellors leave your details below and Debbie will be in touch for an informal chat to talk through the process and the costs. We work with young people (aged 10 and over) and parents.