Help and Advice on managing your debt.
Dealing with your debts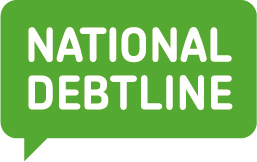 There are lots of reasons why people fall into debt. Whatever your situation, it is important to get free and independent debt advice.
We have teamed up with National Debtline to help you take the first steps towards dealing with your debts.
How National Debtline can help
National Debtline is a charity that gives advice to people with debt problems. Their advice is free, confidential and independent. National Debtline also produces a Dealing with your debts pack. This handy guide takes you through the four steps of dealing with debt.
Step 1: Increasing your income
Make sure you are receiving all the money you are entitled to. Use this section to see if you can increase your income before you work out your personal budget. Find out about the different types of help available and where to find more information. Advice includes:
claiming benefits, tax credits and Universal Credit;
making sure you are being paid at least the minimum wage and that you are paying the right amount of tax;
tips on increasing your household income; and
help from grants, advances and loans.
Step 2: Working out your personal budget
A personal budget is a vital tool to use when negotiating with your creditors. This section of National Debtline's pack guides you through filling in a personal budget. When working through this section of the pack you can:
work out the income for you and your household;
work out how much money you need to spend on essential living costs;
calculate how much money you have left to pay your creditors;
work out what to pay towards your priority debts;
work out offers of payment to non-priority debts; and
fill in a budget summary for your creditors.
Step 3: Dealing with your priority debts
Priority debts are the ones you need to start paying off first. These creditors are more important than others. They may have the power to repossess your home, send bailiffs or even disconnect your electricity and gas. This section of National Debtline's pack gives advice on how to deal with your priority debts including:
mortgage and rent arrears;
council tax debt;
gas or electricity arrears;
magistrates court fines;
benefit overpayments; and
TV licence.
Step 4: Dealing with your non-priority debts
Non priority debts are those where the creditor does not have extra powers to make you pay. The options you have for dealing with non-priority debts vary and depend on your circumstances. Whether you have some money to pay your creditors or no money left, this section takes you through the options you have available. It also gives practical advice on how to communicate with your creditors and what to do if things don't quite go to plan. You can find advice on:
pro-rata offers of payment;
free debt management plans (DMPs);
individual voluntary arrangements (IVAs);
administration orders;
nil or token offers;
bankruptcy; and
debt write off.
Online debt advice
National Debtline's website has all you need to get started on tackling your debts. You can find information, fact sheets and sample letters to help you to negotiate with your creditors.
Fact sheets
National Debtline's website has a library of over 50 fact sheets. They give detailed advice on how to deal with a wide variety of debt situations. Whether you need advice on stopping county court bailiffs or you need help with budgeting and saving, there is information and advice for you.
Sample letters
You can use their sample letter suite to write to your creditors. The content is written for you so you don't have to worry about what to write. Just add the contact details for you and your creditor and the account number and you are ready to go. You can also add any additional information that you think might be helpful. You can print your letter and post it or download it and email to your creditors.
Webchat with an adviser
You can browse National Debtline's website and webchat with one of their experienced debt advisers at the same time. Their debt advisers can help with anything from a simple debt query to full advice based on your circumstances. Their webchat service is available from 9am to 8pm, Monday to Friday and from 9:30am to 1pm on Saturdays.
Online personal debt advice
My Money Steps is National Debtline's interactive online debt advice tool. It takes just 20 minutes to answer a few questions about your circumstances. My Money steps will then give you a personalised action plan, setting out practical steps to help you deal with your debts.