Two American Dads – Neil Armstrong and Buzz Aldrin
At 3.17pm on the 20th July 1969, two families including six very excited children sat glued to black and white television sets. They watched, along with the rest of the world, as their Dads marked a major milestone for mankind. 50 years ago, the Apollo 11 lunar landing craft carried two American dads, Neil Armstrong and Buzz Aldrin to the moon and safely back to their children.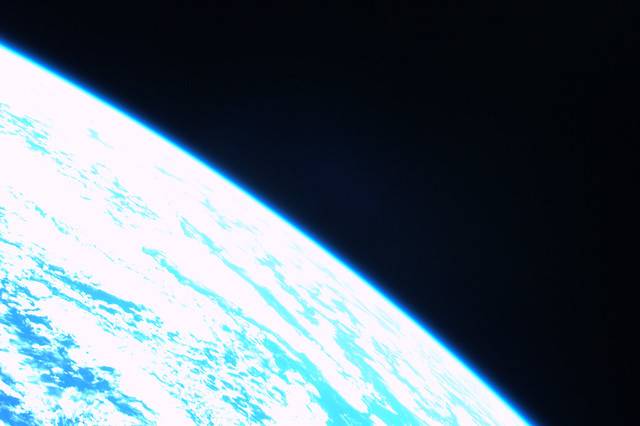 Credit: ESA/NASA
50 years later
Fast forward 50 years and an Italian father is preparing to leave his two daughters (12 and 9) here on Earth while he makes the shorter voyage to the International Space Station. Luca Parmitano – no stranger to space travel, will return to the space station as commander of the Beyond mission. The Beyond mission's research programme will contribute to keeping humans safe during longer exploration missions. They will be developing technological and operational knowledge that will allow humans, together with robots, to explore the Moon and Mars.
Parenting from a distance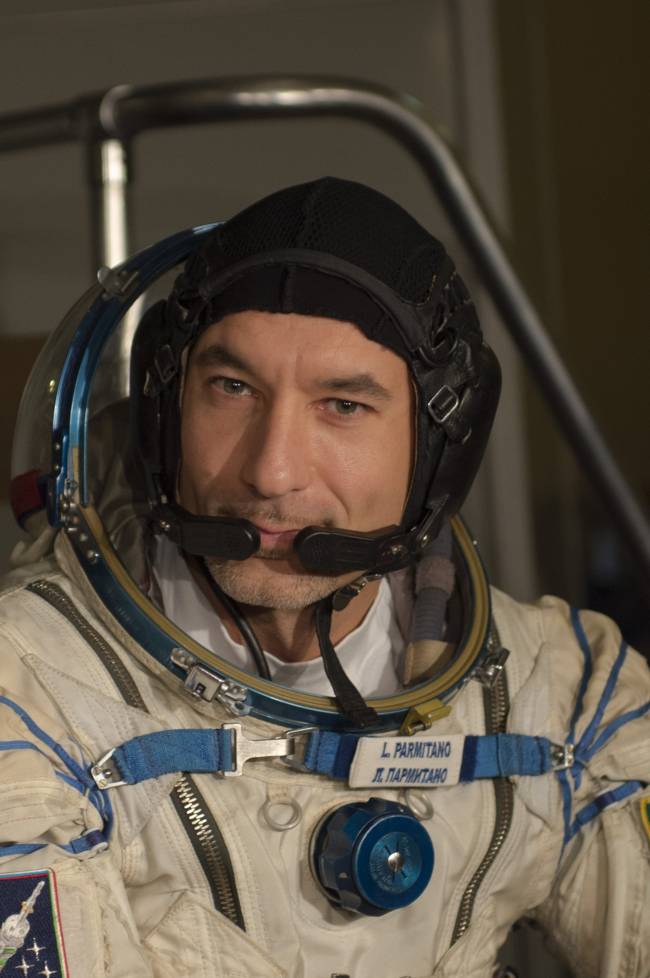 Credit: ESA-S. Corvaja, 2012
204 days
Luca will be away from his family for about 204 days or 7 months. He would be the first to point out he is not the only dad who is taken away from his family by work but most of us don't travel at 28,800 km/h orbiting the earth every 90 minutes! "My older daughter is 12. She was six last time and she remembers." Luca reflects on his upcoming separation from his family. "I think her memory is good enough that she doesn't fear that absence as much as the little one, who was only three years old, she doesn't have the memory of me leaving for that mission so she is really much more concerned". Luca went into quarantine on July 4th . In the days before launch astronauts move into crew quarters. They aren't kept completely isolated, but physical contact with family is not allowed. When the mission is over Luca is kept away from his family for a couple more weeks to allow for medical testing in Germany.
Close Call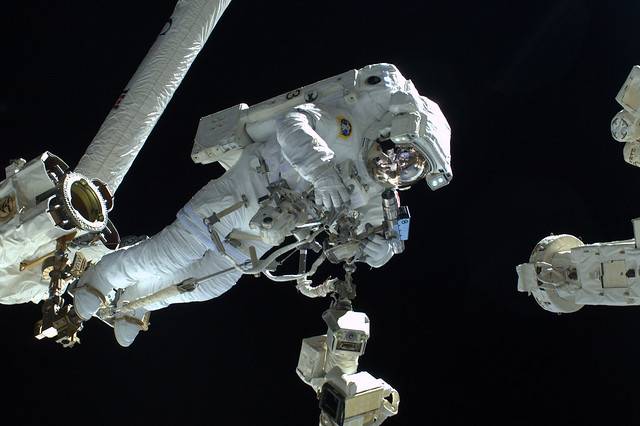 Credit: ESA/NASA
Born in Paternò, Italy, on 27 September 1976 Luca has lived a life with risk. His wife and daughters have seen him work first as a test pilot and as an astronaut since he was selected in 2009. On July 16 2013, on his first mission to the space station, Luca was at the centre of one Nasa's closest calls in their spacewalk history. Luca was forced to abort a spacewalk when his spacesuit helmet began filling with water, effectively he was drowning. Luca has had to help his daughters come to terms with the risks he takes. "I certainly don't bring it up, what good would it do to tell them it is a risky job? But when they do ask me the questions I answer as honestly as I can. The best way to talk to them is to not think of them as children but as thinking people. They see me training day after day after day… they feel that I am confident in the people who train me and the people that give me my rocket and space ship to do my job."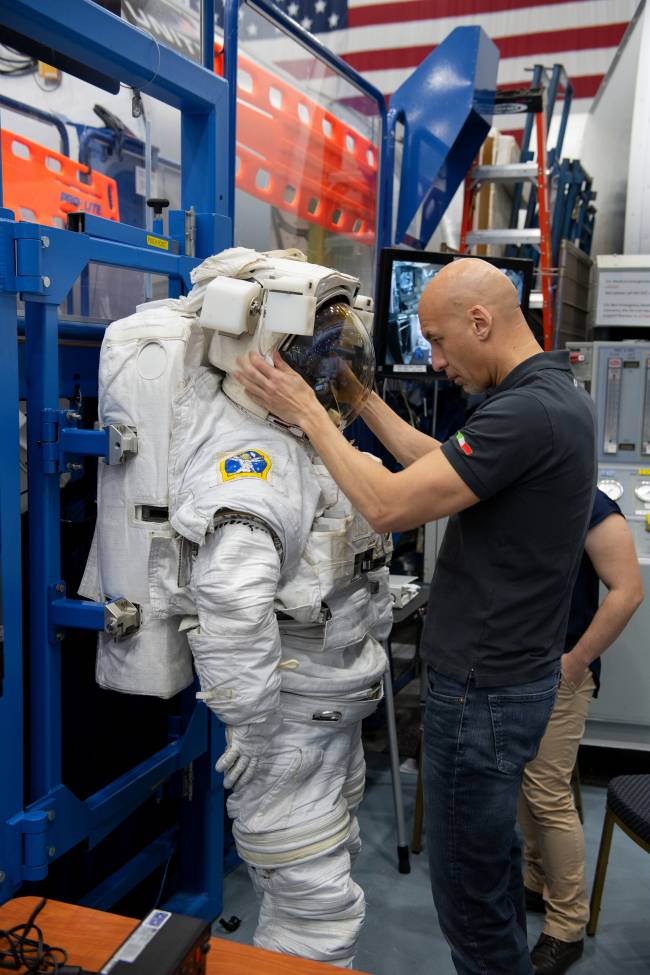 Credit: ESA-S. Corvaja, 2012
Luca is a loving father first but also a dedicated astronaut. "It never gets easy to leave your family to leave your daughters. Every time I peel them off from me in a hug a piece of my heart stays there and breaks away. It is definitely the hardest part of my job. And every time I have to go away I tell them that this is my job it is my career I believe that it is important but it is not more important than you." The mission is important but so is a Dad to his daughters and leaving never gets easier. Luca doesn't think he knows if there is a magic formula which helps his girls cope with his absence. He does try to make sure they understand why he must leave. "I don't talk to them as though to a young child. I don't want to be condescending. I want them to really understand and to feel I am talking to them as peers."
Staying in touch with family is critical and for astronauts at the International Space Station communication is straight forward. They can make a phone call over an internet protocol at any time. As long as they are conscious of the time zones on Earth, you aren't popular if you wake the children up! Astronauts have a scheduled video call once a week and extra for special occasions. Which Luca knows: "can be a lot of fun. Life on a space station is different to a child's eye. The way drinks behave for example. It is kind of nice to be a 42 year old father to a teenage daughter and still be able to be a cool dad."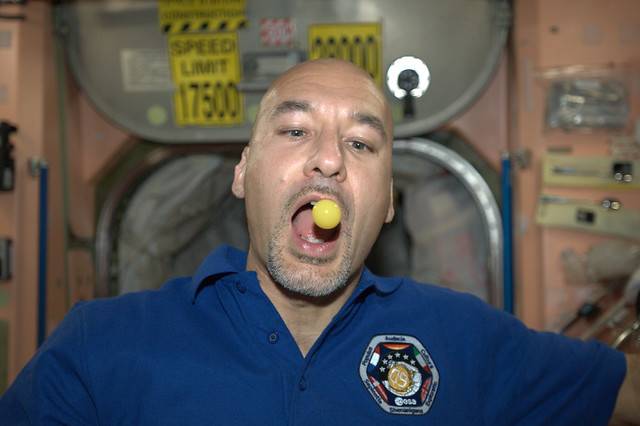 Credit: ESA/NASA
Coming home
But absence is a strain on any relationship. Coming home can be as hard as leaving. Luca reflects: "I hope that my daughters will know even if I am far away even if I am busy, even if I am not there physically they know that when I am not an astronaut, when I take off my space suit when I dock my blue flight suit when I am just Luca, nothing matters to me more than they do. That is the only way you can keep your family. Be present." Coming home is an adjustment, Luca knows from hard won experience. "The space station becomes your world, it is your home, your gym, your workplace, the place that you meet your friends. The place where you are with your family because your crewmates become your family for the duration of the orbit. Not unlike a warzone where the guy next to you is your brother." Luca knows to prepare for the adjustment of coming home and is prepared for the bump down to Earth from the space station back to the routine of everyday life. Luca is adamant that the only approach to homecoming is to "rejoice in the routine of everyday life. Take your children to school and pick them up. Make a good meal for them. You have to find a way for those tasks which may seem menial to become the most important acts of the day."
Luca, lives in Houston, USA at the heart of the space industry so he knows his children are well supported while he is gone. Until recently his older daughter was in the same class as Tim Peake's son. During the Beyond mission she will be sharing her class with the daughter of one of Luca's crewmates. Luca hopes that his daughters are proud of him "not because I am an astronaut but because I believe in what I do. I am teaching them that no matter what you chose as long as you put a 100 percent in you can be proud of what you do."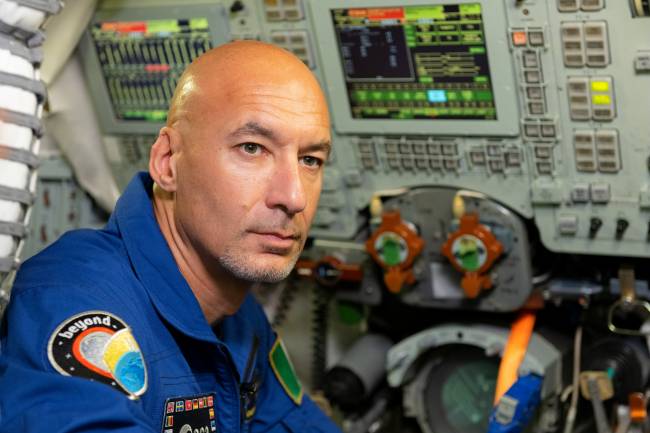 Credit: ESA/NASA
We asked Luca if he would be bringing his girls home a gift on his return? Luca laughed "I am not the kind of person that takes physical souvenirs from anywhere. When I travel I am not very good at taking pictures. I'm not very good at buying stuff. But I am very good at keeping stuff in my head, keeping memories. So I will come back with a lot of stories for my children and hopefully they will enjoy them and they will give them a sense of what it is like to be off the Earth."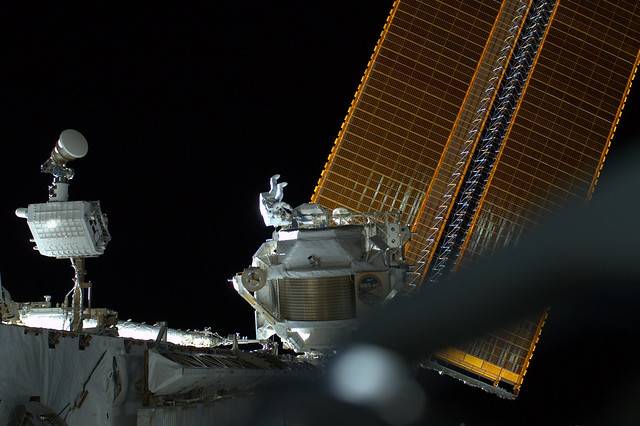 Credit: ESA/NASA
Although Luca works far more remotely than any of us are ever likely to. Many of the same challenges apply. His advice for parents who have to be absent from their homes for work: "I think that any father who has to work away from their children, any father who has to say goodbye a 100 times. They know it never gets easier and it is a good thing that it doesn't. My advice would be, to rejoice in the fact that every time it gets harder, because it means we are loved and we love them."