Channel 4's Great House Giveaway Presenter and mortgage advisor Tayo Oguntonade bought his first house at 22.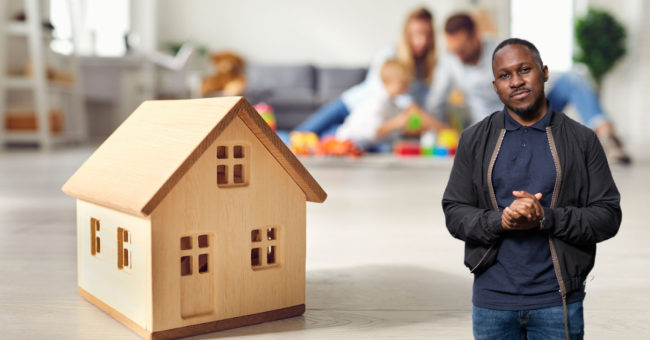 Now just 29 he has a serious portfolio of property. The aspirational real estate expert shares tips @brickwithtipz . He sat down with Dad.Info to chat about getting our kids on the property ladder and what we should be thinking about when buying our family home.  
Here is what he had to say…
How do I inspire my kids to get their first house aged 22 like you?
House prices have changed quite a bit since I bought my first house. But the principles remain the same – save, save, save! A lot of people don't realise how much they can actually save whilst living with their parents. Sometimes they realise too late when they move into rented accommodation. Be open minded when it comes to where you are going to buy and the type of property. Your first home won't be perfect. There is likely to be an element of compromise. So it's worth bearing that in mind when searching so you have more options
How much deposit will they need?
The amount varies. Depending on the type of house being bought and where in the country the house is. However, first time buyers can still buy a property with a deposit as low as 5%. This lowers the barriers for entry for first time buyers. These mortgages will have higher interest rates so it's important to ensure it's affordable in the long term.
What makes a great family house?
A great family house needs a welcoming communal space where the family can gather. Whether it's school, work or other activities a lot of us will spend time outside the home. That makes these communal areas so special. It could be a living room where you watch your favourite television programmes together, or a dining room where you gather as a family for dinner.  
What can no dad do without in his dream house? 
A comfortable sofa, it's so essential. When I was younger my Dad sat on a certain side of the sofa. No one else could sit there that was his spot. I didn't get it then but I get it now! When you move home the sofa can sometimes be the last bit of furniture to arrive. That period really does highlight how important a good sofa is for the whole house. 
Should I be re-mortgaging now? Even if it means paying an early repayment penalty?
The decision to remortgage early is always a tricky one and one that should be well thought out. Naturally, with interest rates going up a lot of people are considering it at the moment to try and fix their mortgage at a relatively low rate today. Now there is not a blanket answer to this. Everyone will have different early repayment charges but the aim is to ensure your savings exceed your early repayment charges. You can try and take a guess by comparing your charges against savings. If rates exceed by 1%, 2%, 3% etc – better yet, talk it through with a mortgage broker who will be happy to help!
Will my house ever be worth more than it is right now?
Most traditional houses in the UK will continue to rise in the long term. There may be short term dips but in the long-term prices will increase. For example, after the financial crisis of 2007/2008 it took house prices roughly 7 years to return to the prices before the financial crisis, which is quite a short amount of time for the biggest recession in recent history. This is why people often choose property as a way to hedge against inflation because history indicates that prices will continue to rise.  
Regarding dads who are self-employed and took SEISS or dads who were on furlough- how is that going to impact a re-mortgage?  
There are some lenders that aren't too keen on self-employed applicants and are even less keen on lending to those who took SEISS or who are or were on furlough. Not to fear though, my best bit of advice is to use an experienced mortgage broker. The thing about experienced brokers is that most of the time they have helped someone in your exact scenario recently. In this case, they will know the right lenders to go to that can help you if you are in this situation
If you could buy any house, what would you buy and why?
If I could buy any house it'd be one with a large garden & a few guest bedrooms. This is mainly because these things remind me of my childhood. When I was a kid we always had barbecues in the summer in my family home. Our family is substantially bigger now so I would love the garden to be able to facilitate it. I also always used to have my cousins round, there are loads of us so I am used to being surrounded by family. If I could have the same thing where family are able to stay from time to time it'd be great – I'd just need the space!