Father and photographer, Richard Bailey, talks about his relationship with his daughter, Billie-Jo, and reveals the inspiration behind the new photographic exhibition, Positive Energies, which aims to change the way society thinks about people with Down's syndrome…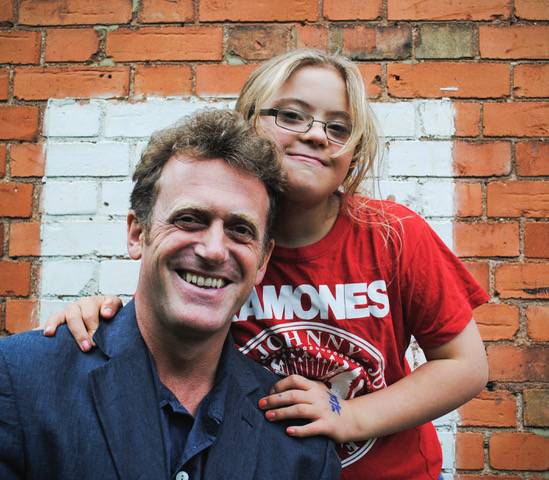 When our daughter, Billie-Jo, was born 18 years ago, I knew very little about Down's syndrome. In fact, my only point of reference were the adults I had served tea to at the local Cheshire home when I was a boy. This had been 20 years previously and it had seemed that people with disabilities were generally hidden from society. There was no push for them to be a part of society, to go to mainstream schools and even enter the workforce. People with disabilities were labelled and to all intents and purposes put into a corner and forgotten about by mainstream society.
We searched for information about Down's syndrome and found that all the books available were factual or from charities. The images accompanying these books were very factual too. They showed posture, physiology and all things concerned with the syndrome rather than the individual. The images we found in these old textbooks had little bearing on our experience, they did though confirm the distant mental images I had of those people I met in the Cheshire home, with their white socks and pudding bowl haircuts.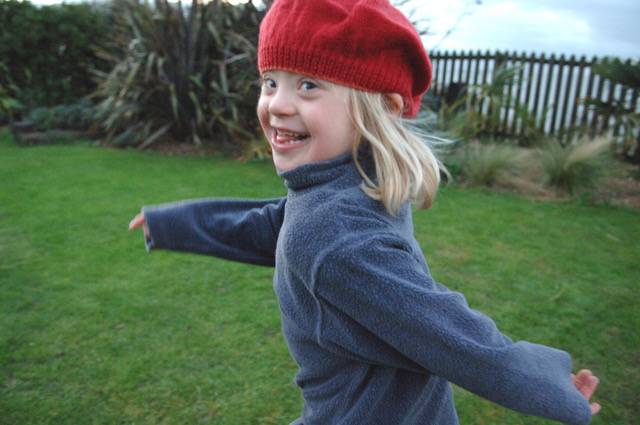 We found no images that showed daily life, no images of families having fun with their children, or of young adults going about their daily life – and these were the images that we dearly wanted to see.
The Shifting Perspectives exhibition was, like many things, created through a series of fortuitous events. I had got to know other parents of children with Down's syndrome, who also happened to be photographers. We had all noticed the dearth of imagery based around having a child with a difference and decided to put up a few snapshots of family life at a local café, for Down's Syndrome Awareness Week. These images showed life carrying on, they showed siblings interacting, and they showed families having fun. They were interesting because there was no mention made of disability; they could have been snapshots of any family.
By being so close to the 'subject matter' we are not purely objective observers, we will be, by definition, subjective when it comes to taking the images. I think as a group, we all had certain images in our minds, perfectly summed up by those of Diane Arbus (Arbus was an American photographer, known for her polarising photographs of marginalised people). We felt they had no bearing on our own experiences, and we wanted to 'counter-act' that. Our intention is to show that those kinds of images are no longer relevant in this day and age.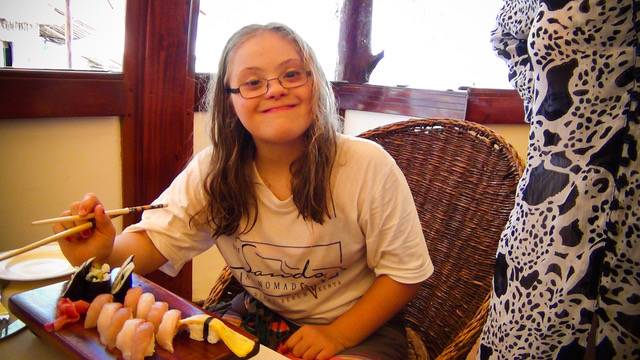 That said, we are still very honest about our feelings and have conveyed these, sometimes raw, emotions in the images and text and some of the photographers have faced greater challenges than others over the years.
When Billie-Jo was born, we believed that she belonged to everyone, just as we believe that as soon as any child is born he or she immediately 'belongs' to everyone. That child has parents, maybe brothers and sisters, uncles and aunts, cousins, grandparents and friends.
Each person is related to that child by just being around them.
The way that they respond and interact will have an enormous effect not only on the child, but also on those people around who love that child. Children with special needs may have been a 'bit of a surprise' for their parents, but will without a doubt be enveloped in the love of their families.
As they grow up, their parents know that they may not win Wimbledon or play for Manchester United, they may not become a doctor or a solicitor, but they will achieve any amount of goals and overcome any amount of obstacles as they go through life.
Like any other parents with any other child we will be watching and helping these children through every step of their lives and like any other parents we will get as much fun and enjoyment from watching those steps get bigger and bigger.
The photographs we take are a celebration of the individuality, enthusiasm and character of our children.
The Positive Energies exhibition was born through the Japanese photographer, Fumio Nabata, attending the Shifting Perspectives exhibition when we were in Tokyo. He was so taken by the images, that even though he had no connection to disability, he decided to photograph children around the world with their families. The exhibition has work from Fiona Yaron Field, which shows women who are pregnant in the knowledge that their child has Down's syndrome. Fumio Nabata's work shows the positive energy he has witnessed whilst photographing young children with Down's syndrome. Whilst my work shows young adults in their workplace.
Billie-Jo attended a mainstream primary school and mainstream secondary school.
At primary school she had a lot of friends and enjoyed it very much.
Her secondary school in Central London had 1,200 pupils, and whilst everybody was very kind to her, she was initially a bit isolated.
Fortunately, she was lucky enough to find one good friend who she is still in touch with now.
She is now onto the next stage of her life at Derwen College, where she is taking a land-based studies course over three years. Derwen is a special-needs college, which has around 300 young adults with varying degrees of abilities. The level of care is absolutely wonderful and the college has a student union, elections for union presidents and is run very much along the lines of a typical university experience.
She lives in a halls of residence with 12 other girls and is having the time of her life. She has made some great friends and now even has a boyfriend.
When she was born 18 years ago, I sat in the hospital ward with my wife and wondered how on earth I was going to live with her.
Now, this beautiful, sensitive, clever, loving child has enriched my life in so many ways, I have no idea how I could ever live without her.
What is Down's syndrome?
Down's syndrome is a genetic condition caused by the presence of an extra chromosome.

Around one in every 1,000 babies is born with Down's syndrome.

In the UK alone, 92% of women will abort a fetus diagnosed with Down's syndrome.

There are around 60,000 people with the condition in the UK.

The Down's Syndrome Association (DSA) is a national charity that exists to provide information and support for people with Down's syndrome, their families, and carers. The DSA seeks to improve knowledge and understanding and champion the rights of people with Down's syndrome.
Richard Bailey is an award-winning portrait, commercial and advertising photographer, based in London. Find out more about his work at richardbaileyphotography.co.uk and learn more about the Shifting Perspectives exhibition at shiftingperspectives.org
The Positive Energies exhibition is at the Oxo Tower Gallery in London from 16th – 21st May; Mon-Fri 11am – 6pm. Admission is free. oxotower.co.uk
Watch the award-winning short film featuring Billie-Jo, I Don't Care, directed by Carolina Giammetta, here.