Two days after Bruce Forsyth died, and the same day the American comedian Jerry Lewis died, my Dad died: he was 88 years-old…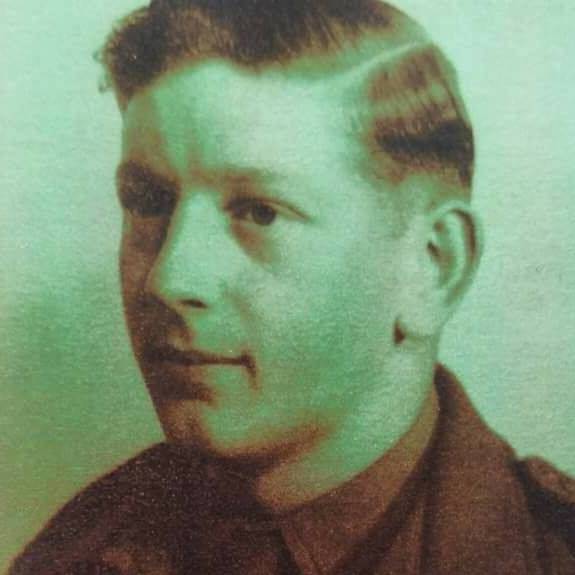 Dad had been in hospital because they couldn't work out why he was in severe pain all the way down the right side of his body.
I received a phone call from the senior consultant. She told me it was lung cancer which wasn't a shock, as he only stopped smoking at the age of 86. But it had also spread to his brain and they gave him a month or two to live at best.
After a couple of weeks in hospital, we managed to get him into a palliative care home. The night before he was moved in, my brothers and I 'made the room his' by taking a large amount of framed photographs from his house and decorating the room, as well as bringing along his collection of CDs. He entered the room in a wheelchair to the strains of 'Gentle On Mind' by Dean Martin, his favourite singer.
From there, he went downhill fast – in fact, 'downhill skier' fast
Only a few weeks before, he was living in a one-bedroomed bungalow, cooking and cleaning for himself and, essentially, being totally independent.
We had lost our mother 17 years ago, and now we were quickly coming to terms with the fact that were going to lose Dad as well.
Back in 1962 my mother was told that, after one stillborn child and two miscarriages, it was too dangerous to continue to try to have a child. But so great was the desire to have a child that they chose to adopt. Finding a new adoption agency that had opened at Vauxhall Bridge, they walked into a room: six babies, one smiled… they adopted me.
Then, lo and behold, two brothers came along naturally. The doctors said it was because she was relaxed and happy that she was able to conceive twice. How amazing is that?
Dad drove a laundry van around London and we lived next door to a professional boxing referee, Tommy Little. In fact, at the Cassius Clay (Mohammed Ali) vs Henry Cooper fight at Wembley, Tommy got my mum and dad tickets and they found themselves sitting in the row behind Richard Burton and Elizabeth Taylor, with Burton turning around and politely asking my Dad if his wife could have a sip of my Dad's hip flask!
In the school holidays, I used to ride around with him in his laundry van, delivering laundry to Chinese restaurants in Soho, where they were so gracious and would always give us a meal for free.
He later went on to work for a TV and film-scenery company, and we would spend every Christmas partying in the middle of whichever film set they were building in the factory at the time.
He had a great love of music, especially Dean Martin and Frank Sinatra. I think, as children, you either love or hate your parents' music. For us, we loved it and still do.
We had a lovely life, very working class, but definitely happy.
Holding on for The Wedding
Two weeks ago, my eldest daughter was married. It got to the stage where even my dad said to me that he didn't think he would be able to come to the wedding.
As a family, alongside my daughter and her husband-to-be, we resigned ourselves to the fact that he would be too ill to make the wedding. We left it until the morning of the wedding and, to our surprise, my two brothers were able to organise a carer to accompany him to the wedding.
He looked just like Cary Grant: very cool, smart suit and tie and, although he couldn't really talk much by that time, and was sitting in a wheelchair, he beamed when I walked my daughter down the aisle.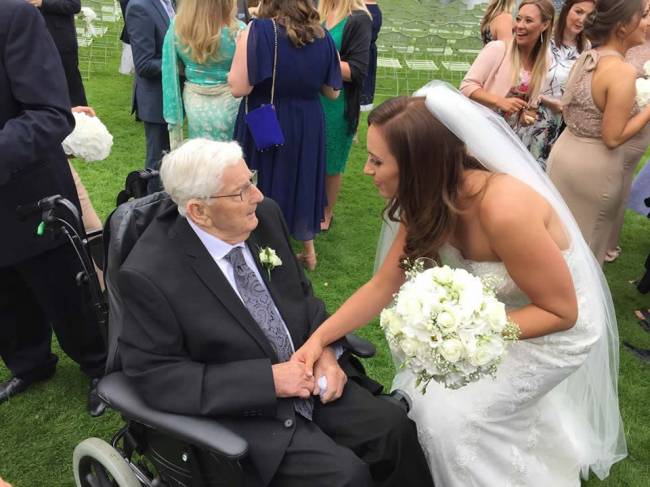 Not only did he see her get married, he made it to the meal as well, although just before the speeches, it was obvious that he needed to go back to the care home.
Everybody was in awe of him, as none of us would have bet money that he would have made it to the wedding at all.
That wedding breakfast was the last food he would ever eat. He passed away the following Sunday. And for the six days after the wedding, until the day he died, nothing passed his lips.
He had, courageously, hung on to see his granddaughter get married.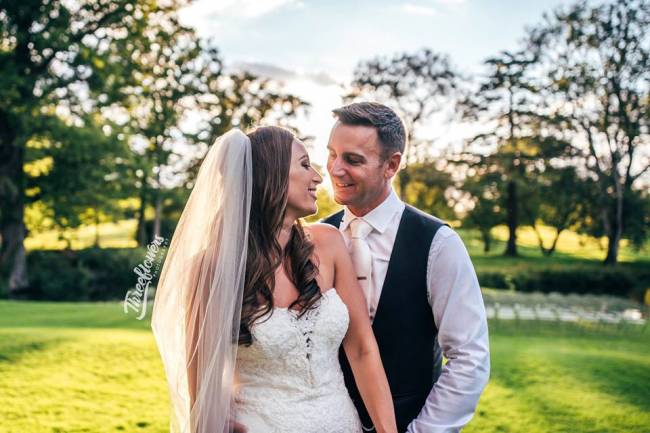 That was my Dad, he was a strong, caring man.
Informing the children
All the grandchildren, bar one, were out of the country. So my brothers and I prepared ourselves to phone our children and let them know that their granddad had passed.
For me, I had one daughter on her honeymoon in Bali, and one daughter in Amsterdam visiting friends (they both made me promise that I would let them know if anything happened while they were away). Telling one daughter on her honeymoon was painful, and then having to tell the younger one that he had passed away on her actual birthday was also very difficult.
This was a particularly difficult job for any dad, but FaceTime is a wonderful thing. At least we could see each other while we spoke and cried together.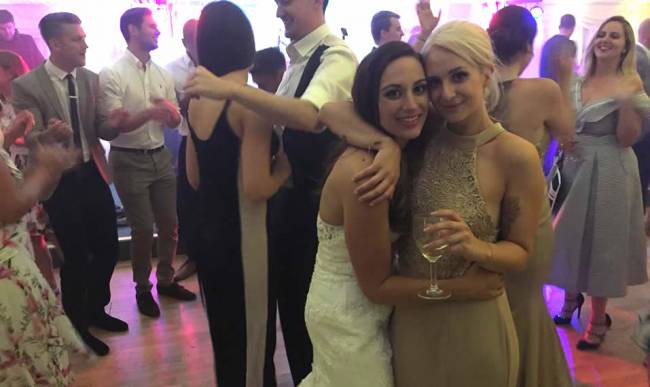 We are now preparing for Dad's funeral, sorting out all the practical stuff that nobody wants to do, because all of the organisation means that it's really happening.
My dad's passing has made me ponder. As a family we are close, but it's made me want to be even closer. I've found that my brothers and I are now closer than we've been since childhood. Losing Dad has made me want to reach out to my wider family and… embrace them.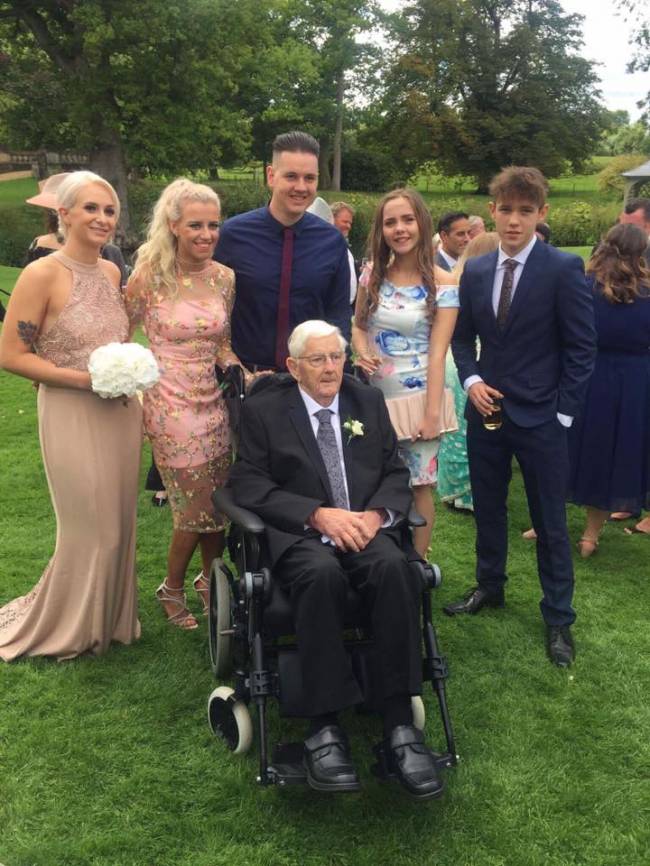 He passed one important thing onto us, and it's that family is everything and most of the stuff that I worry about is simply not worth worrying about.
Caring for your family, no matter how dysfunctional, is what's worth worrying about.
You couldn't have scripted his end… holding on for one granddaughter's wedding, and passing away on another granddaughter's birthday.
But that was my dad… I love and miss him and, most of all, he's Gentle On My Mind.