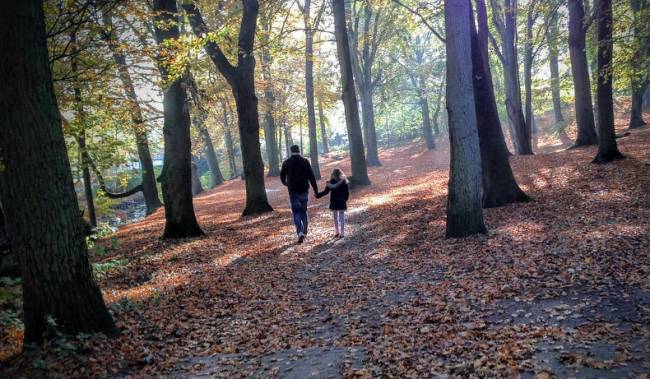 Originally, I was going to leave this part of our story until I had painted a better picture of our relationship both before and after the events I am about to share. I do not apologise for this post, it was part of our father daughter journey and went on to shape our relationship.
When my daughter was three we got our first clue something was not right. We took her to a local shopping centre and mum had promised her she could have a go on a ride there. The ride was broke when we got there. My daughter totally lost it and mum decided to walk off, thinking she would reluctantly follow. Eventually I told her either she could hold my hand and walk or I would carry her all the way home. After carrying her all the way home for 20 minutes my face was bloodied from her scratches and one hip was a massive bruise where she kicked me all the way. I sent her to her room while I took care of my face. After a few hours, she calmed down and came back down to the front room. She took a long look at my face horrified and asked what happened, she had no memory of doing it. She was shocked and started crying so I cuddled her and said it was okay. Fortunately, it was the only time she was violent but we became more aware of some of her odd behaviour.
Over the next seven years our concerns grew, but the professionals always dismissed our concerns.
When she was nine I was involved in a road traffic accident. My only memory was starting to go over the handlebars and then waking up in hospital. After the accident I had changed so I spoke to the doctor and it was suspected I was having fits like petite maal – minor epilepsy fits. The tests were negative, but we was told this was not unusual. I was prescribed pills to control the fits. As these worked and I thought things were back to normal my wife kept quiet about her concerns on some of my behaviour.
It was shortly after this that problems between myself and my daughter started to go seriously wrong. We would have a good day and suddenly she would announce I was scaring her, but did not know how to explain why. Here body language was very extreme as if she was taking the mickey out of me. Soon things would escalate and I would lose control and start screaming at her right in her face.
It got to the stage where I would get into a rage and found it harder and harder to control myself. My biggest fear was that one day I would start hitting her and would not when to stop. I went to the doctor and told him of my fears, but my concerns were dismissed.
Three things happened in quick succession which would result in me turning things round. First the school called us in for a chat. Short version they had spoken to the Education Psychologist who said she may have Asperger's, but to tell us that there may be communication problems. Fortunately, as we had a very good relationship with the school they ignored this advice. The type of issues they mentioned was she was by far the brightest in her year and they were optimistic for her SATS. Yet, if her usual seat was taken she could not cope even if every other seat was empty.
At first when I researched Asperger's it seemed to fit me more than my daughter. After a lot of research, I discovered it presented differently in girls and with hind sight many of the issues we were concerned about over the years were typical for Asperger's. I also realise where her exaggerated body language was coming from. She could not read normal body language and was learning it from cartoons. This was the first thing to happen.
The second was when I was tidying her bedroom and found five pieces of A4 paper with writing on both sides. In short it expressed her hatred for me and how she wished she could get rid of me but keep the money I brought in. I knew a few parents who had found similar things and had over reacted about it. For me, despite what it said, it was huge break through. At last we had found a way my daughter was confident enough to express what was going on and how she truly felt about it. That evening when I picked her up I asked to speak to the SENCO and told her what I had discovered and suggested the next time something happened they ask her to write down what was wrong.
The last thing happened a couple of days later, when we were invited to come in and see the SENCO and Headmistress. Something had happened and they took my advice. They passed me several pieces of paper and asked us to read them. What they revealed was the living hell school was for her and some of the incidents she wrote about were horrendous. Like a boy pushing her down the stairs after beating him in a pop quiz. The disconnect between her intelligence and immature behaviour meant he could not accept the result and even protested to the teacher she must have cheated. Even before getting halfway through the pages the SENCO passed us tissues and explained all the adults who had read it had at least tears in their eyes if not openly crying.
What was missing from that document was my own part in adding to the hell my daughter was going through, but I had no illusions that I was responsible for making the one place she should be safe, home, an extension to hell she was going through.
No idea how I would change things around
That night I decided my daughter and wife would be better off without me and packed some clothes with the intention of leaving. I waited until they were both asleep and stepped into my daughters' room for one last look before disappearing. Remembering all the good times we had had and how I had let things go wrong or even to protect her I felt an utter failure as a person, man and most of all as a parent. As I looked at her sleeping I wondered at how she got up each morning got ready and cheerfully went to school, or how we would laugh and make up rhymes, stories, and bad jokes. In a moment, I realised that if she could face those trials daily, as well as what I put her through she deserved a much better father than one who decided to quit and walk away. I left her room and unpacked. No idea how I would change things around but decided to become the father she wanted.
The next day I spoke to my wife about it and she finally mentioned she thought the pills I was on was partly responsible. Irresponsibly I decided to stop taking them there and then. The next week was awful but I soon returned to the person I was. Her cartoonish behaviour stopped being aggravating and I realised it was part of who she was and found it cute.
Initially one thing which held me back was the huge sense of guilt for what I had allowed to happen. I soon realised though that unless I drew a line under that time I would never be the person she needed in her life. So, I forgave myself for being human and prone to failure.
She finally got her diagnosis for Asperger's when she was twelve. The doctor who did the testing and gave her the diagnosis did mention my daughter was a very happy child who felt very much loved and supported by her family. As depression is not unusual in autistic children she mentioned she could not to see any evidence of this. I think that was when I realised I had made the right decision that night.
Since then she got twelve GCSE between A* and C, most A or A*. She went onto 6th form college and gained three good A levels and onto University and got a first in creative writing. Amazingly she works in a busy London store and deals effectively with very awkward customers, but is outstanding with customers who are different and often shunned by other colleagues.
If you have gotten this far thank you for reading all the way through. I make no apology or excuse for how bad things got, life is not neat and things get messy from time to time. The mention of Asperger's changed our lives, I discovered who my daughter was and she got the father she deserved.