With myriad household distractions, from kids to the telly, concentrating while working from home can be a real struggle, especially if you don't have the right kit. Follow these top tips from Furniture at Work™ to create a home office haven and increase your productivity…
Workstation creation and desk-ercise
Working at your kitchen or dining room table is a no-no. Not only are these settings terrible for concentration – with the 'fridge and kitchen cupboards so near at hand, or perhaps the TV calling from the lounge, willing you to finish watching that boxset – but they're not set up as a proper work spaces either.
Your spare bedroom is the perfect place to base your office at home. Rid the room of any distractions, opting instead for a radio to quell any urges to stick on Netflix, and for heaven's sake, get a proper desk in there.
A good desk will have features like cable access ports, to keep messy wiring tidy, and built-in drawers to give you an open workspace, both of which will help you stay focused on the task at hand.
Sit & stand desks have adjustable height settings to make sure your workstation is set up to perfectly suit your posture at all times, and even allow you ditch the chair entirely and work from a standing position, which can be better for your back so you won't be distracted by aches and pains. Better yet, you'll even burn more calories while at your desk.
Remember it's very important to take regular breaks, stand, stretch and walk around, and you should aim for at least two minutes of activity for every hour worked. It's healthy to keep your body moving, sure, but regular breaks also stop you getting bored, help you stay sharp, and give you a moment to re-evaluate your goals.
Chair choices to put you in the hot seat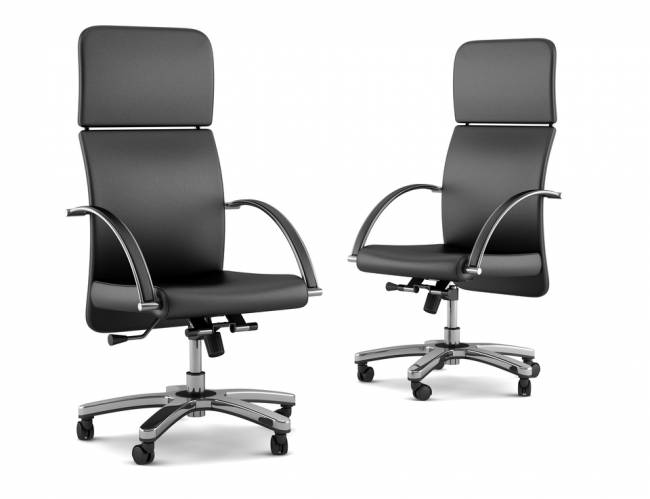 Talking of which, your chair is also extremely important when it comes to concentration. Working on the arm of your settee, or sat on a hard dining room chair is going to do nothing for your productivity and can lead to distracting back-and-neck aches and general discomfort. You're not going to ace that next report, or put together a killer presentation if you spent the whole day wriggling around in your seat or dealing with a cricked neck. You'll feel more professional with a dedicated work chair too – the more 'executive' the look, the more you'll feel like your own boss.
A good office chair is designed to be height and back adjustable to keep you at a comfortable position with your hips, knees and elbows at the correct right-angle position, your feet flat on the floor, and your eyes in line with the top of your screen. Add lumbar support and you'll always be always sitting comfortably.
You could even try an adjustable 'kneeling chair,' which might look like something out of a walk-in neck massage clinic, but is designed to promote good posture and the correct sitting position.
Combine any adjustable chair with a sit & stand desk and you'll be able to nail the perfect working position.
Hey, if you do sometimes commute to the office, then why not get a work station assessment done there, and then replicate your ideal setup at home?
Tidy your workspace; de-clutter your mind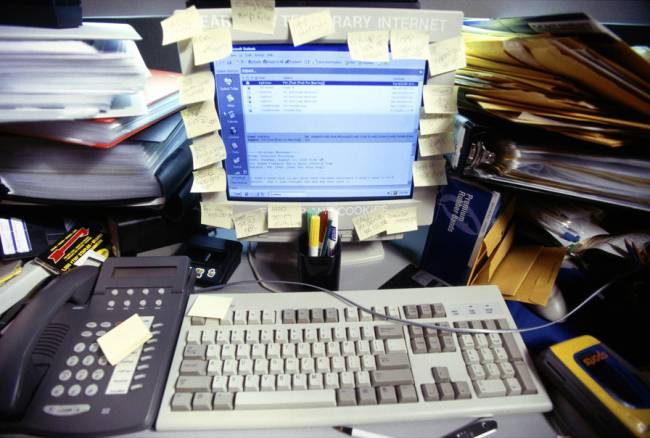 Working amid a mess might be a sign of runaway creativity, but it could just as easily prove to be a den of distraction. It can be hard to apply oneself to the task at hand when utility bills and other projects are lurking on the peripheries of your vision and, therefore, your mind.
This isn't about Feng Shui, it's about getting organised and zeroing-in on your to-do list, so get all that paperwork tidied away with a filing cabinet, shelving, and desk storage.
Plant the seeds of productivity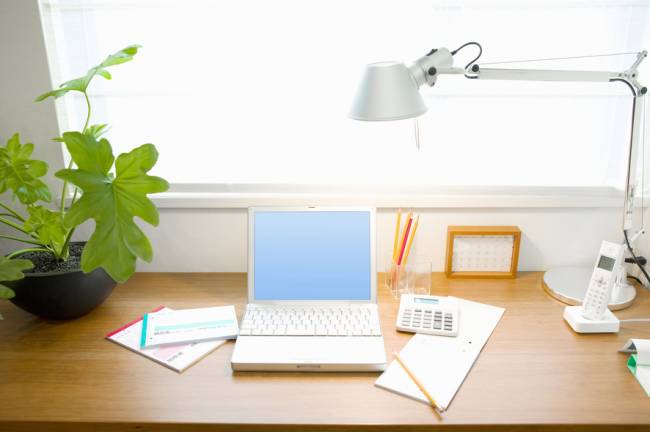 That isn't to say you should be aiming to create an Orwellian office space, devoid of colour or character. In fact, having a few plants on your desk and around the room have been shown in scientific studies to boost productivity, mood, and reduce sickness.
Family photos on the walls, colourful notice boards and posters, getting some light into the space, and cosy decor are all going to help increase your productivity by up to 15%, according to a 2014 study by psychologists from the University of Exeter.
For more ideas for furniture at work, visit Furniture at Work™