Back in the '80s, Scottish pop act, Hue and Cry, had hits with with the albums Seduced and Abandoned and Remote, as well as massive hit singles such as Labour of Love and Looking For Linda. The band – formed of brothers Pat and Gregory Kane – made a comeback on ITV show Hit Me Baby One More Time in 2005 and is still going strong, having sold over two million albums worldwide. DAD.info caught up with Pat and his daughter, Eleanor – an actress, singer and dancer – to talk about the band's latest album, Pocketful of Stones, and how their dad/daughter relationship effects them as performers…
Eleanor says:
"My dad has always been a massive influence for me. My parents split up when I was three, so managing that change at a very young age was hard – he moved in with his partner in London when I was eight, so I lived with my mum and sister and saw Dad every other week. When one of your parents finds someone else it's naturally difficult, especially for a child who doesn't quite understand the consequences of divorce. Now, Indra and my stepbrother Con have become a second family, and I realised very quickly that I would always have a home in London.
Because my dad was away, I was only exposed to his fame occasionally. I remember when we had a day out in Rothesay, and two women in their 40s asked to have a picture and an autograph with Dad. I remember thinking, 'Why are these women saying how much they love Dad? Does he even know them?!' Sometimes in Glasgow we got free taxi rides because the drivers were big Hue and Cry fans!
I don't think I became interested in performing directly because of Dad. From when I was very young, Mum started sending me to ballet, choirs, piano and guitar lessons and drama classes – I couldn't really escape it. I think my mum cottoned on to my love of performing when I sung Atomic Kitten's Eternal Flame at my primary school talent show: I knew all the words and got a standing ovation from the parents! As I got older, I became more aware of how good a musician my dad was, and we used to sing duets in the house all the time, often with my sister who also has a great voice. When I started writing songs I asked Dad for a critique and I always valued his honesty because I knew that he cared about me progressing as I writer – I still ask him to this day. When I started performing in open mics he would make as many as he could and give me tips on stagecraft and mic control.
As I've grown up, Dad and I have formed a mutual relationship in terms of music – he can learn from me as a professional just as much as I can learn from him. The fact that we're both performers is so comforting, as he understands that you have to make sacrifices for your craft. I'm training to be an actor-musician, so my craft is very different to his, which means I don't feel any pressure to 'follow in his footsteps' or live up to his fame. Now that we're singing on a record and performing together, that feeling is even stronger. Singing with my dad, Uncle Greg, and Aunt Yvonne is a joyful, natural experience – we're a family, and putting us on a big stage doesn't change that."
Pat says:
"It's very interesting to watch Eleanor progress into her creative career. For one thing, she's much more 'trained' than I was. She had really good voice lessons from early on, and strong advice about how to present yourself, make contacts, understand your finances, etc. By comparison, I really blundered into the music business in the mid-eighties – there was still an element of that post-punk DIY ethic about it.
When we were in the studio writing our latest album, Greg felt the emotional weight and subject matter of the song Let Her Go would be even greater if we had Eleanor make an appearance. As we sing in Let Her Go, Eleanor aims to be a 'triple-threat performer' – to act as well as she sings and as well as she dances. The West End (or Broadway!) is probably a lot more demanding than the grotty pubs and clubs, attended by hungover talent scouts, that Hue and Cry started in!
But it's lovely to be able to chat to your daughter as a peer, struggling with all the same challenges as you do in your own life as a singer.
Take the tricky balance between 'being a singer' and 'having a life' – with the former meaning an almost puritan existence ('say no to stress/dehydration/alcohol/caffeine/nicotine/spicy foods') and the latter being a daily challenge to your self-discipline ('step away from the pint/wine glass/chicken dopiaza!').
Or take the necessity of practice and warm-up – those strange noises and scales that you have make everyday domestically, and at the gig, which can really weird people out… We both laugh about 'nasal sirening', which can clear a dressing room in seconds.
But the one topic that we regularly share is what you could call the inner strength or the resilience of being a freelance performer – the gumption to take the knocks and rejections, the energy to leap fully into opportunities when they appear. I draw a lot of inspiration from Eleanor's indefatigable spirit, which is partly to do with her youth – she's like a rubber toy, she bounces back immediately.
But it's maybe also something she's inherited from both her dad and her mum (Joan was a leading editor, and is now a senior politician in the Scottish parliament). We hardly presented a spectacle of boring job safety to our kids – they saw us striving, succeeding, failing, and not always gracefully at that. But I think they did see how important it is to live an exciting, self-fulfilling life.
Given my own CV, I can hardly say to Eleanor to take the easy career option. As the chorus of our song has it, 'Let her go, and hope she flies. And if she falls, you know how that goes'. I'm so proud of her it bursts my heart, and she's certainly an inspiration to me."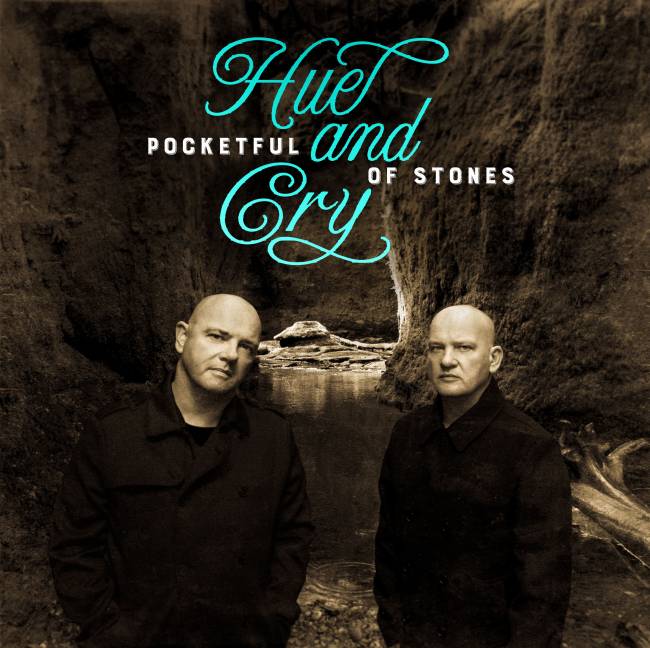 Hue and Cry's album, Pocketful Of Stones, is out now. hueandcry.co.uk