Throughout September and October, people will be joining a local Memory Walk to raise awareness and funds for the Alzheimer's Society. Here, father of two, Colin Scott, talks about his own dad, Raymond, who sadly suffers from the disease…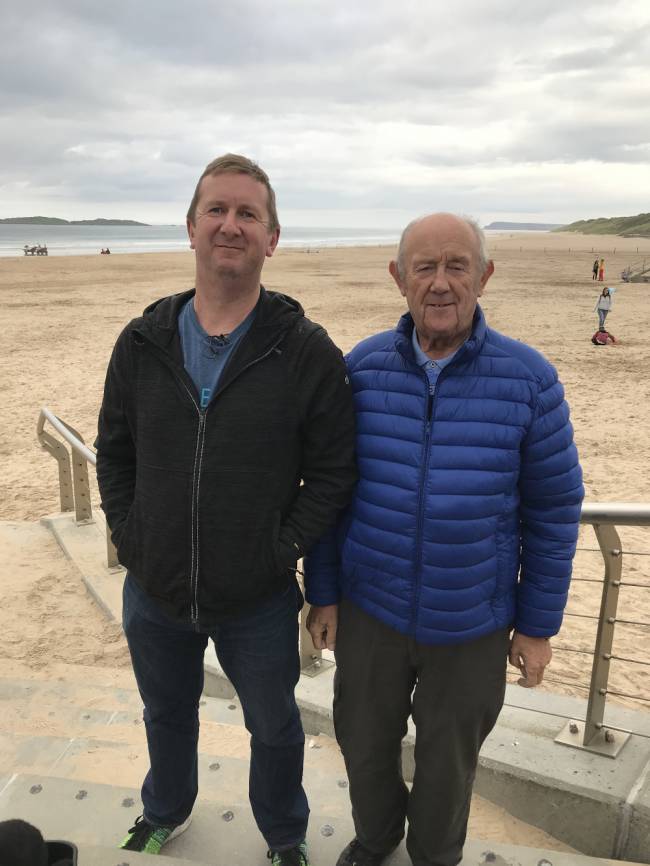 My dad, Raymond, is a kind 81-year-old man living with dementia. Despite having the condition, he has a great sense of humour, loves spending time with his grandchildren and enjoys long walks with his little dog, Milo.
For as long as I can remember he's had a passion for water sports and motorcycles. Some of my fondest memories are from when he used to take me to school on the back of his bike.
Boats and motorbikes were what my dad lived for as a young man and he toured the world in his Triumph Tiger 650 (the must-have bike for speed and touring at that time!). He had a real sense of adventure and I even have an 8mm film of him racing past a speed boat on his catamaran as a teenager.
When I was younger, my dad shared his passion for motorcycles with me and would take me to the Isle of Man TT races. I remember we used to return with some kind of practical joke to play on my mum, which normally involved plastic spiders or me dying her hair to wind her up. I would also play tricks on my dad, but I can never remember him getting cross or losing his temper – he's always been so laid back.
Today, I'm proud to have two children myself. My son Mark is 15 and thinks he knows everything, while my daughter Ava is 10 and thinks he knows everything, too! They both love their Pappa very much because he's such good fun. Mark often stays at his grandparents' to help them around the house, go swimming or have a day out at the beach. Both my parents spoil their grandchildren rotten and they love spending time together.
My mum, Maree, was the first one to point out my dad's memory problems. We had noticed a slight change, but didn't realise the extent of it because we weren't there with him every day. When the doctor told him he had Alzheimer's disease it came as a huge shock.
One thing we've done to make things easier for my dad is to build a log cabin at the top of our garden. This means he can come and stay for a few days to give my mum some respite. It also makes it easier for us to spend quality time together, which is so important because we're such a close family.
We've found that sticking to a routine is essential for keeping my dad as happy as possible. He goes downhill fast if he's just sitting doing nothing for long periods of time so we try to keep him busy to give him mental stimulation. The Side by Side service Alzheimer's Society offers has been wonderful. It links people living with dementia to volunteers, so they can keep doing the things they love. A volunteer comes in once a week to play chess and board games with Dad, which has been so helpful. The weekly routine has helped keep his brain active and we've noticed a marked difference because of this. I would advise anyone who has a family member with dementia to take them out and keep busy.
There are so many ways to stay active and get support for people living with dementia. I've signed up to the Memory Walk in Belfast with my wife and two children, which is a great way to increase awareness and raise vital funds to help find a cure in the future.
We'll be walking for my dad this month, and we encourage anyone who can to join us to unite against dementia.
Dementia is the UK's biggest killer, with someone developing it every three minutes. Taking place in September and October, over 100,000 people will join over 41 Memory Walks across England, Wales and Northern Ireland to help Alzheimer's Society provide vital information and support, improve care, fund research and create lasting change for people affected. Visit memorywalk.org.uk to find a walk near you and sign up today.