Dad of two, Simon Harris, strikes a pose with the new AmaWrap Baby Carrier and his new baby girl, Maggie…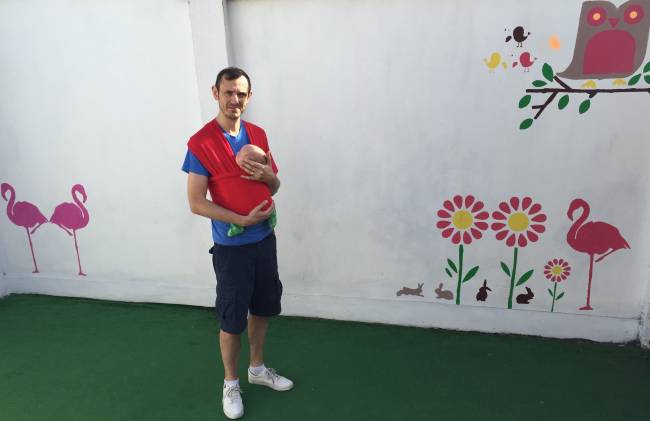 I've always been a bit intimidated by those baby-sling fabric wraps. All that wrapping for a start… And surely the baby will slide out, or suffocate, or just get lost in there somewhere?! And, well, isn't it all just a bit too 'Earth Mum' for, er, a dad?
Never one to shy from a challenge or the discomfort zone (see my Trampoline-gate feature), I decided to give it a go. And I can tell you first hand, it's not bad. In fact, I was very impressed and I'm even trading in my padded sling for one of these bad boys.
Yes, it takes a bit of practice getting the whole wrapping thing nailed (there are no buckles or belts) but it's very satisfying when you do – and it really did only take me a couple of attempts, so it's hardly rocket science. Also, AmaWrap provides a very handy safety and instruction manual showing you how to tie the knot in three steps; how to breastfeed and carry in two steps (I left that one to the missus, obviously) and how to do a basic carry in three steps.
There's also an online instructional video in case the pics don't do it for you. The positions are quite limited, i.e. only parent-facing and not outward facing, but that's a comfort, safety and over-stimulation thing. And besides, we're very happy to have new baby Maggie looking just at us for as long as possible! That big wide world ain't going nowhere, baby.
The most difficult thing about an AmaWrap is deciding which of the 13 cool colours to opt for. It's very ergonomic and the 100% cotton fabric feels luxuriously soft and super strong.
Jacqui loves it because it doesn't aggravate her C-section scar and she can manage to do a spot of discreet breastfeeding on the go. And we both love it for all the extra skin-to-skin contact. For us dads it really is a great bonding opportunity (whilst looking uber cool too, of course).
When you look down and see your precious little treasure fast asleep and snuggled against your chest, I guarantee you'll ditch the cumbersome pram.
The AmaWrap Baby Carrier is suitable for babies from birth to 15kgs and one size fits all. AmaWraps retail at £39.99 and come in a range of colours including Sunflower Orange, Dusky Pink, Turquoise, Orchid Purple, Poppy Red, Wine and Mocha.
For more information visit AmaWrap.com
Simon Harris is a father and director of Swyhpe, a creative motion agency based in London.