It's a universally accepted fact that space toys never get old. So during Space Week, which runs from 4th October (marking the anniversary of the launch of the first human-made satellite, Sputnik 1, in 1957), treat your starry-eyed offspring to one of these out-of-this-world toys…
Discovery Spaceship & Lift-off Rocket
This Spaceship & Rocket set gets extra points for its retro styling (probably wasted on most children, admittedly, but goes down a treat with style-savvy dads). The four-storey rocket ship has double-sided graphics on three panels with the top section lifting up to become a landing module, sending kids' imaginations into overdrive as they prepare, launch and land at their destination somewhere in the galaxy. The set also comes with a host of cool wooden accessories, essential for any self-respecting space traveller – from lab equipment, flag and a moon crater to a robot and even an alien – leaving nothing to stop your budding Captain Kirks from acting out their most exciting space missions ever.
Discovery Spaceship & Lift-off Rocket (ages 3+): £100. sciencemuseumshop.co.uk
Deep Space Home Planetarium & Projector

If your tweens and teens reckon they're too old for space toys, wait till they see this little beauty in action. At the flick of a switch their dark and no doubt tip of a room will be filled with an outer-space light show, where they can explore the universe and ponder all things cosmic without ever having to leave their bed (that in itself is a sure teen-pleaser). The table-top planetarium and projector has its own stand and the main body of the unit rotates so you can use either the projector or the planetarium. The latter has two domes, one projecting star patterns and the other projecting constellations onto ceilings and walls. Add the night-light dome and deep space becomes a cool night light with rotating stars and constellations – nice to nod off with. And for those who want to take a deeper look into the workings of intergalactic travel, just swivel the unit around and use the projector to view 24 colour NASA and Hubble Telescope photographs of spacecraft, astronauts, planets and nebulae from three slide discs. There's even a nifty booklet included so star gazers can learn about the night sky and read about each NASA photograph.
Brainstorm Toys' Deep Space Home Planetarium & Projector (ages 6+): £30. Johnlewis.com
JR. Astronaut Helmet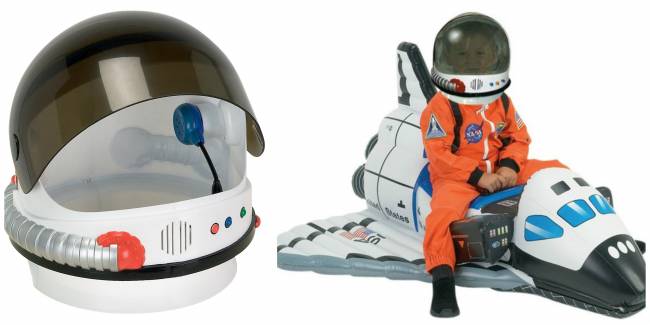 Of course, no sensible astronaut would step into outer space without a helmet, and they don't come more cosmic – or realistic looking – than this talking NASA Space Helmet. The moment your intrepid adventurer pulls on the headgear, they'll be deep in character, ready to explore strange new planets, secure in the knowledge that the spring-loaded retractable reflective visor shield will protect them from cosmic radiation (and the sound of annoying siblings begging for their turn). Other space-helmet vitals include a dummy boom microphone for talking to mission control, techy buttons, one of which initiates a countdown followed by the all-important blast-off sounds, and another button to automatically open your visor. One thing we should mention is that this helmet is huge, so may be too wobbly for pint-sized astronauts. The upside is that it's big enough to accommodate a dad-sized head, so when no one's looking, you know what to do…
Map Toys' JR. Astronaut Helmet (ages 6+ – or younger if they have generous-sized head!): £33.99. amazon.co.uk
National Geographic Laser Pegs 24-1: Space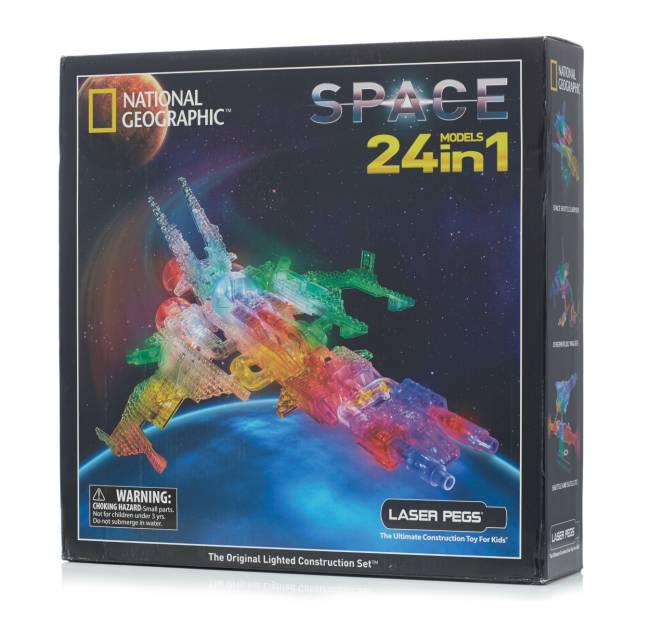 Another one for older kids who reckon they're too cool for 'toys' is this intergalactic building kit from National Geographic and Laser Pegs. Tween and teen astronaut can voyage to a distant galaxy or colonize a new world as they build space-age models like the Mars Voyager, Hover Vehicle, Alien Stunt Fighter, Star Cruiser or other-worldly stalker. In fact, with 36 Laser Pegs and a whopping 125 construction parts, there are 24 models to be made (hence the name '24-1'), and those don't include the zillion more that are waiting to be unleashed by your kids' cosmic imaginations. Once the fantastic creation is complete, the clear building blocks pair with special LED-enabled blocks (batteries required) that send coloured light throughout the model when it's attached to the power base. So when space gets too dark for your brave time-travellers, they can simply light up their handiwork and keep exploring to the edge of the universe and beyond.
National Geographic Laser Pegs 24-1: Space (ages 3+): £43.50. qvcuk.com
Geospace Jump Rocket Launcher with Rocket Set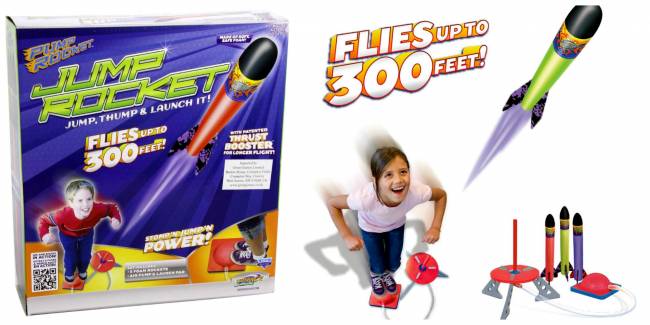 Whether a toddler or teen-sized space traveller, the most exciting bit of any mission has got to be the blast off into space, and while the Jump Rocket won't reach the moon, it'll have a bloomin' good try! Simply slide one of the three colourful foam rockets onto its launching pad, jump up and land on the hemisphere-shaped air pump and watch it rocket into the sky to a height of up to 300 feet, thanks to the cosmic-sounding Thrust Booster. And you don't need to worry about it taking out the odd pigeon / Boeing 737 on its way, as these rockets feature soft, durable foam bodies with extra-spongy foam tips. They're so soft, kids can even play with them indoors without fearing for your best china or the moggy.
Geospace Jump Rocket Launcher with Rocket Set (ages 4+): £14.99. spacekids.co.uk
PODS: The Galactic Space Adventure
First reaction on seeing these PODS was 'Wow!', swiftly followed by 'Whoa!' on spotting the price tag. So before you read any further, let's get the unpleasantness out of the way – one of these PODS will set you back (squint your eyes) £1,500. Yes, we know, but we had to include it because this is a space toys feature and this is a simply awesome space toy. The sensory PODS sets the scene for space-age play where kids can immerse themselves in an intergalactic experience as if they were really there. PODS transforms as colour-changing lights glow and create a cool ambient atmosphere. And with interchangeable 360° interior and exterior graphics, your jammy kids can adapt their imaginary world in minutes – once you've bought the PODS structure, you can buy other 'worlds' in the range, such as Sub Aqua Quest and the Magical Princesses Palace. Or you could always get your nippers an old cardboard box and tell them to use good old-fashioned make-believe (and slyly get one of these hypnotic hideaways just for you).
PODS: The Galactic Space Adventure (ages 3+): £1,500. Podsplay.com
Great Explorations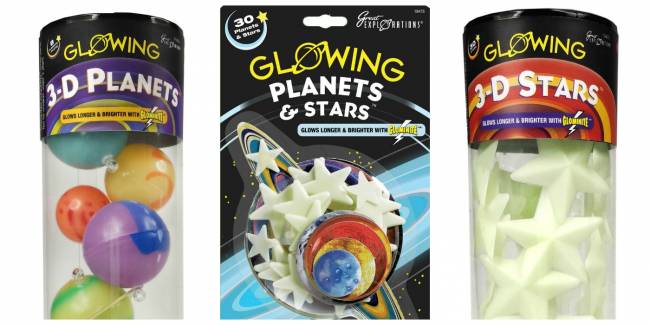 Haven't got £1,500 to spend on the cosmic PODS above? No problem – you can still bring the constellations into your child's bedroom with Great Explorations' range of starry stickers and planet mobiles, priced from around £5. Whether you want to create a cosy solar system or simply add a bit of glow-in-the-dark fun, this dazzling range – including Planets and Stars, 3D Stars and Planets and Twinkle Stars to the Milky Way – will open up a world of fun where your little star gazers can invent their own constellations and design brave new galaxies.
Great Explorations (ages 3+): from £3.99. Amazon.co.uk