These small 'n' spooky gizmos will keep your little monsters happy this Halloween…
Creepy Hand

No prizes for guessing where the manufacturers, Megableu, drew their inspiration from when creating this creepy, kooky walking hand. Based on the game of Truth or Dare, the bright-green, disembodied, battery-operated hand (a Thing by any other name) walks around the table in little circles, eventually coming to a stop and pointing a spooky digit at one of the players. If the player doesn't tell the truth or take the dare, then a monstrous forfeit follows. A game for two to seven players, Creepy Hand comes complete with 100 cards. Mysterious and spooky!
Creepy Hand (ages 7+), £19.99. toysrus.co.uk
Zombie Dice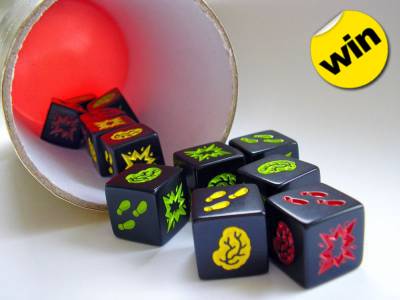 Life as a zombie, eh? Eat brains. Don't get shot by a man with a shotgun. Eat more brains. That's basically the premise of this simple but fun dice game. The 13 custom dice represent your hapless victims. Gobble up all their delicious cranial matter by all means – you have to devour more than any of your zombie pals (if zombies have them, that is) – but don't push your luck too far, or it's both ends of a double-barrel for you. For two to eight players, each game lasts between 10 and 20 minutes.
Zombie Dice (ages 6+), £9.99. amazon.co.uk
HEXBUG Spider XL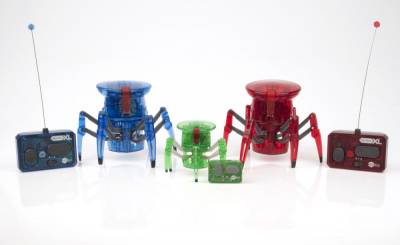 Designed to help kids think about the science behind the robotics, this six-legged HEXBUG Spider features 360-degree turret-style steering and an LED forward eye, which not only lets it find its way around objects, but also controls where it scurries. Fancy! Available in translucent red or blue and with a two-channel remote control, this bug is both creepy insectoid thingy and soulless robot doodah. Robotic zombie sharks, glow-in-the-dark nanobots and wriggly robot lava are also available from the same company. Good night, sleep tight, and don't let the HEXBUGS bite…
HEXBUG Spider XL (ages 8+), £39.99. hexbug.com
Don't miss these other ghoulish games.