Six great toys to turn your outside space into an adventure land….
Summer's here! Well, it actually arrived 27 March, to be precise – we're just waiting for the weather to realise this and get busy with the sunshine. Either way, with the longer, hopefully warmer days, now's the time to lure your kids away from their computers and out into the fresh air. These six garden games will help turn your unkempt garden into a mini-sized fun park – but without the mile-long queues or sky-high ticket prices. Job done.
Fish 'n Splash Water Table
If you're always promising the kids you'll take them fishing, but really can't face squishing maggots onto hooks, don't feel bad – this Fish 'N Splash will see them having a whale of a time in their own back garden. With loads of fun accessories, your tadpole-sized fishermen will be catching and counting the pond swimmers; filling the fish bowl with water and watching it come splashing down; and trying to launch the sea creatures across the pond and onto the lily pad, all day long and until the sun goes down.
Fish 'N Splash Water Table (age 2+), £49.99. littletikes.co.uk
Snakes & Ladders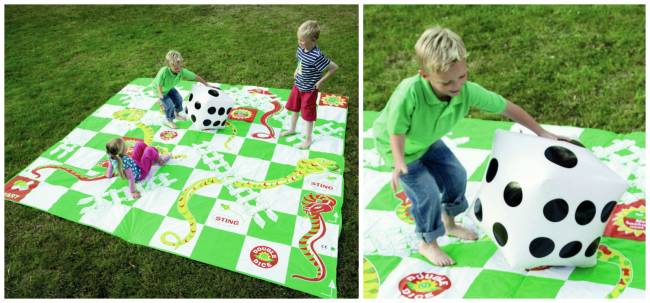 This super-sized Snakes & Ladders game is a must for family fun in the garden – suitable for little 'uns to old 'uns, it's a golden fave. Inside the storage box, you'll find the giant (three-metre square) PVC playing mat with reinforced eyelets and edging, and a huge inflatable dice, but no counters – because the players are the counters in this game. You'll also find handy pegs to secure the board to the lawn, stopping the wind from blowing it all into next-door's garden just as you're about to reach the winning square!
Giant Snakes & Ladders (age 2+), £45. Gltc.co.uk
Folding Trampoline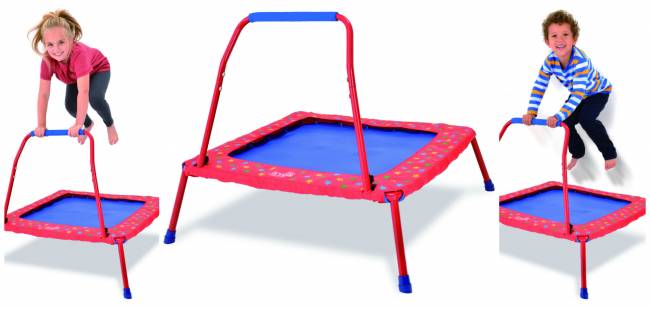 Even the dinkiest of gardens will be able to accommodate this bijou bouncer. Small it may be, but with a tough weather-proof mat and tubular steel frame, it can handle serious bouncing from sugar-rushing kids, and keeps its shiny good looks come rain or shine. A good safety touch is the padded cover around the mat, which cushions the frame and prevents little legs from stepping through the bungee cord. Need to make room for the BBQ? No problem, as the handle simply screws off and the legs fold down for easy storage.
Folding Trampoline (age 3+), £54.99. galttoys.com
Giant Toppling Tower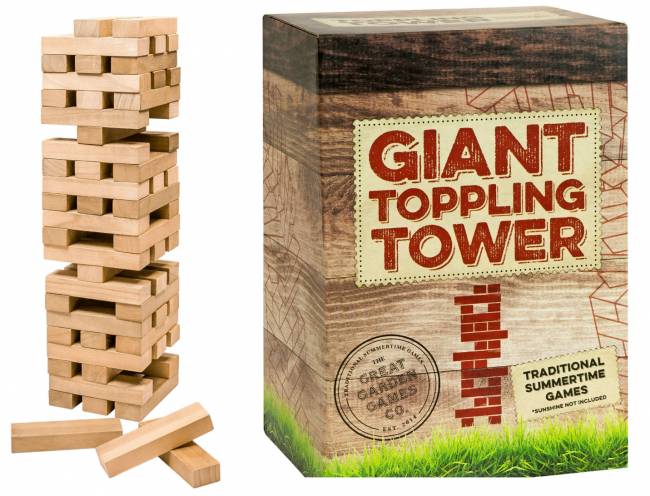 Fancy a bit of healthy competition? This whopping Toppling Tower should fit the bill. As with the tabletop-sized game, you build this tower with the wooden blocks, then take it in turns to remove a block at a time from the tower and place it on top without sending it crashing to the ground. The last player to stack a block without the tower tumbling is the winner! Requiring a steady hand and nerves of steel, toddlers will probably do better than dads – but then, you have the height advantage. Hah!
Games Giant Toppling Tower (age 3+), £29.95. prezzybox.com
Forest Animals Croquet

This wooden Forest Animals Croquet set by French toy maker Janod not only makes a fun outdoor toy for knee-high croquet players, but also adds a certain je nais se quoi to the garden. The set comes in a carry case, and contains two wooden mallets, two balls and six wickets, each shaped and painted like a forest animal – a bear, hedgehog, wild boar, fox, dear and rabbit. This traditional summer-time game of skill is great for developing coordination and dexterity in little ones – and the not so little.
Janod Forest Animals Croquet (age 3+), £22.99. borngifted.co.uk
Kids Pirate Boat Sand Pit and Play Bench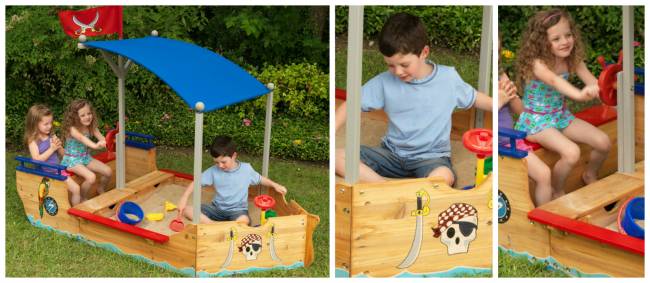 Ahh, bet you dreamed of having one of these beauties in your back garden when you were a kid, eh? This Pirate Boat Sand Pit and Play Bench clearly looks the business, but it also provide lots of swashbuckling adventures for your little ones (and their pirate-wannabe dads) over the summer months. What's more, the canopy will help keep those nasty UV rays at bay (essential when the kids won't stop playing long enough for you to slap on the Factor 50), and there are two handy storage areas under the benches to tidy away all toys, buckets and buried treasure that usually litter your lovely lawn. Ooh-argh!
Kids Pirate Boat Sand Pit and Play Bench (age 3+), £185. Cuckooland.com