From simple towers to sophisticated cities, these build-it-yourself kits will keep little fingers busy for hours of creative fun…
The beauty of construction sets is that they're toys that can be played solo, or the whole family can get in on the act. From stacking the tallest tower to creating a flower garden, these kits have something for every size and skill (and one of them can even get picky eaters to finish their breakies – see Toasted Towers below if you don't believe us)…
Toasted Towers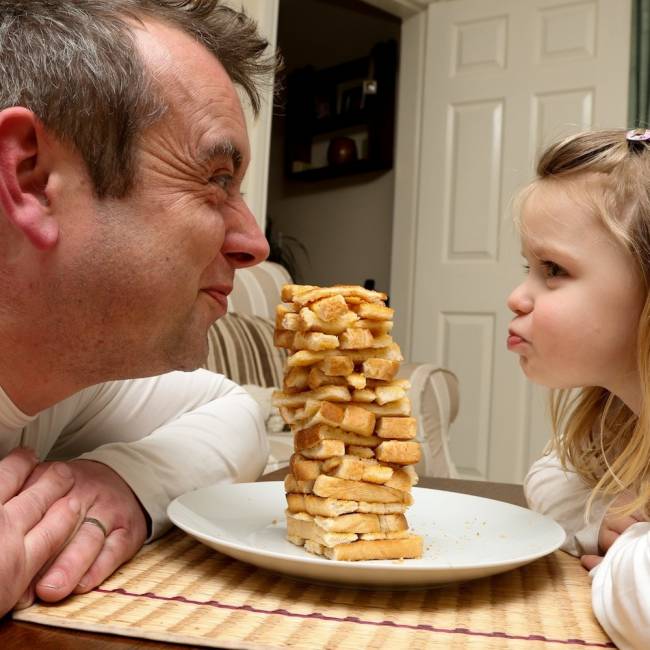 Dad-of-two Wayne Stephenson has found a novel way to get his daughters to eat their breakfast: Toast Jenga. The 41-year-old web designer was having a nightmare getting his daughters Kesinee, three, and one-year-old Elania to eat the most important meal of the day, so decided to spice breakies up a bit by cutting toast into soldiers, then stacking them like the wooden bricks used in the popular game. "I arrange the sizes and alternate them to make a sort of Jenga tower," says Wayne. "Since we've started playing, the girls have been eating more toast. It sets them up properly for the rest of the day." Genius!
Marble Madness
Remember Mouse Trap, the awesome 70s game that saw one marble wreak mayhem before it finally led to the capture of the little rodent? Well, the Mega Marble Run is like the 20th-century version of that game, but with no mouse and a whole lot more marbles, thrills and spills. First, use the slot-together pieces to build the run, which can be small and simple or hugely complex. Once complete, sit back and watch the frenzied, fast-paced fun as the marbles disappear inside the columns, roll down the chutes, spin through the paddle wheels and ring the wiggly bell as they go. Then do it all again!
Mega Marble Run from Galt (ages 4+): £29.99. Galttoys.com
Two-in-One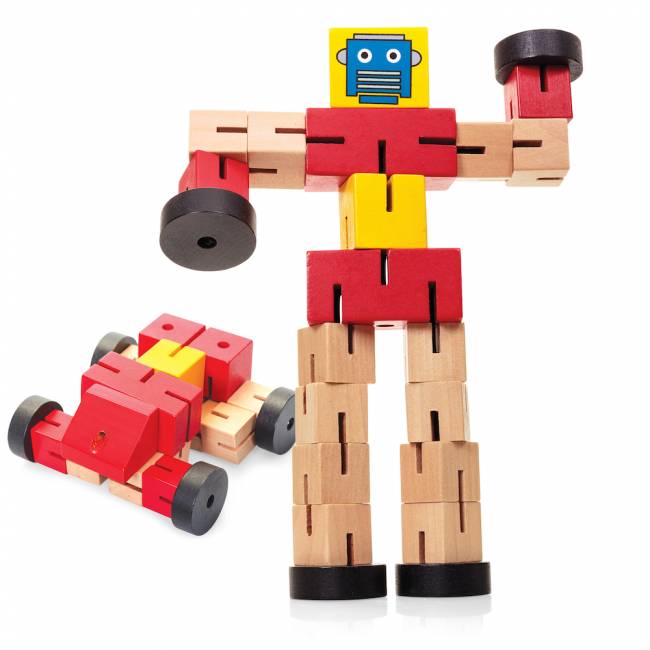 There's much more to this transformer than meets the eye. First up, he's a retro-looking robot transformer, but start bending and twisting his arms and legs, and you can turn him into a cool car. And not just one type of car – using the wooden blocks which come with a series of grooves, this fella can be twisted and locked into all sorts of shapes, allowing for hundreds of different configurations and a variety of vehicles. Obviously, this is all great for developing little ones' hand / eye co-ordination and problem-solving skills, but it also provides hours of fiddly fun.
Wooden Transformbot from Tobar (ages 3+): £6. Wooandblue.com
City Life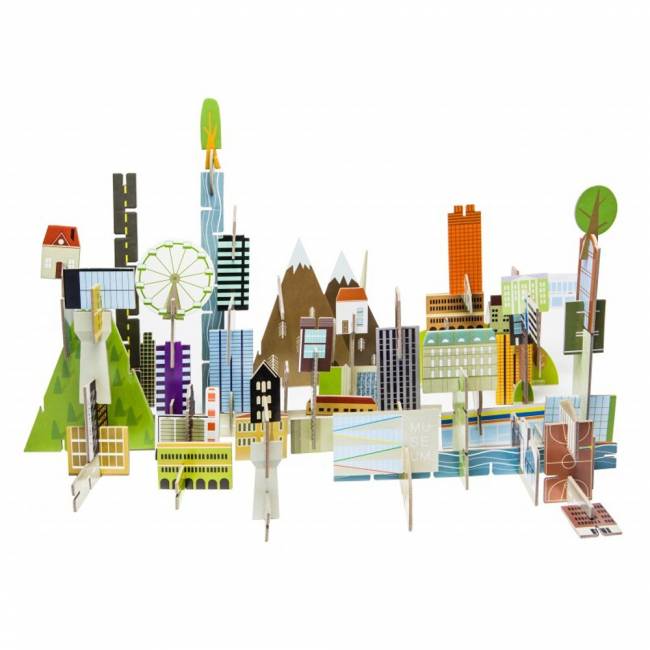 What mini megalomaniac could resist constructing their very own city, which they can rule with a tiny iron fist? Even if your kids don't want to conquer the world just yet, they're sure to get a kick out of creating their own urban landscape, complete with houses, mountains, skyscrapers, trees and roads. The Archiville Cardboard Landscape kit contains coloured cardboard (recycled, thank you very much) pieces that can be built into ever-changing worlds. There are no rules – the houses can be placed on other houses, trees can be taller than buildings, the skyscrapers and roads can lead up to the sky or run around town… whatever your little town planners desire. And at the end of it, you could be left with a rather attractive decorative feature.
Archiville Cardboard Landscape Kitby by Artful Kids (ages 4+): £39.95. Notonthehighstreet.com
Demolition Kids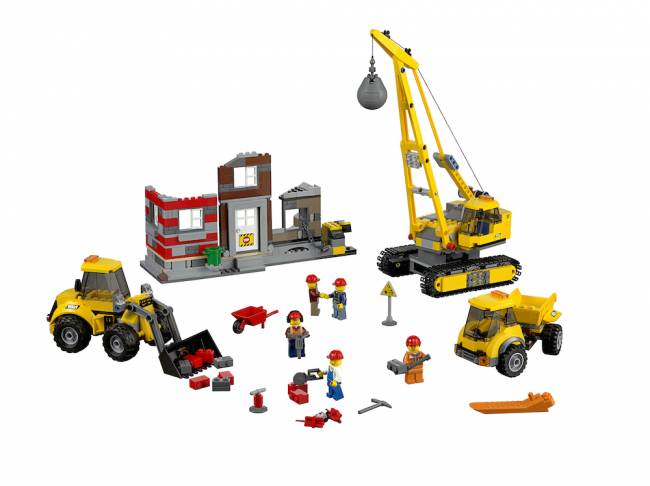 As much fun as constructing towers, gardens and cities is, knocking them back down again is hugely satisfying. Enter the spanking-new LEGO CITY Demolition Site. Including a crane, wrecking ball, front-end loader, dump truck and a building section with exploding function, the demolition experts (in the form of five mini figures) have to knock down a row of derelict houses and they need your kids' help. First, they'll have to jump aboard the giant crane and operate the jib to swing the heavy wrecking ball, before planting the dynamite, pushing the detonator handle and then using the loader to pull the demolition chain. Finally, when the dust has settled, that rubble will need to be emptied into the dump truck (to be disposed of responsibly). And this is what makes Lego kind of the construction sets.
LEGO CITY Demolition Site (ages 5+): £59.99. LEGO.com/CITY
Bloomin' Lovely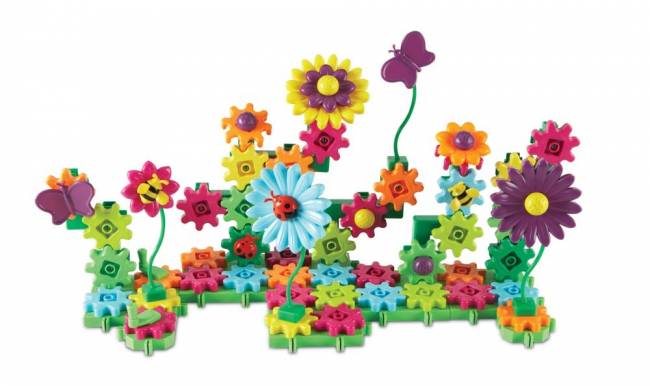 This gears set contains everything to help budding Titchmarshes realise their horticulture dreams, complete with colourful flowers, wiggly stems, beautiful butterflies, buzzing bees and spinning gears to bring it all to life. The 116-piece set is supplied in a handy box with a carry-handle, and includes a set of fun stickers to add the finishing touches to garden design. The pieces are interchangeable, so your green-fingered kids can unleash their grand designs in limitless ways. And it's a lot let messy and worm-free than planting in your precious flower beds.
Build & Bloom Flower Garden Gears (ages 4+): £34.99. brightminds.co.uk
Explosive Fun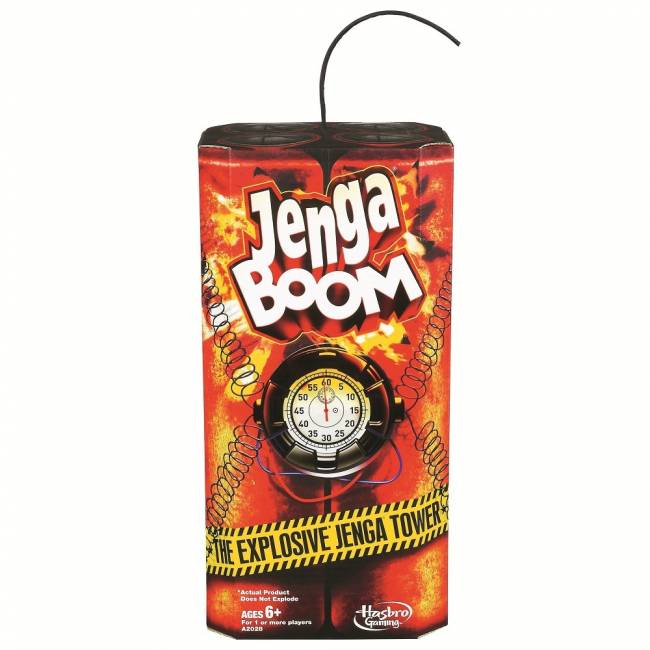 How do you make a heart-in-your-mouth game like Jenga even more thrilling? By adding a bomb to it, of course. Jenga Boom, as the name suggests, is an 'explosive' strategy game. Just like in the classic Jenga, you need a delicate touch to pull blocks out of the stack without knocking the whole thing down. But unlike the original, this tower is fitted with a detonator, which starts ticking before each turn. If you hesitate or pick the wrong spot, the 36 hardwood blocks will 'blow up', the tower is history, and you're out. Nerve-wracking, yes, but what a rush!
Jenga Boom Explosive Game (ages 6+): £16.07. Tesco.com