The count down to Christmas has never been so much fun…
Ahh, the 1st of December. You all gather round the advent calendar, and oh-so-carefully open that first door, taking care not to bend, crease or – oh lordy! – rip it. Come the 10th December, the doors are bent, creased and ripped, and even the little 'uns are fed up to the back teeth with yet another bauble pic. Well, no more, we say! We've scoured the high street for advent calendars that come with a sleigh-load of festive joy…
Lego Star Wars Advent Calendar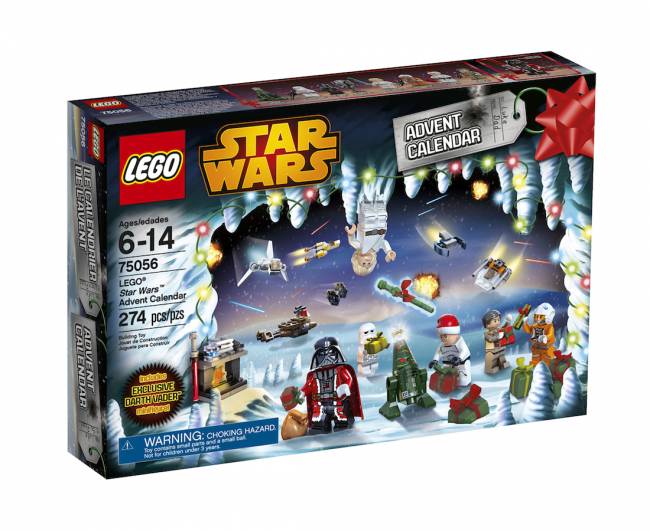 Ever seen the Force's festive side? You will now, as you check out life on the icy planet Hoth and open up a door each December day to reveal a cool Star Wars-themed goodie. Once you've got all 24 of them – including exclusive minifigures, starships and more – you can unfold the playmat and act out hilarious Hoth-based scenes for your nearest and dearest. This is the perfect pre-Christmas treat for LEGO Star Wars fans from any galaxy (just remember to let your kids have a go, too, yes?).
Lego Star Wars Advent Calendar (ages 6–14): £24.99. LEGO.com/starwars
24 Sleeps 'til Christmas Advent Activity Book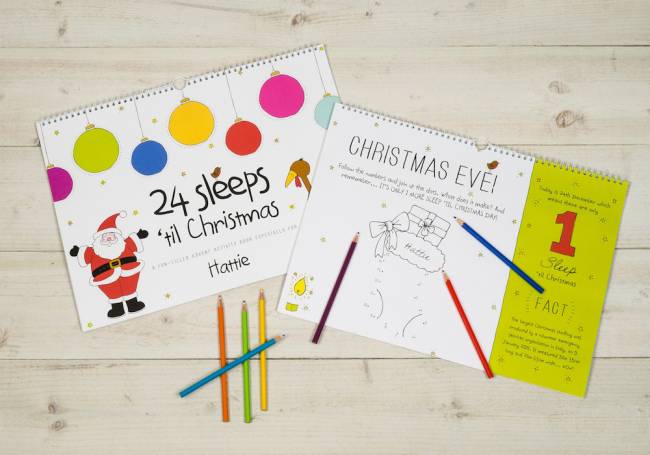 Forget the measly open-one-door-and-you're-done-for-the-day – this advent calendar-come-book is packed with activities for each and every day of December. Little grinches can take their pick of festive fun with carols to sing, facts to learn, puzzles to conquer, cakes to bake, doodles to draw, pictures to colour in, and a whole lot more. And as the icing on the Chrimbo cake, when ordering the book, you can choose to put your kid's name on the front cover (it will crop up on other pages throughout the book too) and even add a wee message ('Santa doesn't bring prezzies to children who are naughty / leave dirty socks on the sofa / don't tidy away Dad's dirty socks from the sofa etc…' are just a few helpful ideas we came up with).
24 Sleeps 'til Christmas Advent Activity Book (ages 5+): £15.99. borngifted.co.uk
Wow Wonderland and Wow Town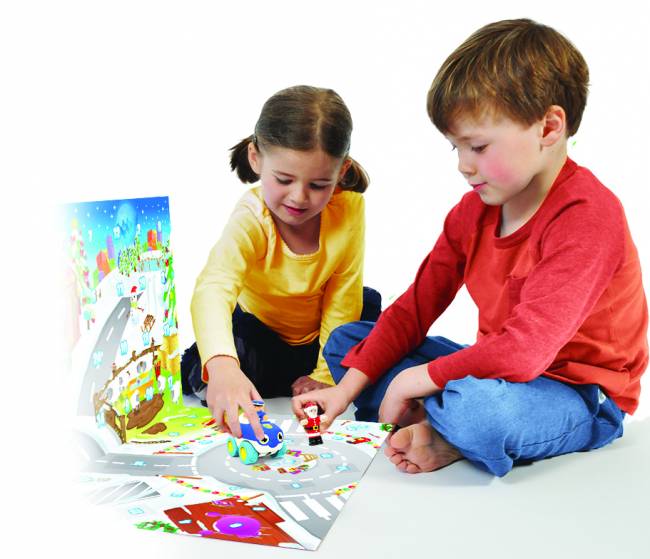 Just because it's Christmas, doesn't mean young minds should be left to turn to Chrimbo pudding, right? Darn right. So specially for you dedicated dads are WOW's new advent calendars, designed to 'create excitement and fun learning experiences' for your tots in the run-up to Christmas. Each door reveals a toy – so far, so standard – but these doors can be matched with numbers on the jolly-looking fold-down play scene to create their very own festive tale. The stories can be changed, invented and played out as each toy is collected in the count down to the big day itself. And this is the advent calendar that keeps on giving, as kids can reinvent their festive story again and again, leaving you to get on with stuffing the turkey.
Wow Wonderland and Wow Town (ages 1–5); £19.99 each. Amazon.co.uk
Playmobil Advent Calendar Police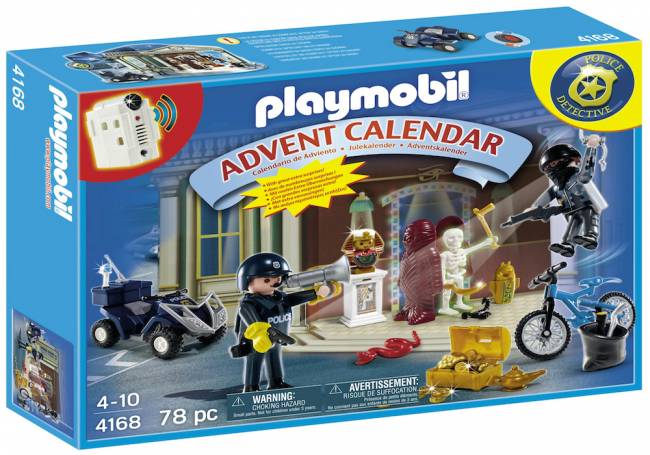 Think criminals hang up their swag bag just because it's Christmas? Not according to the Police Advent Calendar, where budding Crackers have to stop the museum thief before he steals precious artifacts. As usual, the calendar contains 24 surprise items for each day of advent, but once all the pieces are revealed, don the police badge and set up the alarm system to warn when a shifty suspect is lurking. The set includes a cool comic-style backdrop, two figures, police quad car, bicycle, mummy, pharaohs bust, treasure chest, snake and other cool museum-y bits and bots to create a police raid McNaulty would be proud of.
Playmobil Advent Calendar Police (ages 3+): £18.99. playmobile.co.uk
Lego Friends Advent Calendar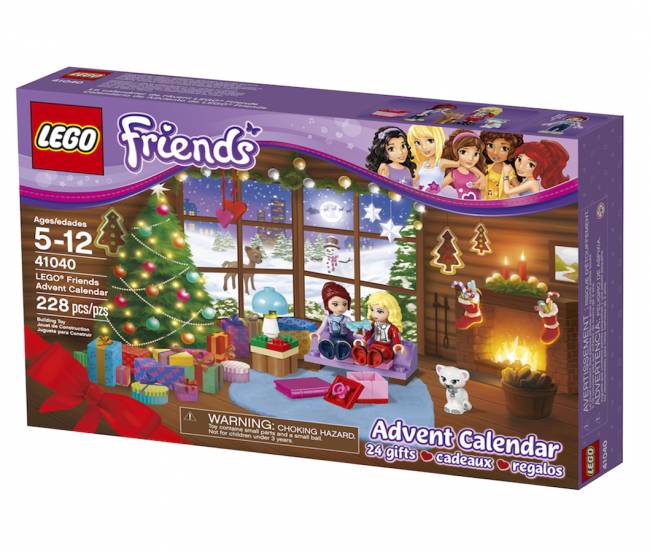 What, another Lego calendar? Well, yes, but while the Star Wars one is more for Lego-loving lads (and their dads), this Friends advent calendar is geared towards the ladies of the house. Building the festive story as you follow Mia on a sledging adventure, keep an eye out for wildlife in the forest on the way to her mate Ewa's house. You then get to help the girls prepare a slap-up Chrimbo meal and share in the fun as they open all their presents. As well as the Mia and Ewa mini-doll figures, you'll find buildable surprises behind 24 secret compartments, including a sledge, deer, fireplace and a Christmas tree. Jingle jingle!
Lego Friends Advent Calendar (ages 5–12): £19.99. lego.friends.co.uk
Moshi Monsters Micro Advent Calendar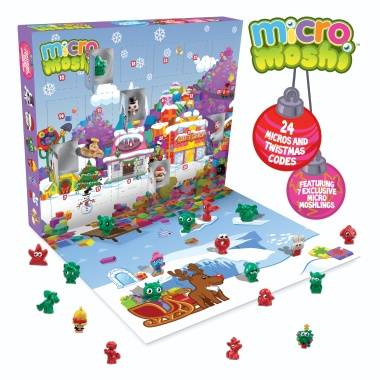 As the name suggests, this micro advent calendar is a bit more compact than most of its calendar cousins. But good things come in small packages, and if your little monsters are into Moshi, they won't be disappointed. The front folds down to reveal 24 doors, each with a collectable Micro Moshling safely secured inside. Most of the Moshi's are in shades of festive red and green, but there are also seven exclusive ones, such as Iggy dressed up as a Christmas tree and Peppy with a bell on his head. Fans of the adoptable critters will be made up with this calendar – but remember, a Moshy Monster isn't just for Christmas, folks.
Moshi Monsters Micro Advent Calendar (ages 3+): £14.99. argos.co.uk