This nifty trio will turn your nippers into tiddlers in no time…
When the weather gets hot and the kids get cranky, it's time to hit the pool. But if your little 'uns are still struggling with doggy paddle or just need a bit more confidence in the water, there's a whole host of brilliant new swimming aids around. We've chosen these three bits of kit, as they're comfy, confidence building and, most importantly for the wearer, they look cool! And while you're here, spare five minutes to check out Water Babies' top tips for helping you and the kids have a fun and safe summer…
Pool Shark
Kids will have a whale of a time scaring the bejesus out of unsuspecting swimmers with this shark-shaped float. But of course, that's not its main aim. Worn on the back, the SwimFin – the world's only vertical buoyancy aid – allows the wearer to 'suspend' in the water without tipping forward and also ensures freedom of movement. By enabling newbie swimmers to splash about to their heart's content, they can master strokes safely and easily. Even once your budding Nemos have learnt to swim, they can continue to use their fin to develop underwater skills, such as snorkelling and underwater swimming, without worrying about straying too far from the surface of the water. And with the SwimFin coming in a range of impossible-to-miss colours, you'll be able to keep the kids in constant vision from the comfort of your sunbed.
SwimFin (ages 2+): £21.99. swimfin.co.uk
Dive in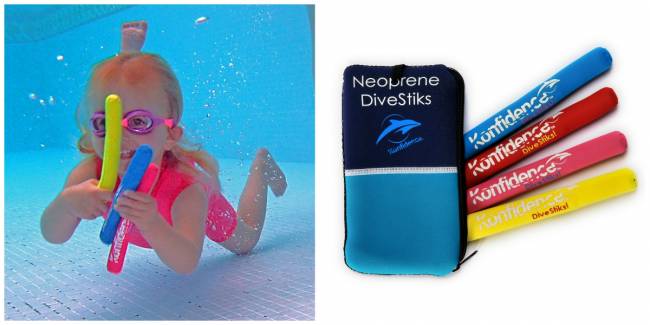 Imagine a game of Fetch, only in the pool instead of the park, and with kids instead of canines, and you've got the idea behind DiveStiks. Made from soft, flexible Neoprene, Konfidence's DiveStiks are designed to sink to the bottom of the pool floor, where they'll promptly stand up and wave about a bit, egging dinky divers to take a deep breath and swim down to collect them. DAD.Info tester, four-year-old Mia, wasn't quite ready to swim three leagues down in the big pool, despite being egged on by her gun-ho dad (following the what doesn't kill 'em makes 'em stronger rule of thought). So instead she chucked them in the shallow pool and spent hours of fun with other pint-sized paddlers, as they dunked their heads under water to collect the sticks, as they imagined they were diving for buried treasure. All great stuff for getting over the fear of being under water without the danger of being out of their depth. What's more, the four DiveStiks are individually marked with numbers 10 to 40, making a great reward-style game for more accomplished swimmers – and their competitive dads.
Konfidence's DiveStiks (ages 2+): £9.99. Konfidence.co.uk
Well armed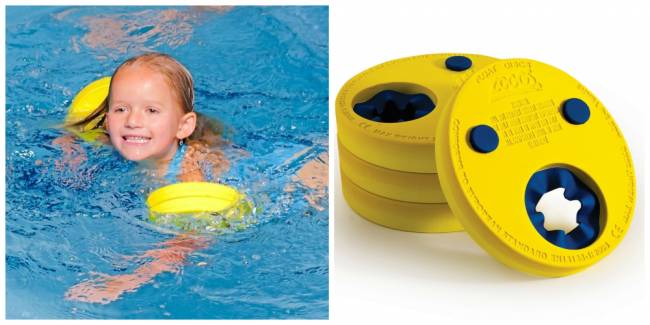 Most of us will recall learning to swim with blow-up armbands – those cumbersome, scratchy, squeaky blow-ups that left your poor arms red and scratched as your folks kept yanking them off and on again in the fight to keep the buggers inflated. Armbands may have come a long way since then, but if you still hold a healthy respect of those rubber rings, there's a much kinder option on the market. Float discs are made from comfy foam, and offer newbie swimmers much more movement and freedom in the water. They're easy as pie to put on and pull off without inflicting pain, and they're easy to use. There are two floats per arm, and as your nippers build in confidence, they can cut down to just one float per arm, until they're swimming like Mark Foster, which is when you can remove the floats completely and use them as mini-sized Frisbees instead.
Zoggs Float Discs (ages 2 to 6 years / max weight 25kg): £18. Zoggs.com
STAY SAFE BY THE POOL THIS SUMMER
Summer holidays are all about sun, sand and sea (or pool), which is fun for all the family, but can also bring safety fears with little ones charging around the poolside or paddling in the waves. And while we don't want to put the fear of God into you, with drowning being the third highest cause of accidental death in children – around 60 kids drown in the UK alone every summer – it's something we all have to be very aware of. To keep your kids safe this summer, baby and toddler swim school, Water Babies has come up with these common sense, but potentially life-saving tips, to ensure a fun summer without the fear factor…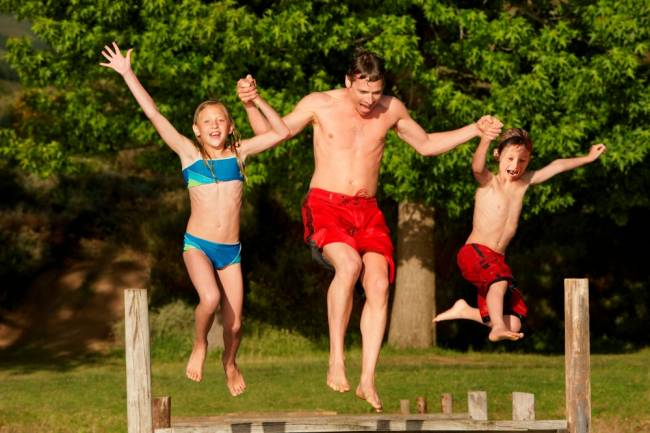 Tips for dads
• Always actively supervise your kids while they're in, on, or near the water. It's vital that any adult caring for a child is water confident and able to take action in an emergency. If you must leave, even for the shortest time, take your child with you or make sure another responsible adult is supervising them around the water.
• Never leave an older sibling to watch the kids. They're not trained or mature enough to be given such a responsibility.
• Be safety conscious at the pool side. Check the arrangements for the pool. Does it have supervision, what do you need to do in an emergency? At a private pool, take a mobile phone. Always find out how to contact the emergency services at the start of your holiday.
• If using a flotation aid, do ensure that it's the correct size and age for your child. Take the time to work out exactly how it works, and practice using it first.
• Stay sober near water. Alcohol is a contributory factor in many UK drownings. Don't drink alcohol while in or around the water. It can impair your supervision and swimming skills.
Tips for the kids (get your nippers to read this – twice!)
• Never swim alone.
• Don't engage in rough horseplay – pushing and jumping onto others – that might result in injury or drowning.
• Don't dive into water unless someone has already tested how deep it is and checked for any underwater hazards.
• Know what to do in an emergency and where to get help.