These pack-and-play seaside treats will ensure the kids a righteous time…
School's out for summer, so whether you're flying the kids off to a shore in the back of beyond or taking a day trip to Bogna Regis, make sure you hit the beach with one of these travel-friendly toys in tow …
Fancy a Cuppi?
There's only so much stuff you can fit in a beach bag, so after you've packed your sun creams, towels and sarnies, you're going to have to be brutal about what toy the kids can bring, which is sure to result in tears and tantrums before you've even left home – or maybe not. The Cuppi is a nifty three-in-one toy, combining all the tools of the castle-making trade – a shovel, sieve and bucket – plus a soft ball. The two cups can be used as spades for digging up sand to make the castles and scooping out labyrinth moats. And there'll be no unsightly lumps in these creations, thanks to the holes in one cup that make a handy sieve, while more holes in the bottom of each cone let kids draw in the sand with water or more sand. If the nippers get tired of building sandcastles (or more likely, fed up of sitting on the side lines as Dad perfects the battlements), they can use the soft rubber ball and cups to play catch – which should tire them out nicely for a peaceful journey back home.
Quut Cuppi (ages 1+): £6.99. toyella.com
Go bananas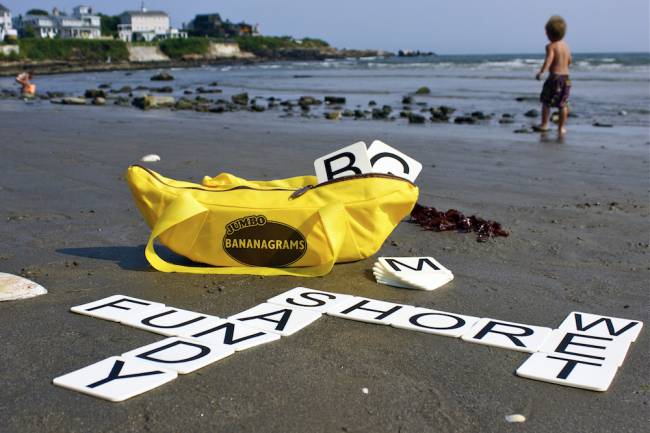 If you're the proud father of kids who like to give their brains a workout even when they're at the beach, this super-sized word game should fit the bill. OK, so it won't fit inside your average-sized beach bag, but who cares when it comes in its own bright-yellow tote bag? Inside the big banana you'll find 144 three-inch square letter tiles – each one's waterproof, washable and flexible, so no problem about them getting soaked, squished or caked in sand. The actual game requires players to race against each other to build crossword grids – the first to use up all their tiles is the winner. And if you want your wordsmiths to exercise their bodies as well as their minds, simply move the letter tiles further away from each other. Sneaky, eh?
Jumbo Bananagrams (ages 7+): £49.99. winningmoves.co.uk
Have a Waboba of a time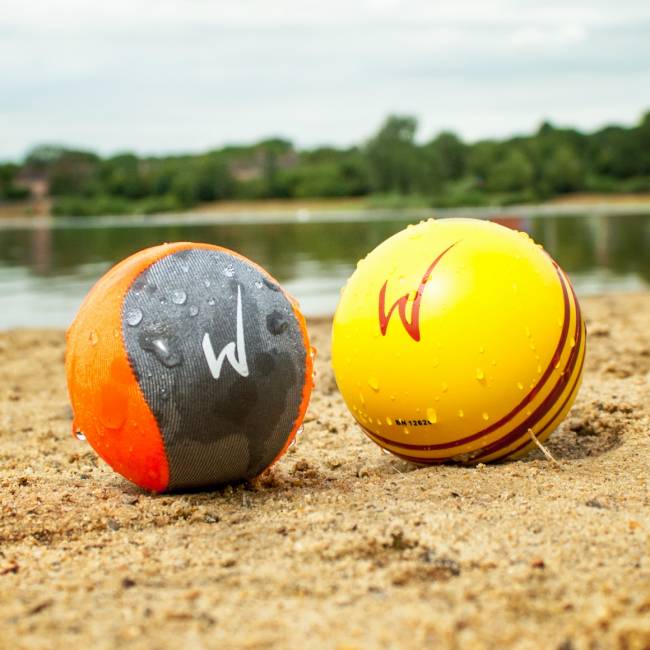 The Waboba ball may look like any other run-of-the-mill ball, but this innocent-looking sphere has a secret – it skips and bounces on water. Yes, just like Barnes Willis' bouncing bomb (but smaller and without the, er, bomb bit), the Waboba is great for seaside shenanigans and beats the frustration of skipping stones that sink after one measly bounce. But if your offspring are more toddlers than tweens, they'll probably find the Waboba Blast easier to handle than its powerful sibling. It still skips on water, but as it's lighter it doesn't bounce as high, meaning you won't have to keep retrieving it from the punters trying to float peacefully by on their Lilos.
Waboba Water Ball and Blast (ages 7+): £5.99. firebox.com
Squish it up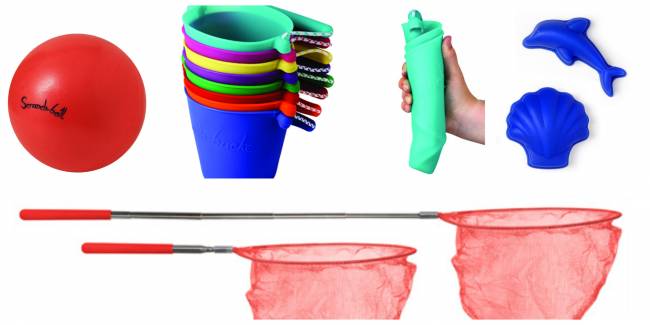 Anything that squishes up into a bag or pocket and doesn't need ironing afterwards is a winner in our book. Made from soft, non-toxic silicone, the Scrunch range includes everything kids could desire for a fun day at the beach. First up is the Scrunch ball, which can be inflated to the desired size using the straw provided. Soft and light, you won't have to worry if your coordination-challenged kids biff the ball at some unsuspecting sunbather. Next up, the squishy silicon moulds – featuring a crab, shell, dolphin and a foot – are brill for creating cool sand shapes, while the Scrunch spade and bucket are prerequisites for sandcastle building. There's even a Scrunch Net, which isn't exactly squishable but has a retractable telescopic handle instead. Either way, it's the tool needed for dipping, crabbing and exploring rock pools. The whole range can be deflated, folded, squished or retracted, ready to pack away neatly and sweetly for another day.
Scrunch range (ages 1+): £1.99 to £6.25. cheekyrascals.co.uk
Traditional with a twist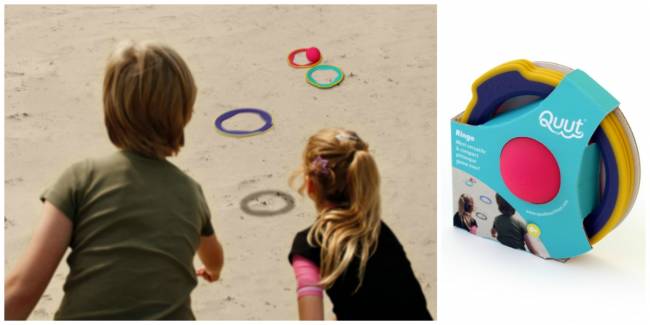 Volleyball can be a tad too aggressive for many under-10s (and, more importantly, attracts too many fellas showing off their bronzed biceps for most dads to take). So slow the pace but keep the fun with this gem of a game. Ringo is a boules-based game comprising three colourful rings and a rubber ball. Simply throw or roll out the ball as a target and then try to 'lasso' it with the rings. Each player has their own coloured ring, so there'll be no scraps about whose is closest. For another option – and one which may be a bit easier for knee-high players – reverse the game by standing the rings vertically in the sand, and then try to roll the ball through hoops croquet style. Good old-fashioned seaside fun.
Ringo (ages 0 to 100!). £6.99. toyella.com
Boffins-style beachball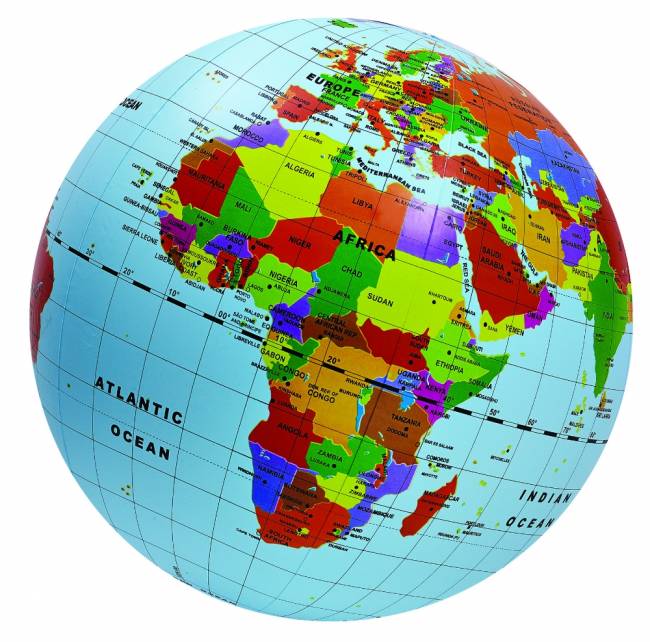 No day at the seaside would be complete without a beach ball, but make it a globe one like this and the kids get a geography lesson while they play. The Mega Globe is a huge 50cm in size, with colourful illustrations and clear labels, so as your little 'uns throw the ball to each other, they can identify continents, countries, capitals and oceans. The ball even comes with an educational game ideas sheet for that rare breed of child who just can't get enough of all things geographic. For others kids, the beach ball is great for bouncing.
Brainstorm 50cm Mega Globe (ages 1+). £8.69. amazon.co.uk