When it comes to your child's first set of wheels, there's a whole new breed of bikes in town…
With National Bike week just around the corner (13–21 June) and the rain drying up (hopefully), now's a good time to treat toddlers to their very first bike, with a stabiliser-less and pedal-less balance bike. What, put your precious nippers on a bike with no stabilisers or pedals? Are we mad? Nope, hear us out… Research has shown that stabilisers actually give a false sense of security. Think back to when you were learning to ride. Sure, you were all gung-ho when you had your trusty stabilisers fixed to your bike, but once they were removed, you may recall painful memories of your folks letting go of your bike, leaving you to crash and burn in front of all your wee pals. That's because you hadn't actually learned how to balance, so you had to start all over again. Balance bikes help novice bikers to get the hang of balancing first. Not only that, but with no pedals to get in the way, they won't hurt little legs by getting them caught in the pedals – it's a bit like riding a scooter but sitting down. There are loads of brilliant-looking balance bikes on the market, but here are three of our faves – fun, colourful and make you wish they'd been about when you were a nipper…
Form and function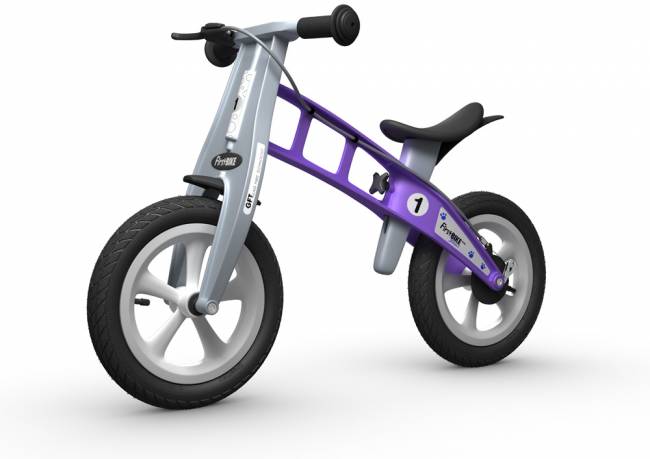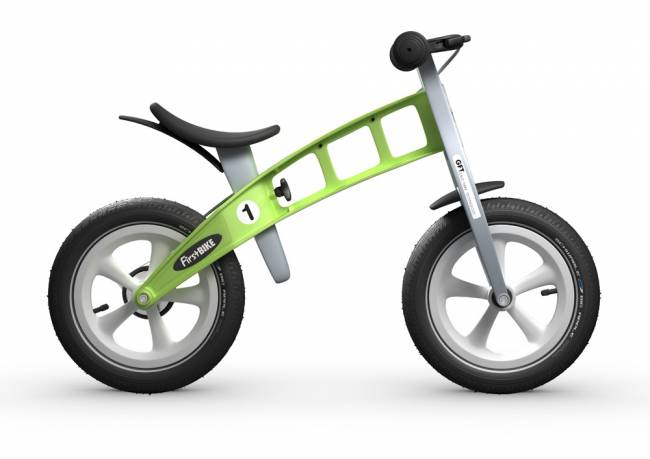 You're probably a lot more nervous about your kid's first set of wheels than they are, but FirstBIKE should help ease those fears, as its balance bikes were designed in Germany with one goal in mind – to build a super-safe bike for your precious nippers. Safety features include a rear drum brake that provides gentle breaking, and a steering limiter to help novice riders control the bike and prevent falls. The specially shaped 'horse saddle' seat prevents enthusiastic bikers from slipping off when riding, while the height can be adjusted without tools in seconds. The bike, which comes in nine cool colours, also has no sharp edges or protruding screws, while sealed bearings to protect little fingers. Finally, the frame together with inflated tyres provide shock-absorption to protect spines and other bits. Despite the bells and whistles, the bike is pretty light (3.9 kg with a brake). It's also weatherproof and comes with a lifetime warranty on the frame and fork, and a five-year warranty on all other parts. That's German engineering for you.
FirstBIKE (ages 2 to 5 years): £94.99 to £119.99. first-bike.co.uk
Cool and quirky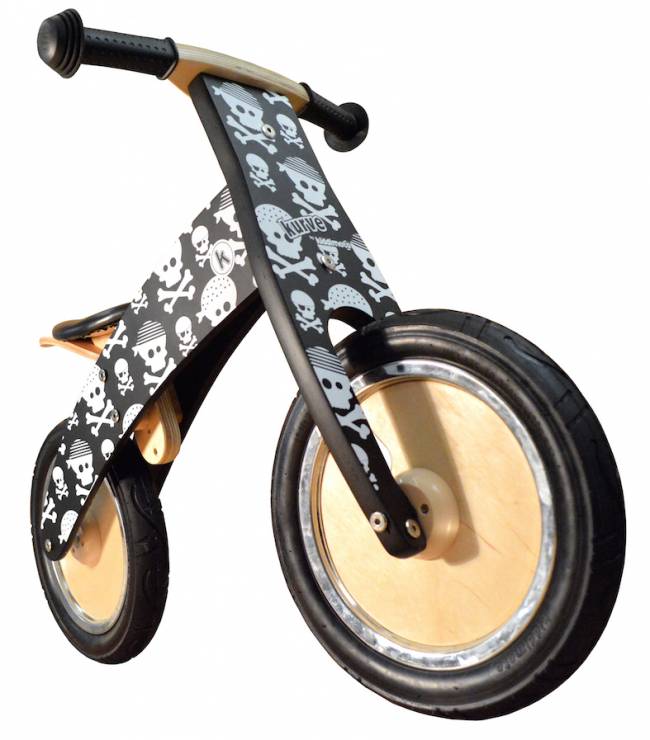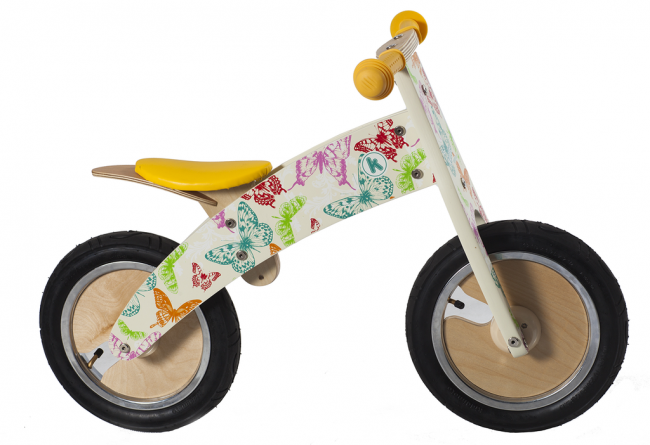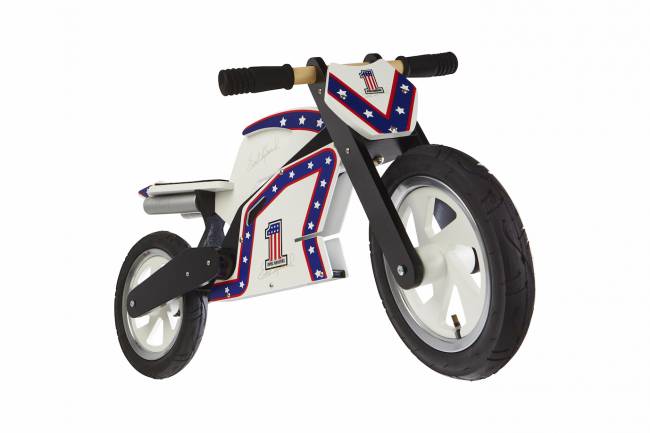 Kiddimoto's a bit of an expert when it comes to balance bikes – producing models that feature solid-birch plywood, adjustable seat and pneumatic tyres, they're sturdy, safe and durable. But what's even more important (to your style-savvy kids, at least) is that the bikes come in a range of incredibly cool designs, perfect for posing on at the local playground. No pint-sized pirate, knee-high nature-lover or adrenaline-loving dare devil could resist these latest models – the multi-coloured Butterflies Kurve, the graphic monochrome Skullz Kurve or the stars and stripes of the re-launched Evil Knievel Heroes bike. And just to top the toddler-style stakes, the bikes can be teamed with matching helmets and gloves. If only they made them for grown-up wannabe Knievels, too…
Kiddimoto (ages 3 to 6 years): £64.99 (Skullz and Butterflies) to £139.99 (Evil Knievel). kiddimoto.co.uk
Three in one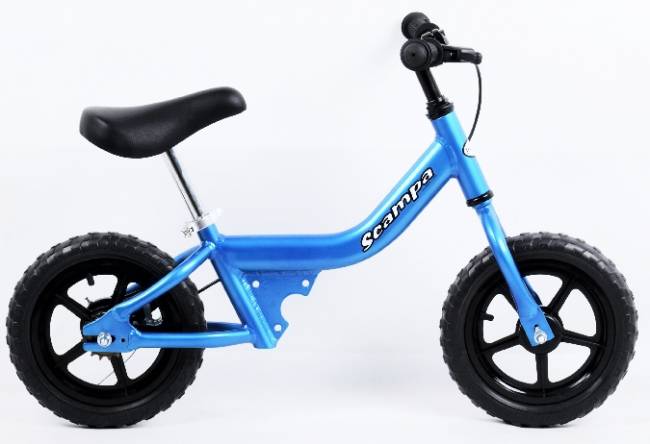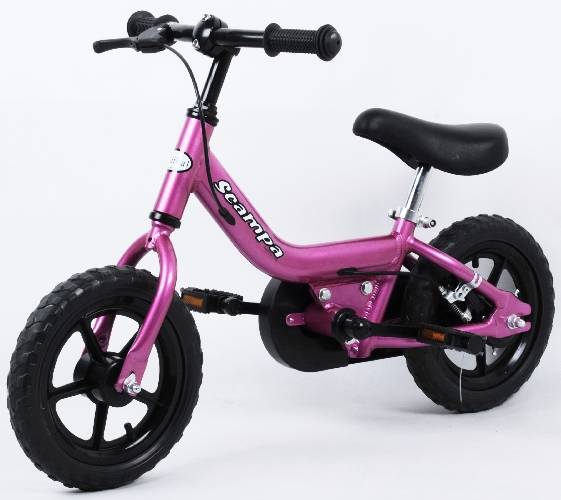 We all remember our first bike, and whether it was that 70s classic, the Chopper (surely the coolest cycle ever made) or a super-sleek, bone-rattling racer, we probably shed a few tears when we outgrew it (there's only so much 'knees cracking the handlebars' a kid can take). So it makes sense that your toddler's first bike should grow with them as much as possible, mainly because a bike they're really familiar with will be the one they feel most confident riding. And this is why PediBal has just created the Scampa – a three-in-one model that goes from balance bike to pedal bike. Constructed from lightweight aluminium and designed with a low centre of gravity, the bike can balance at a tiny 2mph in 'Balance' formation, helping little ones grow in confidence quickly and safely. Once they've mastered Balance, they can move onto the 'Sceeta' formation with the Kick Lock foot pads fitted, before graduating to the 'Full Pedal Bike' with the pedal crank assembly fitted. Just have the Kleenex ready when it's finally time to pass the bike down to the next little learner.
Pedibal Scampa (ages 18 months to 5 years): £129.99. pedibal.com
Get the balance right
One of the biggest advantages of learning to ride using a balance bike is that children as young as two learn to balance on their own without explanation, coaching or too many crashes. From where to train to what to wear, here are seven top tips to have your toddler cycling like a pro this summer …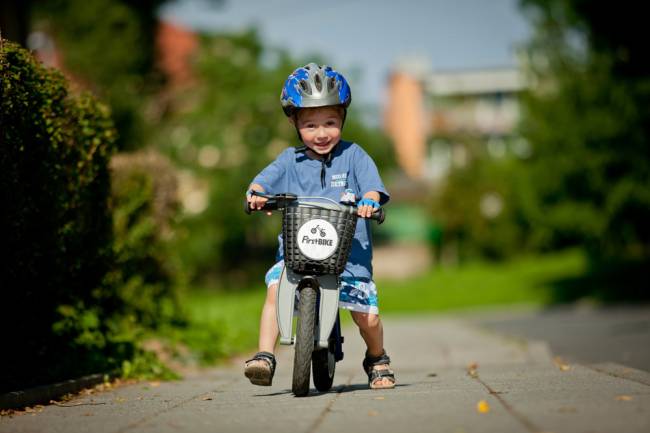 1. Start on the flat The ideal place to ride a balance bike is in a park, safely away from roads and traffic. Begin on flat terrain and gradually upgrade to small hills.
2. Use the break Around the age of two to three years, kids are able to operate a hand brake, provided it's gentle enough for their small fingers. Show your little one how the brake works and encourage them by setting small tests, like drawing a line on the pavement and asking them to stop on it.
3. Look for safety features Bikes with handlebars that limit the steering angle, a 'steering limiter', help little ones keep direction and prevent rough falls, while models with sharp edges or extruding screws should be avoided.
4. Adjust the seat On balance bikes, children immediately benefit from the security of having their feet on the ground, so it's important that the seat is easily adjustable to their height. When they sit on the bike, both feet (not just toes) should be firmly planted on the ground, with knees slightly bent. This way, the rider is able to properly push off, slow down and stabilise.
5. Get them seen Even if they're not near a road, wearing bright colours or a safety vest with reflective elements is sensible, as they'll be other cyclists as well as runners in the park. As for shoes, balance bikes are called 'run bikes' in many languages, which means that flip-flops won't cut it – footwear should be strapped on properly, buckles firmly in place and shoelaces tied in double bows.
6. Helmet up – always Wearing a helmet on a balance bike, just as on any other bike, is another must. Shop for a helmet together, and let your little biker help choose the 'brain bucket' for them!
7. Move on Around the age of four or five, kids can usually transfer to a pedal bike without ever needing stabilisers. Using the balance bike first, they'll already have mastered the trickiest bits of learning how to balance and use a hand brake, so the only skill they'll need to learn is pedalling. Easy peasy!