Tempted to take the kids camping but put off by porta-potties? Then put up one of these nifty tents in the back garden, and you're all set for a night with nature (guitar playing optional)…
Easy peasy pop-up
Bit of a camping novice? Fear not, as the Highplains Pop-up Two Man Tent is idiot proof (we tested it – not one thumb bashed, and the tent was still standing proud in the morning). Once you've found the perfect spot in your garden, remove the tent from its zip-up bag and the clever internal pole system pops the tent up all by itself in seconds. It really is quite a magical thing to behold. What's more, the waterproof coating will keep the rain on the outside, while the inner mesh will stop biting bugs from sneaking in. These pint-sized tents (as in perfect for two teens, or four toddlers) come in three cool styles that will suit kids of both flavours and all ages: Camouflage, Leopard and Vintage Floral.
The Highplains Pop-up Two Man Tent, £30.99. thebeddingcompany.co.uk
One tent, a zillion dens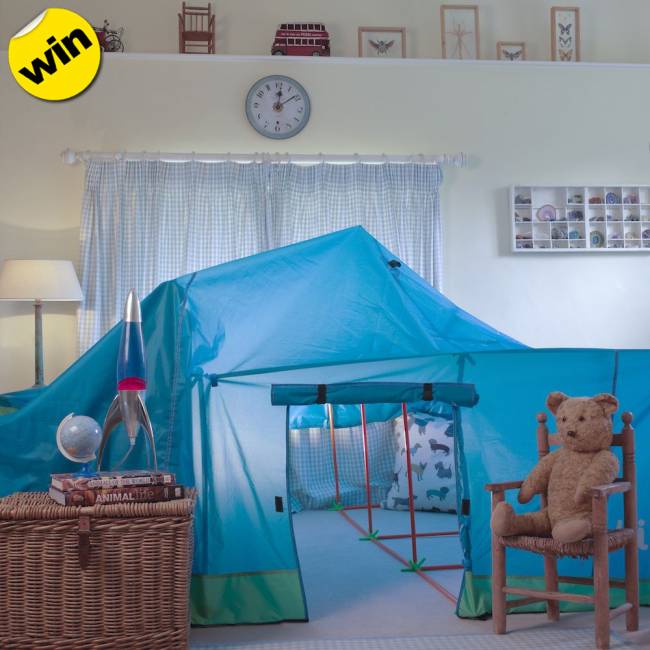 Is it a castle? Is it a bungalow? Nope, it's a Kidcampz – an ingenious multi-shape tent kit that lets kids create any shape camp their imaginations can come up with. Thanks to the unique pole and connector system, your budding builders can make standalone camps or combine with furniture (best move the valuables) in the home or garden to create secret dens, huge sleepover tents or cosy hideaway camps. The Kidcampz also comes with one big beautiful water-resistant sheet, complete with door, windows and pockets, plus over 80 camp-making accessories and a sturdy canvas bag to keep them all in – everything your children need to get their creative juices flowing.
Kidcampz (ages 4+), £145 (free delivery to any UK address). kidcampz.co.uk
Camping like a cowboy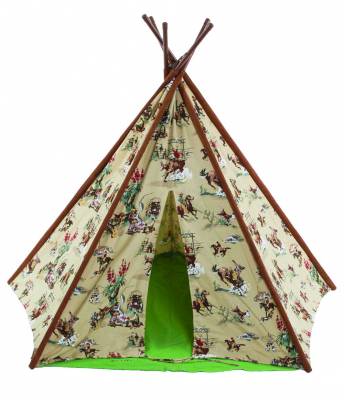 This retro-looking teepee-come-wigwam may be for kids, but we reckon dads everywhere will want to make like a cowboy and chill out in its cavernous insides. Seriously, this ain't no tiny teepee – it's almost a whopping two metres wide, so plenty of room for you, the kids and even a wondering buffalo. Assembly is simple, involving nothing more than the cowboy-printed cover (a washable heavy-duty cotton), a ground sheet, five poles which slot into pre-sewn fabric channels, and a piece of string to tie it all together at the top. Easy-teepee. Just add a tin of BBQ beans, and you're all set to live out your Wild West dreams!
Tobs Cowboy Print Wigwam (ages 3+), £89. zogrow.co.uk
Now check out some of of the best garden games and gadgets.