DAD.info's Simon Harris faces his childhood fears and finds the perfect trampoline for daughter Mary…
Undeterred and unimpressed, Jacqui hands me the instructions. I read them avidly like a HSE jobsworth, searching for any slither of doubt about its safety, but I find nothing to feed my fear. Surprisingly the manual doesn't say 'Jump on and just, er, jump!' – they've actually thought of everything. Dammit.
Around 20 minutes later our new toy is up and then there's nothing else I can possibly do to delay the inevitable. I grit my teeth – itself a reminder of why this really shouldn't be happening – and watch as Jacqui helps our daughter on to the trampoline, beaming from ear to ear and flashing her perfect, still-in-tact tiny pearly whites.
And Mary loves it. She more than loves it. We can't get her off the thing. I'm writing this at 10pm when I assume she's tucked up in bed, but I wouldn't be surprised if I look out of the window and see her bouncing away on it right now. If she knew how to open her bedroom window I think she'd have some high-tech 'bed-to-bouncing' zipline system worked out.
So, I'm slowly coming around to the fact that it's fun, but I'm still a stickler for the rules. Only one child at a time (which I admit can bring on the taking-turns tantrums we parents are pretty familiar with) and of course there will be none of this crazy somersaulting business until she's at least 32, but Mary's joy is contagious, so it seems that 20 years on, I'm finally laying my trampoline trauma to rest.
I guess if you can't beat 'em, then you've just got to let 'em bounce…"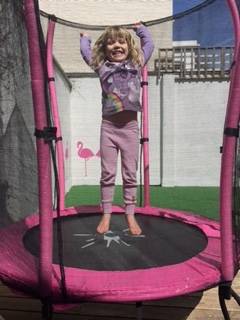 Trampolines – what you need to know
James Owen, father of three and Managing Director of outdoor toy manufacturer, Rebo, knows a thing or two about the factors parents need to consider when buying trampolines for their kids. Here are his top five tips…
1. Choose a trampoline that's the right size for your garden
The size of your garden is an important factor when choosing a trampoline for your children. The temptation may be to get the biggest trampoline that fills your entire space (especially if kids are involved in the decision-making process). However, positioning plays an important role in choosing the most appropriately sized trampoline. It's important not to position it too close to anything else that may cause injury or damage. The trampolines at Rebo are available in 8ft, 10ft, 12ft and 14ft models, so there's one to fit any size of outdoor space.
2. Consider a safety enclosure for extra peace of mind
As all parents will know, your kids' safety is of paramount importance. When bouncing around on a trampoline, the last thing you want to hear is a bang followed by tears! Although many trampolines now come with safety netting around the outside, that doesn't get away from the possibility of an accident occurring on an exposed spring or pole. At Rebo, we've taken this on board and have developed a safety enclosure for our new BASE Jump trampoline called Halo II, which gets its name from the rigid ring around the top of the enclosure, just like a halo. This keeps poles and springs safely out of reach, as well as giving kids an extra foot to bounce around in complete safety.
3. Make sure your trampoline is anchored securely
British summertime always brings a mixture of weather, including our fair share of windy spells. Although trampolines can appear relatively heavy and sturdy, if they get caught by a gust of wind, your trampoline could take flight, potentially causing injury or damage. To avoid this, I'd recommend investing in an anchor which will keep your trampoline stable and secure. The anchor will be the best money you spend on a trampoline. If the trampoline falls over, it will bend the enclosure poles and they can be costly to replace. If you're using your trampoline on a patio, I'd also recommend investing in a couple of sand bags from your local DIY store that are effective and cheap.
4. Check underneath the trampoline before the kids start to bounce
Before letting your kids loose on the trampoline, it's always best to check to see if anything (or anyone) has made their way underneath. They probably wouldn't appreciate being bounced on!
5. Put it away for the winter
When buying a trampoline, winter is probably not at the forefront of your thoughts. However, it's important to think about what to do with your trampoline during the colder months to make sure it's usable for years to come. I'd recommend dismantling it over the winter, as this is when the most damage can occur to the perishable material from winds and frost. When you unpack it again in the spring or summer, check for any damage – I'd advise not using the trampoline if it shows any signs of wear or tear.
As of 2016, trampoline manufacturers in the EU are required, by law, to incorporate government regulation EN71-14 into their designs. The new regulation sees a focus on safety in particular reference to edges, sharp points, protruding parts and entrances for children.
Rebo UK Ltd, the outdoor toy manufacturer, was one of the first to meet these standards in the UK, incorporating them into their designs last year.
REBO's new range of BASE Jump trampolines with Halo II safety enclosures can be ordered online from Outdoor Toys.
Simon Harris is a father and director of Swyhpe, a creative motion agency based in London.