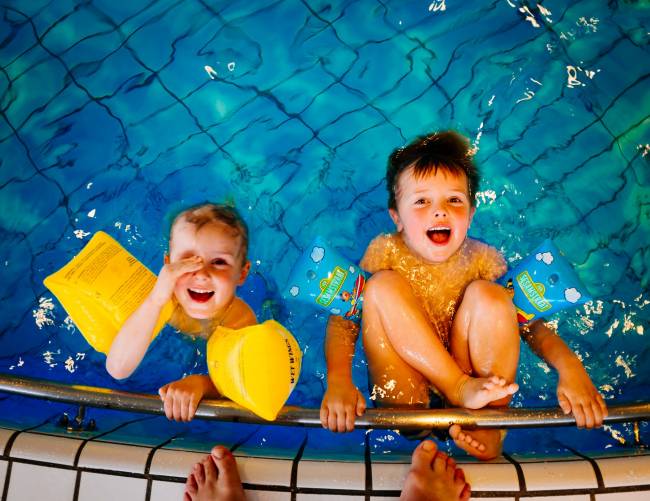 Days on the beach, mucking about on the river and round the pool. What do all these great days out have in common?
Water
… and wherever there is water, watch out Dads, your kids are at risk. Again this summer, we have read with great sadness stories of young children drowning. You can't protect children from everything but teaching our kids to swim and be safe near water is a priority job.
The Water Whisperer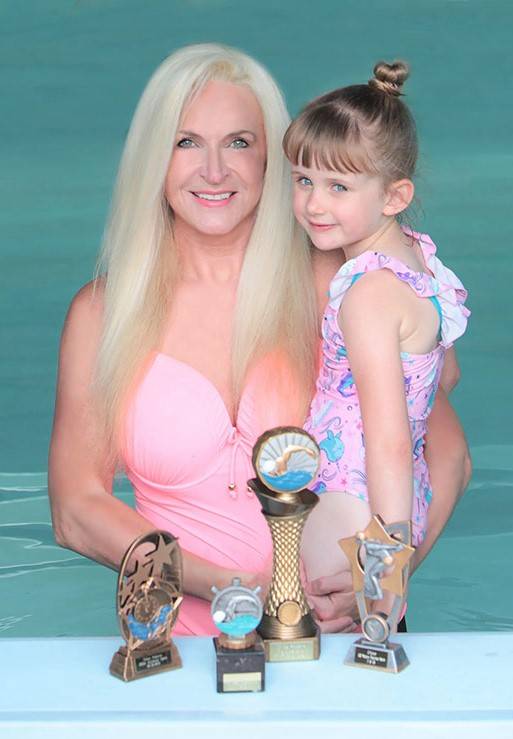 Dad Info spoke to Gail Rickett, also known as The Water Whisperer about the amazing results she achieves teaching children to swim at her swim schools in Southport, Wigan and Ormskirk. We asked Gail about teaching kids to swim: "Learning to swim is a great gift for a child, once learned it is not forgotten. But moving frantically in a 'doggy paddle' is not in my opinion swimming". Dad Info's kids are definitely still at the splashy doggy paddle stage so our ears pricked up when Gail told us she has taught three-year olds to swim a quarter of a mile and has had four-year olds in her classes who can swim a mile. Non-stop with correct strokes and without flotation aids. We didn't believe her, but it is true, she sent us a video.
Doggy Paddle
Gail has years of experience to draw on. She reflects "if your kids are just doggy paddling it is a scramble, the child will most likely be holding their breath with stiff and frantic moving arms and legs. Even swimming a metre, your child will be tired so don't encourage non-swimmers to use the deep-end of the pool". Gail is really passionate that we should remember that water is dangerous and needs to be treated with respect. Too often in her career she has heard a variation on the following: "I was just having a quick chat and in the meantime, my little girl had slipped and was face down in the pool". It is so easy to get distracted and that is why Gail believes you shouldn't have children near water without arm bands or a worn flotation aid.
If you are getting in the pool this summer with your kids then here are Gail's top tips about water safety based on her years of experience as a lifeguard and swimming teacher.
Over to you Gail…
I see a lot of Dads alone with their little one at weekends in the swimming pool, which is great. I was the first female beach lifeguard in the North West of England and I have taught in the UK for many years and in America. I have developed my own method of teaching a child to swim using my knowledge as a competitive athlete. First though, the most important thing is to teach your kids to be safe near water.
Here are my tips –
1. I would like to ask dads to consider taking the same approach to safety around water as they do when they teach their little one road safety. Get your kids to STOP and then ASK before going close to water.
2. I teach a child to ask for permission both to enter the poolside and again to enter the water. I see many young children hurtle at full speed out of a changing area leaving their parents still getting changed as they run along a wet surface and jump into a swimming pool. Remember running is not allowed around swimming pools.
3. I favor armbands or an appropriate securely fitting flotation aid when taking a non-swimmer or weak swimmer into a swimming pool. Read the label and act according to the instructions, check the item fits correctly, is age-appropriate and an explanation is given to the child. Tell them why they are wearing them and the importance ofusing armbands. ALL flotation aids require supervision at all times.
4. Put the armbands on before your child leaves the changing room not at the poolside. Some children can have a wobble when they see the water and by putting them on in the safety of the changing room it helps reinforce the idea that armbands must be on before approaching the poolside / water.
5. It is good to keep to a 'touch' supervision when in the water. The person supervising a child should always be able to reach out and touch the child when swimming. Stay focused on the child. Stay in front and keep an eye on their face and mouth.
6. One adult to one child when in the water is best when going swimming.
7. I have seen children with armbands or a ring, or another flotation aid left in the water with an adult fully clothed on the poolside or watching from the sauna, steam room, jacuzzi etc. Don't do this, it isn't safe. (I have seen this happen with children as young as two and a half years old.)
8. Be aware of distractions, which takes your focus off the child in the water. Leave your mobile phone in a bag. I have prevented many children (who aren't wearing flotation aids) from getting into difficulties or saved a child in difficulty when a parent is there but distracted.
9. Empty buckets, and paddling pools after use. Fence round pools and ponds if you have toddlers and young children at home.
10. I teach my pupils to ask and learn which is the deep and shallow end of a swimming pool. I get them to take note of this when they go on holiday. This is also important later on in life as diving in the pool accidents are often caused by diving into shallow water.
I hope this article inspires dads to really research a good swim school for their child, always ask for the swim schools results of past pupils. Ask to see qualifications ensure you are getting taught by a fully qualified swimming teacher with an enhanced DBS and a Child Protection Certificate / Qualification. Check for insurance for the teacher / swim school / venue. You can always check again with the organisation the teacher took their qualifications with, generally they are with the ASA or STA in the UK. I have a specialist Mums & Baby / Tots swimming teachers certificate which is in addition to my Advanced Swimming Teachers Certificate.
If you would like to know more about The Water Whisperer here is Gail's business page on Facebook, don't forget to LIKE it if you visit and do give Dad.info a mention!
If you would like to contact The Water Whisperer about swimming lessons at one of her venues please call Gail on 0744 913 5450.
For more tips on learning to swim – Click here.