A viral tweet sent by an unemployed, divorced, but proud dad of twins has shone a light on an issue that is not always given enough attention amid the current endless news cycle: men's mental health.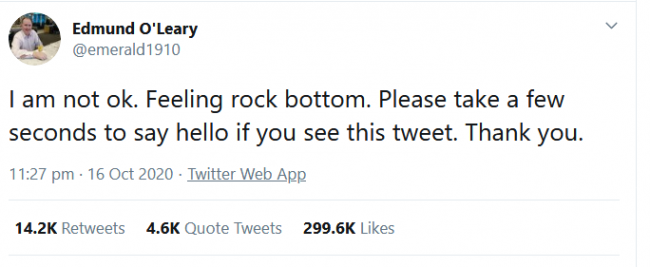 51-year-old father Edmund O'Leary, who lives alone, tweeted 'I am not ok. Feeling rock bottom. Please take a few seconds to say hello if you see this tweet. Thank you.' He was delighted with the phenomenal response to his tweet, an outpouring of kindness and support at a time he needed it most.
Thousands of people will be feeling the same as Edmund O'Leary, with the economy hit hard by the Covid crisis. Too many have lost jobs, or been separated from their families and friends. The resulting feeling of hopelessness can also be cemented by the new lockdown restrictions in so many areas of the country; which trigger a seemingly never-ending cycle of struggle and isolation.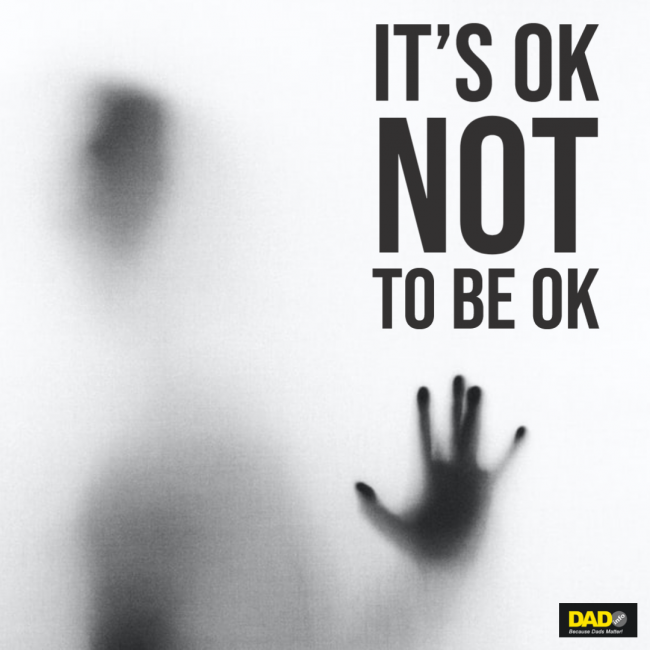 If this is you, here are some practical tips for what you can do to help with feeling low
Talk
While some men aren't keen to discuss their feelings, it can be a huge relief to do so, and encourage more positive feelings. So if you can, be open about it. As Mr O'Leary found, being honest about your feelings can result in a show of love and support that can be a huge comfort during these uncertain times. Perhaps text a partner, friend or a relative if you feel too uncomfortable to say how you feel out loud, as doing so can only be a good thing. If you feel too awkward speaking to someone in your life, you can call the Samaritans anonymously on 116 123.
Fresh Air
Try and get some fresh air. Being in nature is a massive boost to our mental health. Taking a simple stroll in local woods, or driving to the sea to walk along the beach and be next to the ocean can be like hitting the reset button on your mind. If you have kids you can involve them in this by taking them rock pooling or making a den in the forest. Even a walk around a nearby park is a good idea.
Exercise
Get some exercise. It may seem counterintuitive when you're feeling low, but getting your heart pumping can bring about an enormous sense of wellbeing. People who regularly exercise are proven to feel more energetic throughout the day, sleep better at night, and feel more relaxed and positive about their lives. It has a profoundly uplifting impact on depression and anxiety. It is easy to work out from home, with a plethora of free workouts on YouTube, including boxing which is a brilliant stress-buster. You could also take up running or going for a regular long walk.
Hobbies
Throw yourself into hobbies and interests. Perhaps you could even try something new- , photography, mountain biking, cooking, homebrewing beer, fishing, rock climbing, cycling, or even simply reading. Not only will you get a sense of accomplishment from pursuing a new interest, but also it will focus your attention on something productive.
Sleep
Get enough sleep. Make sure you have a calming bedtime routine, including switching off electronic devices for a while before bed, and reading a book.
Take Control
Note what your stress triggers are and try to gain control. Identify the things in your life that stress you out, such as work overload, money issues, or unsupportive relationships, and try to use the above methods to feel better and more in control. ·
Relax
Practice relaxation techniques. A daily relaxation practice can help symptoms of depression, reduce stress and boost feelings of joy. Deep breathing, progressive muscle relaxation and meditation are among the methods you could try; there are a number of brilliant apps including Calm and Headspace that will set you on the right track.
Toolbox
Develop a wellness toolbox for when you're feeling low. This should be a list of things that make you feel better, to use when you need them. It could perhaps include: watching your favourite film or a funny tv show, listening to music, spending time outside, listing what you like about yourself, or calling a trusted friend or family member for a chat.
Food
Eat well. You may crave sugar or comfort foods such as pasta or chips, but these foods will quickly lead to a crash in mood and energy. The best foods for a mood boost are fish, fruits and veg, chicken and eggs. It's important to also reduce your intake of coffee and alcohol, which can adversely affect your mood.
Our forum is open all hours to support you with any questions you have come and chat whenever you need someone to listen.