While you might want to ride on the country's most nerve-shredding rollercoasters all summer, your kids are often infuriatingly too short to join you on the UK's best thrill-rides, which is proof that youth really is wasted on the young.
Fear not, there are rides out there to entertain your vertically challenged offspring as well as knuckle-shattering experiences to suit you and your adrenalin-junky teens. Check out our list of the best…
Best for teens – Thorpe Park
When I was a lad growing up, this was all fiel… – Oh no, I mean – Thorpe Park was the kiddies park next to Chessington World of Adventures and its exciting rides, like its gothic-themed Vampire (which is classed as a 'family ride,' these days).
Clearly, times have changed though, and Thorpe Park has long offered some of the most trouser-troubling rides in the land, from the slightly-inappropriate-for-a-theme-park-aimed-at-kids, Saw – The Ride (which is the world's first and only rollercoaster to be based on a – very gruesome – horror film series), through to the pant-wettingly amazing Stealth, which accelerates from 0-80mph in 1.8 seconds, shooting you, near vertically, 205ft into the air. That's the fastest acceleration of any rollercoaster in Europe, and you – and your little angels – will experience G-forces of up to 4.7G. If you have older kids that are hard to impress, their faces will be priceless after this. Get your camera at the ready to post their reactions to Facebook/Instagram.
New for this year is the 'I'm A Celebrity… Get Me Out Of Here! Maze,' which will suit families of telly addicts… if you can drag yourselves away from the sofa for long enough to undertake those jungle trials yourselves, like the Catacombs of Doom and the Chambers of Horror.
For more information, visit: www.thorpepark.com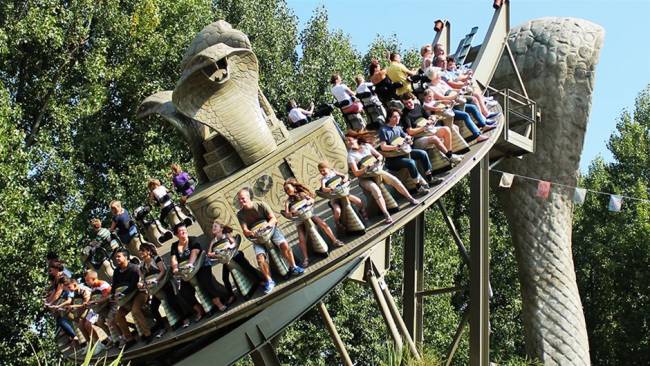 Best for tweens – Chessington World of Adventures
Sure, Thorpe Park's white-knuckle rides do outshine those at Chessington, but this Surry attraction – just a few exits down the M25 away from Thorpe Park – still features rides exciting enough to thrill pre-teens, and more to offer besides.
Before the rollercoasters came, Chessington was – and still is – a zoo, so you can take your kids on some pretty hairy rides – like the rollercoaster with spinning cars, Dragon's Fury; and the inverted soaking (or 'drown-upside-down') that Rameses Revenge dishes out – before heading off to the zoo for more hairy, hands-on encounters with bugs and spiders. If your kids have been well-behaved, on the other hand, you could always just take them to have some furry fun with the park's 1,000+ animals, from penguins to guinea pigs, and from sea lions to, well… lions.
Then, of course, there are awesome experiences like the AMAZU Treetop Adventure to try, where your young adventurers can play among real life monkeys on a forest canopy assault course.
For more information, visit: www.chessington.com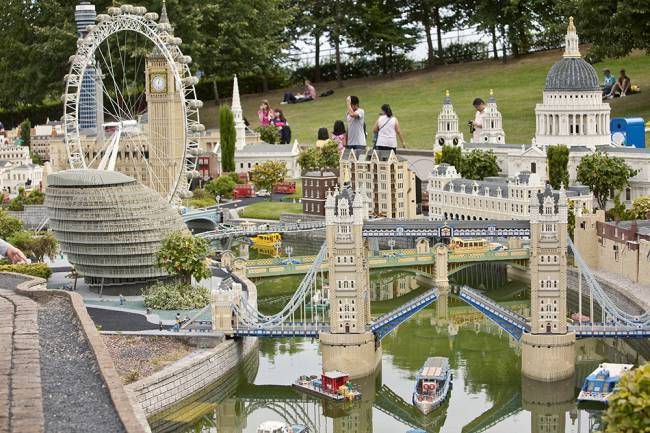 Best for under-tens – Legoland Windsor
Talking of zoos, this place used to be one, but Windsor Safari Park is no more. The Seventies kids' favourite hangout closed its gates forever back in 1992. Perhaps it had something to do with lawsuits caused by monkeys tearing off windscreen wipers to then use as deadly weapons, or children having the bejesus scared out of them by lions having a wee lick of them through car windows as parents tried frantically to wind them up (God bless today's electric windows, eh?). But surely that's what made the place such darn fun? Anyhow, the area stood unwanted and forgotten until 1996, when Legoland bought the land and opened up its first theme park outside Denmark. And disloyal as this may sound, it knocks spots off the old Safari Park.
Dedicated to kids aged 2-12 years old, LEGOLAND Windsor Resort is packed to the rafters with thrills, spills and life-size LEGO characters. There are 55+ rides and attractions, from the spanking-new singing and dancing Heartlake City girls to the racing rapids of the Viking Fleet, and of special note for dads of a certain age, the Star Wars Miniland Model Display. But therein lies the rub – this theme park is so HUGE and there is so much your kids will be chomping at the bit to check out, you really need to make a game plan using the resort map first, to make sure no must-sees/dos are left out. More importantly, checking what rides your nippers are tall enough to go on is vital – there'll be tears and tantrums if they queue up for 20 minutes for The Dragon rollercoaster only to be turned away for being two-foot too short.
Luckily, there are loads of fun rides that even the dinkiest adrenaline junky in your family will get a kick out of, while hard-to-impress nine-year-olds will find the scarier rides truly 'sick.'
Finally, remember to pack swimming cossies and trunks (including yours) – the kids will never forgive you if they have to watch from the side lines as all the other lucky blighters have a righteously awesome time in the Splash Safari waterpark (the UK's biggest water play park) because Dad forgot their swim stuff. You've been warned.
For more information, visit: www.legoland.co.uk


Best for toddlers – Paulton's Family Theme Park
Have your kids ever heard of Peppa Pig? We thought so, and this is why Paulton's is our top pick for dads with toddlers.
Along with 60+ rides and attractions in its own right, Paulton's Family theme Park – beautifully situated on the edge of New Forest National Park – is also home to Peppa Pig World, which boasts seven theme park rides of its own, including Peppa's Big Balloon Ride, Miss Rabbit's Helicopter Flight, and George's Dinosaur Adventure Ride. We can tell you're excited already, dads.
But wait, there's more: you'll also find enchanted buildings; animations; and an indoor playzone, full of ball-pits, slides, and music to keep your little ones entertained all day, whatever the weather. They/you will even get to meet Peppa and George in person… or, erm, in pig?
For more information, visit: paultonspark.co.uk