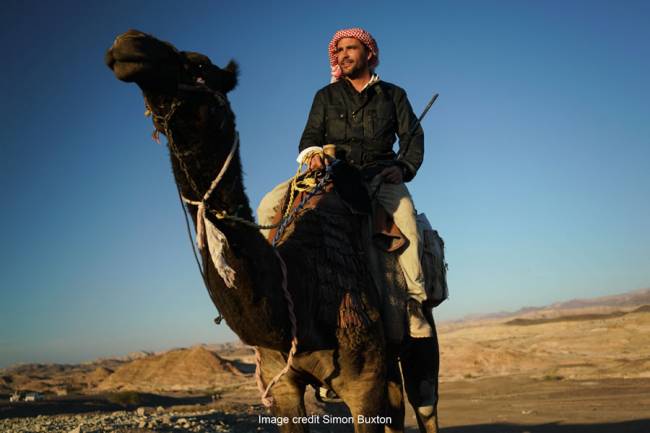 Now in its 23rd year, the annual event will take place on the 19th – 20th January 2019, bringing with it a star-studded line-up of inspiring seminars, leading workshops and talks from professional explorer Levison Wood.
Olympia London is set to welcome the return of The Adventure Travel Show from Saturday 19th – Sunday 20th January 2019. Here, visitors can discover a breadth of once in a lifetime travel experiences from small group adventures; overland and sea expeditions; volunteering and career break projects; walking and trekking routes; Safaris; Eco adventures and more. Travel experts and explorers from around the globe will be on hand to inspire visitors face-to-face, including the king of adventure himself Levison Wood, with his current book 'Arabia, a Journey through the heart of the Middle East.' Famed as the UK's only dedicated exhibition for off the beaten track travel experiences, the awe-inspiring show will unite world-leading adventure travel specialists, explorers and adventurers from across the globe under one roof, inspiring the next set of budding adventure travellers.
Stephen Morgan, Event Director at The Adventure Travel Show said, "The Adventure Travel Show is a place for people who are passionate about; travel, exploring, discovery and experiences. The inspiring seminars, high profile key note speakers and exciting destinations and operators exhibiting will undoubtedly inspire the next set of adventure travellers and make for yet another fantastic show. We are thrilled to have Levison Wood taking to the global stage, adding a new dimension and generating even more excitement for our visitors."
Who will be there?
From tourist boards to tour operators, to magazines and technology apps, Olympia London will become a global home to all things adventure. Spanning the entire globe, from deserts to oceans, expect the likes of Belize, Botswana, The Cook Islands and Nepal tourist boards alongside an eclectic range of tour operators from Aurora Expeditions, China Adventure Tours and Expedition Leaders. To find the full exhibiter list, please visit adventureshow.com/exhibitor.
Seminars and events not to miss
Set in the historic Olympia London, the show will feature a host of unmissable seminars and workshops designed to engage experienced and first-time travellers. The Adventure Planning Seminars with Duncan Milligan, world leading expert in 'Tour de Force' adventure logistics, will be on hand with his expert panel to deliver guidance, tips on preparation and logistics. Additionally, The Adventure Multi-Media Seminars hosted by industry experts from Wanderlust magazine, will offer essential tips on writing about, photographing and filming travel adventures. Guests will have the brilliant opportunity to question leading travel editors themselves. More so, The Adventure by Motorcycle Seminars will offer a wonderful insight into the world of touring by bike. Austin Vince, long-distance adventure motorcyclist and Lois Pryce, British author, journalist and a founder of the Adventure Travel Film Festival, will be readily available to turn motorcycle touring dreams into reality, helping visitors choose everything from the right bike, to what equipment to take as well as skills to master and routes to enjoy.

Levison Wood
Professional explorer, writer and photographer Levison Wood will also be in attendance as a key note speaker on Saturday 19th January 2019, highlighting crucial moments from his momentous career and travels in Arabia during his talk "Journeys through the Badlands and Beyond". Best-known for his epic expeditions, 'Walking the Nile', 'Walking the Himalayas' and 'Walking the Americas', all of which turned into best-selling books and four critically acclaimed documentary series, Levison is a true ambassador for adventure travel, granting visitors exclusive access into his world of intrepid travel and exciting launches for 2019. His current book 'Arabia, a Journey through the heart of the Middle East' will be available to purchase at the show. To be in with the chance of hearing from the man himself, book now as seats are limited at adventureshow.com.
What's new at the show?
For the very first time, the show will introduce the new Cicerone Trekking Workshops, connecting visitors with breath-taking multi-day trekking trips from Europe and beyond. Presented by Cicerone Guides' highly experienced panel of authors, visitors will become immersed in ideas of where to go, advice on how and when to do it and everything from logistics to kit and fitness. Whether it's trekking in the Alps or in the depths of the Himalayas, Cicerone Trekking has it all to help create that magical trekking experience.
How to book?
Advance day tickets cost £9.00 per person and advance weekend tickets cost £16.00 and can be booked at adventureshow/book-tickets.