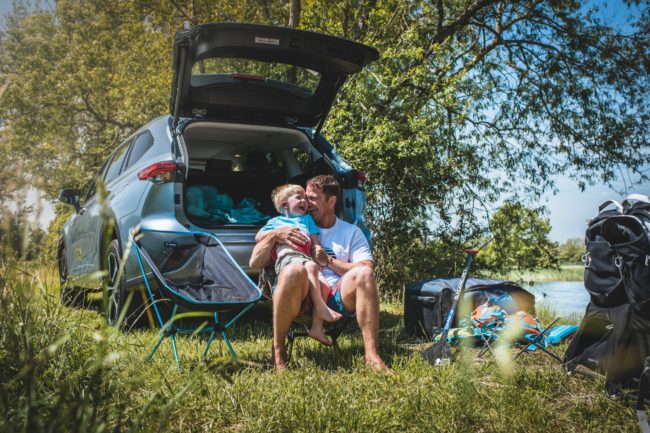 Is the idea of family camping the stuff of your nightmares? Worried about screaming kids, forgotten nappies, and the tent collapsing at 2am? You're not alone. Luckily TV presenter and wildlife expert Steve Backshall has teamed up with Toyota to share his top tips for the perfect stress-free family camping trip.
Steve admits his first attempt at camping with the kids was a disaster: "It was all over the shop with kit, nappies and general carnage, but the sensation of waking up with my young son snoring next to me, the twins clambering all over my wife and the sound of breaking waves in our ears was unforgettable,' he says. "The most important things you can pack are a sense of humour and a sense of perspective. The certainty is that discomfort is short-lived, but memories last forever."
Steve has a family of five, with wife Helen, three-year-old son, Logan, and 15-month-old twins, Kit and Willow. Camping, therefore, can be a challenge, and needs the right organisation: "It's all about P's – prior planning and preparation prevents poor parenting performance," he says.
Steve's tips for a fun and calm trip are:
Choose the right tent
As soon as you start camping with babies, the amount of kit you have expands exponentially. It is essential to have a tent that packs small and light, goes up quickly, and has plenty of space. Most importantly, you want the tent to be big enough for the whole family to sleep together, while being sufficiently wind and weatherproof to avoid any nasty surprises in the middle of the night.
Make sure the little ones sleep well
Travel cots are bulky and heavy, and rarely that comfortable. Alternatives like a travel pod or nest, that can be folded down into a tiny backpack can create a handy crib. Stick it inside your tent or even alongside you at the beach for an instant infant safe sleep zone.
Comfy camping chairs
Such is his love for camping that Steve asked his wife Helen for a comfortable, packable and light camping seat for Christmas. Steve claims he would sit in it at home in front of the telly if he could.
Make cooking easy
Steve says before finding the perfect portable grill, cooking over an open fire was tricky. Attempts at using logs or bricks as supports would inevitably end up with burnt food spilling into the ashes. The one he uses is ready in seconds and turns the campfire into a stove. Always observe safety and etiquette when using an open fire in any outdoor setting.
Use the right buggy
A baby buggy can be the most expensive item you'll need for a great family camping trip. It's important to choose one that is good on rough terrain, that you can run with, and which gives the little ones a really good view. An unexpected advantage has been the seat on the back of the buggy, which Steve's son loves riding on when he wants a break from walking.
Take a carry pack
While the buggy is great, sometimes you want to cover some serious terrain on foot, and nothing on wheels will cut it. These packs are so well engineered that babies feel weightless. Steve has tested their quality on rocky paths and mountain routes.
Sun protection
Steve has three very fair children, so sun protection is vital. That means making sure sun hats are firmly in place and regularly applying high factor sun screen. Using sun suits means you can always spot where the kids are and they're convenient because they dry out quickly.
Buoyancy aid jackets
These are a must for safety. They fit snugly and Steve makes sure all his children wear them whenever they are splashing around or playing near water.