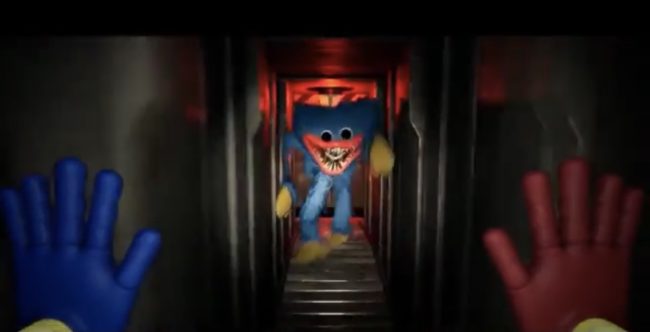 If you've heard your kids mention Huggy Wuggy you might have been led to believe that they are talking about a cute, cuddly cartoon character.
Not quite.
Huggy Wuggy is a blue furry monster with giant teeth, which features in the survival horror game Poppy Playtime.
The character has been in the news lately due to warnings from schools about the game and associated toys being inappropriate for children.
A murdering monster
Huggy Wuggy may well be furry but he isn't a friendly character. In YouTube videos he sings about 'hugging till you breathe your last breath' and his teeth being 'deadly'. Teachers have reported children being disturbed by the inappropriate content. Parents may be unaware of the nature of the character due to his friendly-sounding name.
There have been reports of kids offering hugs to their friends, before cuddling them and whispering nasty things in their ears.
Soft toys of the character are currently very popular and are available to buy from retailers such as Amazon.
Poppy Playtime
In the game, the player becomes a former employee who is revisiting an abandoned toy factory, which Huggy Wuggy hides in, stalking the player from vents. The previous employees have vanished without a trace, and the player must solve puzzles to survive. Besides Huggy Wuggy, there are other evil toys lurking and waiting to attack throughout the game.
Confusingly, the appropriate age for the game is considered by the makers to be 8+. However as the game features threat, killing and fear, it is unlikely to be appropriate for any primary-aged children or young teenagers.
Safeguarding findings
In a safety briefing by safeguarding group Ineqe, it was found that Poppy Playtime can cause children's adrenaline to spike as they are constantly under 'threat' while playing. These adrenaline spikes can cause lasting anxiety. In addition, the game can produce feelings which cause nightmares or sleep disturbances.
Children may also display new fears, such as fears of their toys or of being alone in the dark. Content that scares children has been found to cause problems such as irritability, being tearful or unable to relax.
What to do if your child has seen inappropriate content
Firstly, have an open and non-judgemental conversation about what they've seen and how it made them feel. Explain that they can ask questions about anything they viewed.
If your child is affected by something they have watched, it might be an idea to make a worry box out of an old tissue container. You can encourage them to write down their anxieties and then post them in the box to let the fears go, as well as helping them gain some distance from the fear.
Remind your child that there is no immediate danger to them and that they are safe.
Further guidance
For more information on keeping your child safe online, click here.