Spring is on its way and with a bit of luck, we can all start to shed those winter layers and get ready for some much-needed warmer weather. If you're after a fresh wardrobe for your own baby bunny, we've got a fun range of outfits to make Easter time fun for everyone…
Rabbit Leggings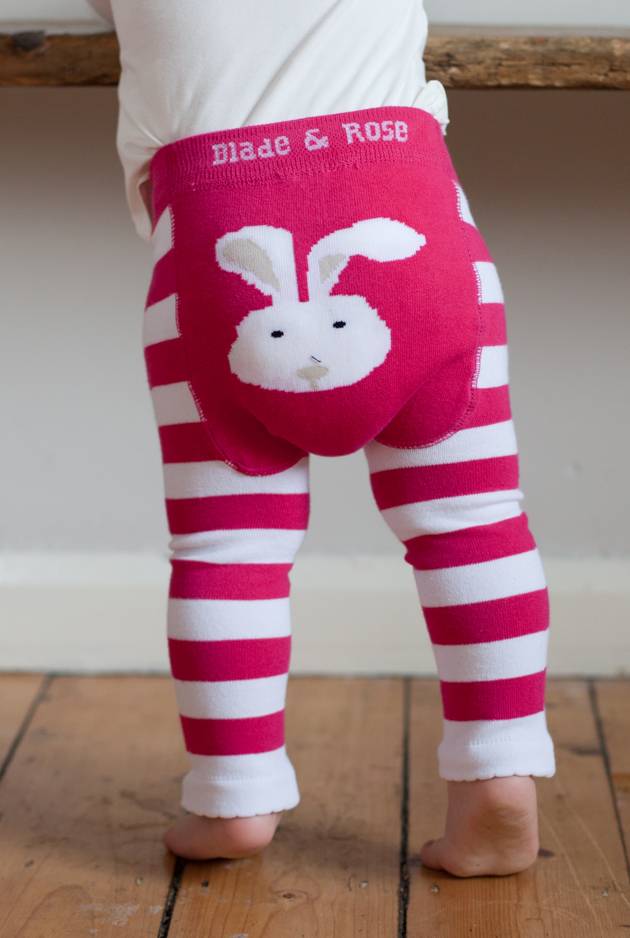 As part of its Easter bunny range, Blade and Rose has a fun pair of rabbit leggings to make you laugh. Its bright colours of vivid pink and white stripes make it fun for the spring. Of course what you can't miss is the face of a big white bunny printed across the bottom, perfect for an Easter theme. Made from soft stretchy cotton, it's ideal for your bouncing bundle and to complete the look there's a matching crochet hat.
Blade & Rose, www.bladeandrose.com, Sizes: Newborn – 5 years, £10, crochet hat £12
Stripes & Bunny Baby Top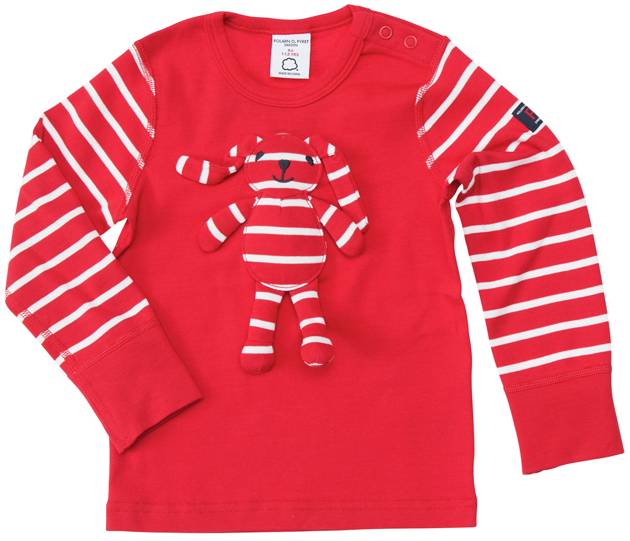 Made with 100% organic cotton, there's only one brand that produces the famous red and white stripes. POP (Polarn O. Pyret) will never disappoint with its distinctive Scandinavian style and vibrant colours that last the test of hundreds of washes. This top features a loveable 3D appliqué rabbit on the front, has a popper shoulder for easy wear and is perfect for both boys and girls.
Polarn O. Pyret, www.polarnopyret.co.uk, Size 6 months – 6 years, from £14.40
Colourful Kids Pyjamas
Perfect for your babies and even your older kids, these colourful rabbit pyjamas are available up to age 8. Made with plenty of growing room there's a drawstring waist and foldable cuffs to get the longest use from them. This fun rabbit print is perfect for the start of spring but as with POP's full range, it's made from soft cotton and is cosy enough for all year round.
Polarn O. Pyret, www.polarnopyret.co.uk, Size 12 months – 8 years, £23
Hand Printed Easter Rabbit Baby Grow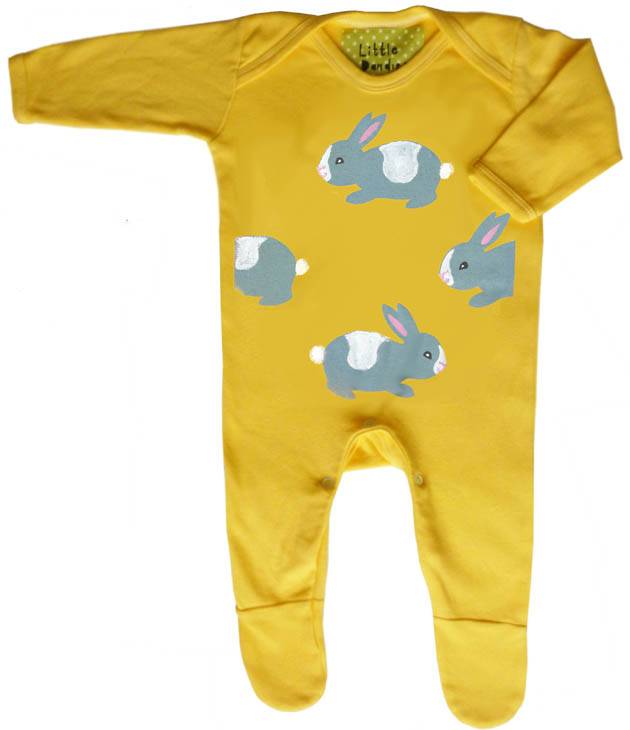 A perfect Easter contender, this baby grow comes in a unique yellow with hand printed rabbits printed on the front. Perfect if your baby is six months or younger, Little Dandies have a large range of animal print grows with personalised options. If you're partial to the rabbits they have the same design in other products like cushions and other clothing, although you may want to limit the craze before your house turns into a warren. Made from 100% cotton and in the UK, this is a fun design and perfect for Easter babies.
Little Dandies, www.notonthehighstreet.com, Size 0-6 months, £16
Bunny Rabbit Pink Dress In Liberty Print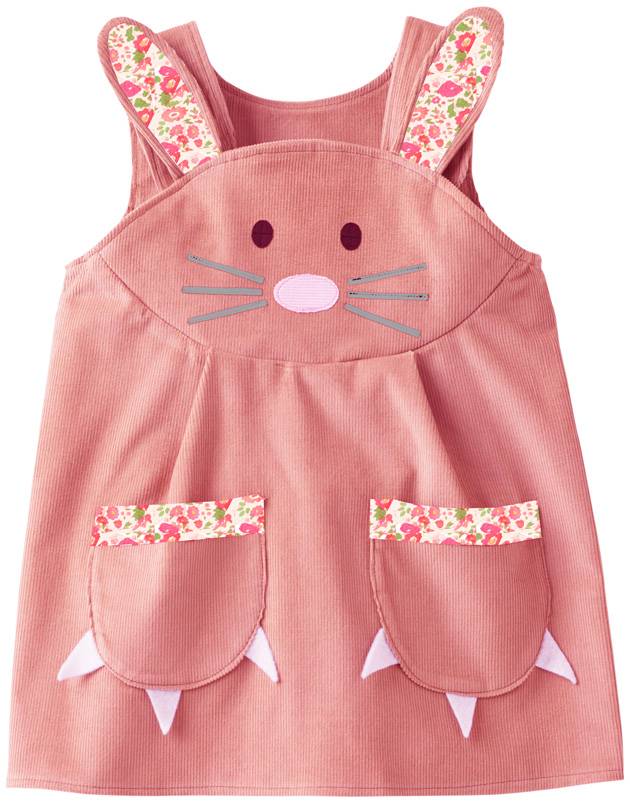 An absolute winner for your little girls, is this bunny play dress from Wild Things Funky Little Dresses. Great for parties or for Easter dressing up fun, this limited edition dress is handmade in soft pink corduroy. For an added bit of contrast the rabbit has bright Liberty print ears and cute pockets. The back of the dress even has a cheeky pompom as a tail. Great not just for spring but all year round, just layer up with tights and an inside top for colder months.
Wild Things Funky Little Dresses, www.notonthehighstreet.com, Size 6 months – 8 years, £44
Rabbit & Bird Set, Set of 4, White/Pink
Great value for money, this four-piece set from John Lewis makes an ideal seasonal gift. Birds, bunnies and all things springtime, this set includes a full-length sleep suit, a short sleeve grow, hat and bib. The blues and pinks offer a nice contrast of colour and the beanie hat has some fun sewn ears that only a baby would get away with. The four pieces all compliment each other for both warm and cooler weather.
John Lewis, www.johnlewis.com, Size tiny – 9 months, £18
Long Spotty Romper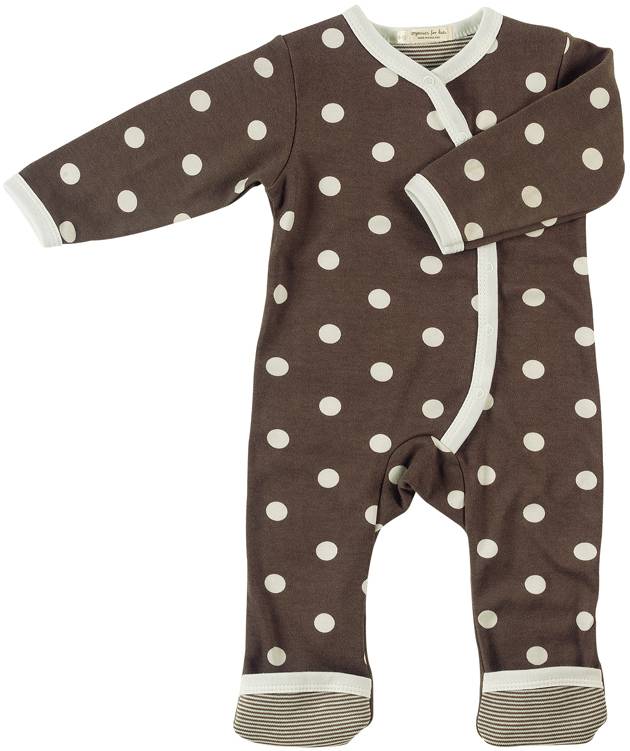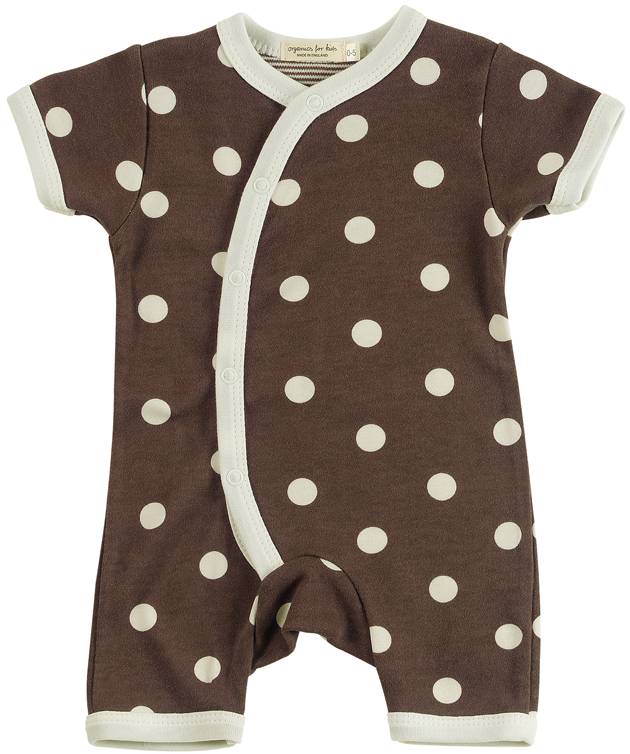 From one of our favourite kids clothing brands, this spotty romper from Pigeon Organics is simple but playful in design. For some reason the brown grow with white spots conjure up the image of a yummy Easter egg. Available in both short sleeve vest version long sleeve sleep suit, both come in a full range of colours. For obvious reasons we were particularly partial to the brown. There's nothing like having a real live chocolate egg to walk around with.
Pigeon, www.pigeonorganics.com, Size 0 – 18 months, Long sleeve £21.20, Short sleeve £19.90
Long Springtime Romper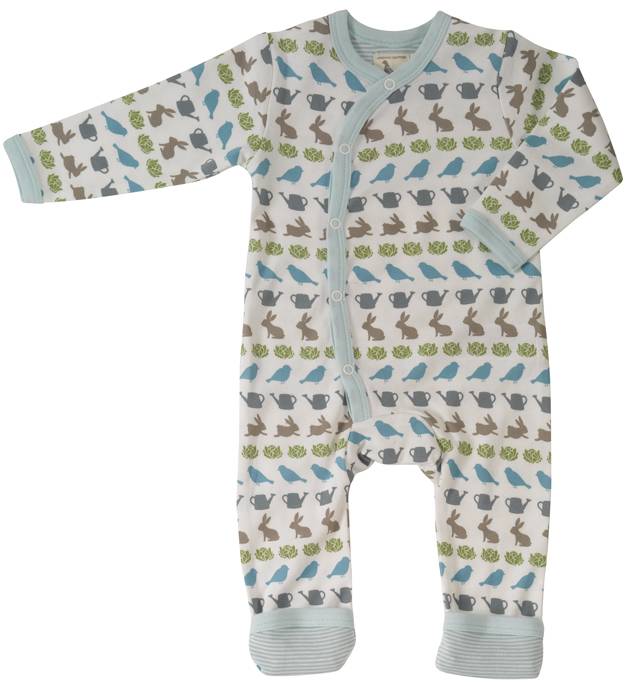 Another great outfit from Pigeon, this springtime all in one comes printed with an endless splatter of rabbits, birds and watering cans – everything symbolic of the outdoors and garden. Made with soft organic cotton, it has popper buttons and covered feet, ideal for a cooler springtime and a cosy Easter baby. Most impressive with Pigeon clothing is its soil association stamp of approval, ticking impressive boxes for planet friendly credentials.
Pigeon, www.pigeonorganics.com, Size 0 – 18 months, £21.20
White Chick Bodysuit, Bottoms and Hat Set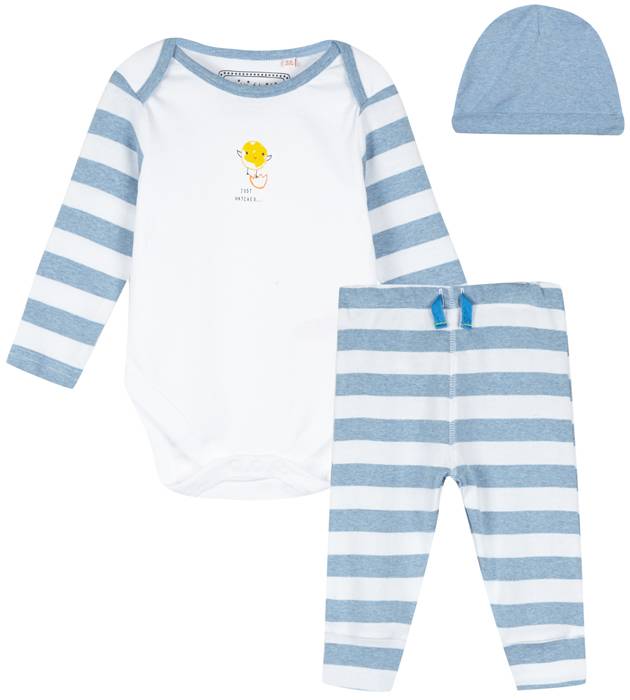 Perfect for newborns, this 'just hatched' three-piece chick set is great value for money. Made with 100% cotton it's soft to touch and will be a cosy outfit for day or night. The top popper body suit is great for holding that nappy in place and although the suit, bottoms and hat come as a set you can easily match them up with different clothing. If you've read our article on blue and pink stereotypes, you'll know that these blue stripes will suit both your boys and girls.
Bluezoo, www.debenhams.com, Age 0 – 24 months, £12
White Chick Print Four Piece Set
Need a present for a springtime baby? This set from Bluezoo will make the perfect gift. Included is a full-length sleep suit, a short-sleeved body suit and a matching hat and bib. It even comes all wrapped up in a gift bag – isn't it great when someone else has done all the work for you? Bright yellow in colour with chicks printed all over, this baby is destined to be an all embracer of Easter.
Bluezoo, www.debenhams.com, Age 0 – 24 months, £15