Who said baby monitors had to be boring? Gone are the days when you had to press your ear up to a crackly hand unit wondering if your baby was still breathing in the other room. The latest gadgets on the market offer video capabilities, temperature controls, play music and even sync in to your mobile devices for added home security. 007 couldn't have wished for better himself
TOMY TVF600 DIGITAL VIDEO MONITOR
If you can do without the lullabies and want something that will watch your home as well as your kids, you can't go wrong with the newest addition to Samsung's home security range. Small and lightweight at only 210g, this smart wifi home camera is well thought out on spec. With full HD streaming and 1080p record and playback, image quality is fantastic so you can clearly keep tabs on your brood. Great for both baby monitor and home security, it comes with motion and audio alert notification. Its two-way audio also means you can talk to your kids through it, which is great as they get older and you want to ensure they are home safe. It's limited to a five metre night range, which is ample for a baby monitor but you might struggle if you're trying to mug shot any burglars.
Set up is a walk in the park and runs through your wifi network with an app that can be downloaded to your Smartphone, tablet, PC or Mac. The best part is that if you're connected to the Internet you can view it from anywhere in the world. So when it stops being a baby monitor you really can keep an eye on your pad from afar. There are three recording modes – continuous, manual or event and everything can be saved up to 64Gb of footage on to an optional Micro SD card. It's a sleek piece of kit.
Samsung, www.argos.co.uk, Best feature – Full HD 1080 streaming and recording mode, £139.99
MOTOROLA MBP27T DIGITAL VIDEO MONITOR – EDITOR'S CHOICE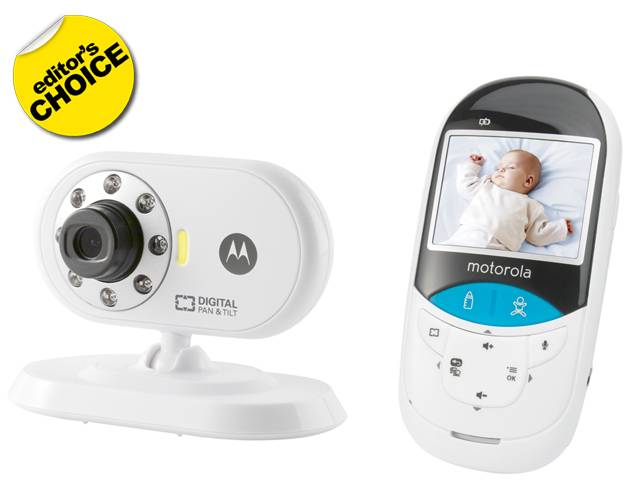 You can easily enjoy a coffee in the garden with the 300metre range on this video monitor from Motorola. If in doubt there's an out of range indicator to stop you rambling too far. The camera unit needs plugging in but has a decent length lead not to be an issue. The pan and tilt feature on the camera is a feature normally saved for home security gadgets so it's great to see Motorola incorporating this into its baby monitor range. You can control this with the parent unit, which can zoom in or pan across to view the rest of the room. If you've got more than one child in there it's perfect.
The most unique feature on the MBP27T is the touchless infrared thermometer. This is a great addition to this model as it lets you check everything from your baby's temperature to milk bottles and bath water by hovering the device next to what you want to check. If your baby's poorly in the night you don't even have to touch them to check their temperature. All the standard features are included too. The 2.4 LCD screen with infrared night vision, two way talk option and great sound quality. You can also pair up to four cameras with this unit so it can easily be used as added security around the house.
Motorola , www.johnlewis.com, Best feature – Touchless Thermometer, £99.99