When your baby hits teething with their peggies ready to sprout through, you'll find them wanting to gnaw at anything in sight. This is where the market for teething toys was born. Teethers were traditionally rings made from safe silicon, often attached to the end of a toy or keyring. Catering to parents who now want more, there's a new breed of teether that combines style with practicality. We bring you five of the best…
Neckerchew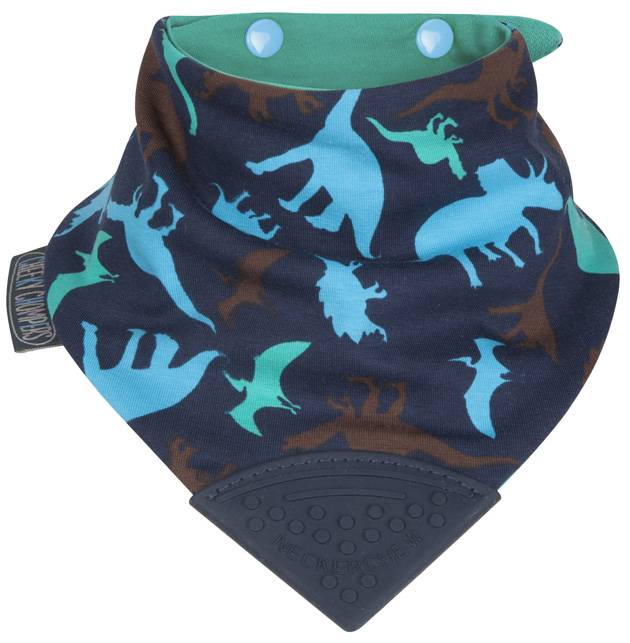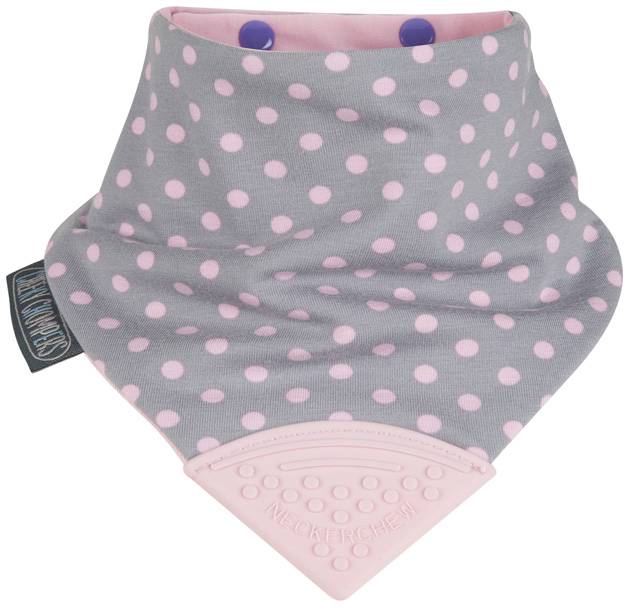 A great invention by mums who saw a gap in the market, the neckerchew combines a bib and teether in one. There's nothing more frustrating than when your baby spits the dummy, or in this case their teether, and you have to decontaminate and clean it each time. Unless of course you have an amazing hand reflex before it hits the ground. With the neckerchew fastened up, this teething tool isn't going anywhere.
Innovative in design, it's made from 100% cotton with three layers to make it extra absorbent and has an attached teething corner. The dinosaur and polka dot prints are two of our favourites and the dinosaur design has a navy reverse making it two bibs in one. Available in one size with adjustable poppers, the neckerchew is practical, safe and a great versatile product.
Cheeky Chompers, www.cheekychompers.com, £11.99
Tulip Bracelet Set & Little Num Nums Little Birdie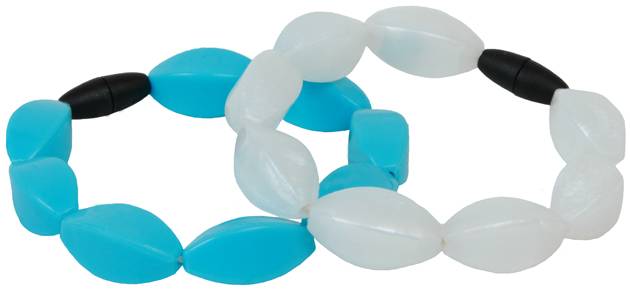 A great gift for the two most important people in your life, Mumma Bubba specialise in fantastic teething jewellery. A really innovative idea, teething jewellery is the perfect way to please mum and baby. The full range of products is made from non toxic BPA-free silicone and BPA approved, which means it's free from PVC, lead and mercury. BPA-free products are becoming increasingly sought after.
If you're unfamiliar with the term, BPA is a chemical used in come plastics, with research showing it can seep into food or cause health problems if swallowed.
Available as sets of two, they can be clasped together to make a single necklace. The range of bright colours is great for a baby's stimulation, and offers entertainment, style and pain relief rolled into one.
Mumma Bubba, www.mummabubba.co.uk, £12
Little Num Nums Little Birdie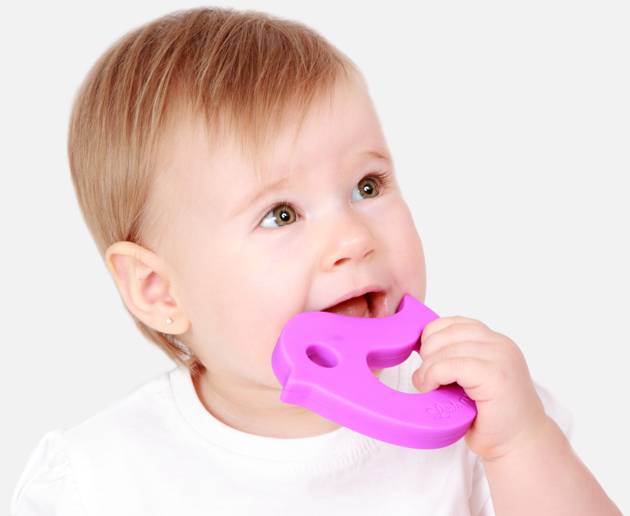 If you want something from the Mumma Bubba range and don't think you can quite pull off a necklace or bracelet teether, these little birdies are great to take out and attach easily to a pram or changing bag. Made from silicone it's a natural and safe teething toy that little ones will love. It's also dishwasher safe and easy to clean in warm soapy water. A lot of boxes ticked.
Mumma Bubba, www.mummabubba.co.uk, £12
Brixton Bracelet & Chelsea Necklace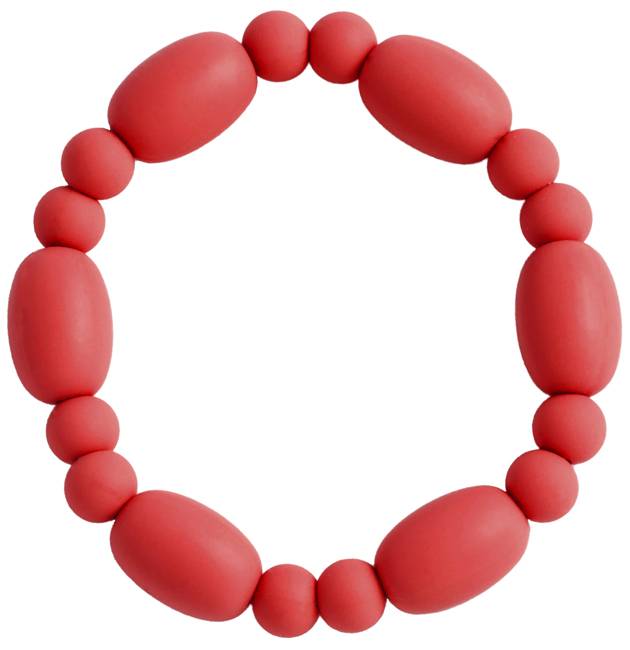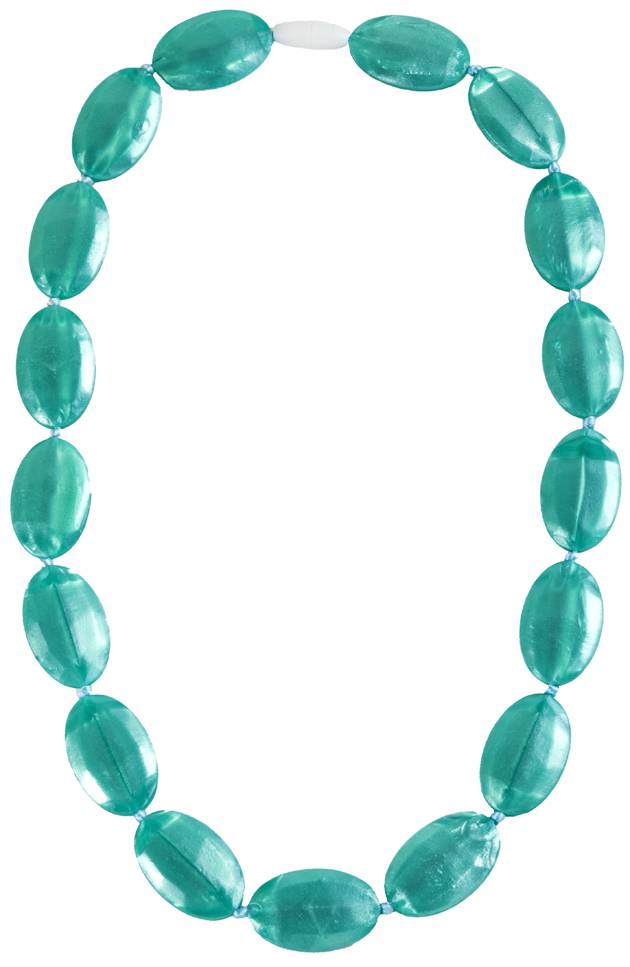 With a fantastic range of products for your teething baby to chomp on, the Nibbling range is the brain child of a London based designer with the aim to create unique teething gifts for both parents and babies. Colourful and playful, all the Nibbling pieces are made with 100% food grade silicone, which is soft and safe enough for babies to chew on.
If you're not bothered by gender stereotypes it's a great way to keep them entertained if your involved in any bottle feeds as it's something they can play with and grip on to whilst feeding. Two favourites are the Brixton bracelet, which is vibrant and easy to slide on and the Chelsea necklace, made with large silicon beads. If you really want to be clever about it, buy one for the grannies too.
Everything in the range is BPA and phthalate free. Soft on baby gums, it's a great new way of providing chewing relief. Meeting all relevant safety standards, another cool safety feature on the necklaces are the breakaway clasps so if they get pulled and tugged, no one gets hurt. The full range can be cleaned with soap and water, is dishwasher safe and can even be steam sterilised. They're even heat resistant and safe for the microwave and freezer. An extremely well thought out product.
Dummy Clip

If you're tired of your little one losing their dummy to a dirty floor with a constant need to clean it up again, Nibbling make great dummy clips that also work as a teether. Not only will they make sure their dummy stays safe but the attachment is designed with the same food grade silicone to provide relief on little gums when teething. Great to clip on to their buggy, car seat or changing bag, this is another great multipurpose product.
Nibbling, www.nibbling.co.uk, Brixton Bracelet £12, Chelsea Necklace £28, Star Dummy Clip £8