Who put mums in charge of style? To save you dads time and effort trawling through the shops, we've done the hard work for you and rounded up the most fun and stylish grows for your babies this season, so they'll look great while you'll come up smelling of roses…

Bamboo Body Tee
For a responsible ethical brand you can't go wrong with Panda and the Sparrow, a new line of baby clothing made from bamboo. This trendy T-Shirt grow is made from bamboo and organic cotton. It's incredibly soft, made without the use of fertilizers or pesticides and it's completely biodegradable. Plus it's UV resistant making it ideal for home or abroad.
0-24 months, Panda and the Sparrow, www.pandaandthesparrow.co.uk, £16.50
Star Trim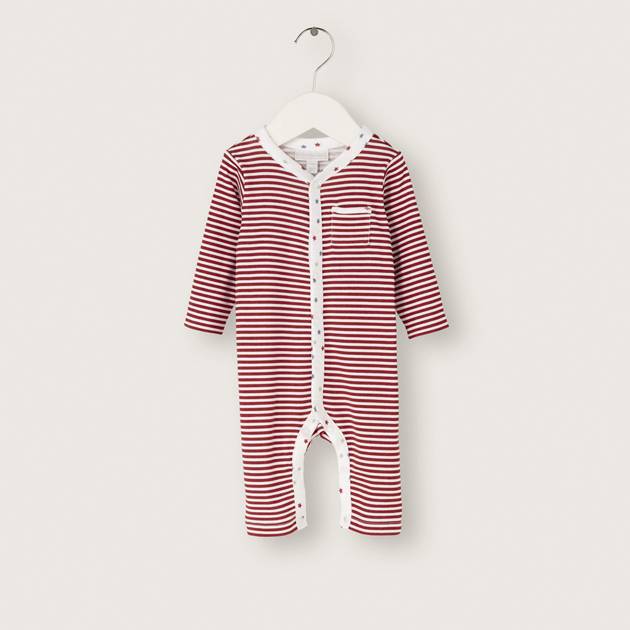 Fantastic for all year round, the star trim sleep suit from the White Company is light enough for summer but perfect to layer up for winter. With striking red stripes it's ideal for both boys and girls and has a timeless design that washes well. Made from 100% cotton for soft cosy comfort this grow combines style, quality and attention to detail.
Newborn – 24 months, The White Company, www.thewhitecompany.com, £20.00
Bear Coverall
Originating from animal sketched artwork in Canada that branched out into fabric and clothing ranges, Hatley's designs are both original and fun. This exclusive all in one features grizzly bear silhouettes in every position and is one of a kind. Style aside, you'll love its zip through front for easy dressing. One swift move and you're done.
Newborn – 24 months, Hatley, www.johnlewis.com, £20.00
Royal Baby Grow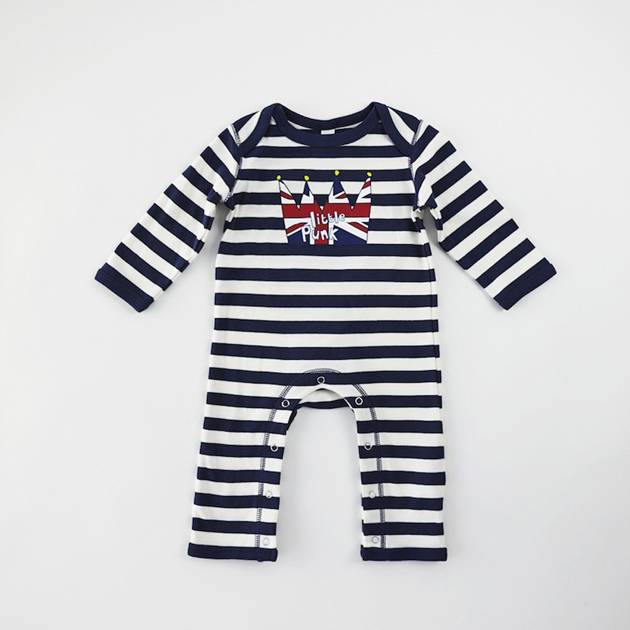 For an air of regality with a touch of punk, this royal grow is perfect. It's available in red, pink or blue and you can add a matching hat to complete the look. If it's a pressie you need it comes gift boxed and ready to send. Minimum effort, maximum style.
3 – 18 months, Little Delivery, www.littledelivery.com, £22.99
Tree Print Sleep Suit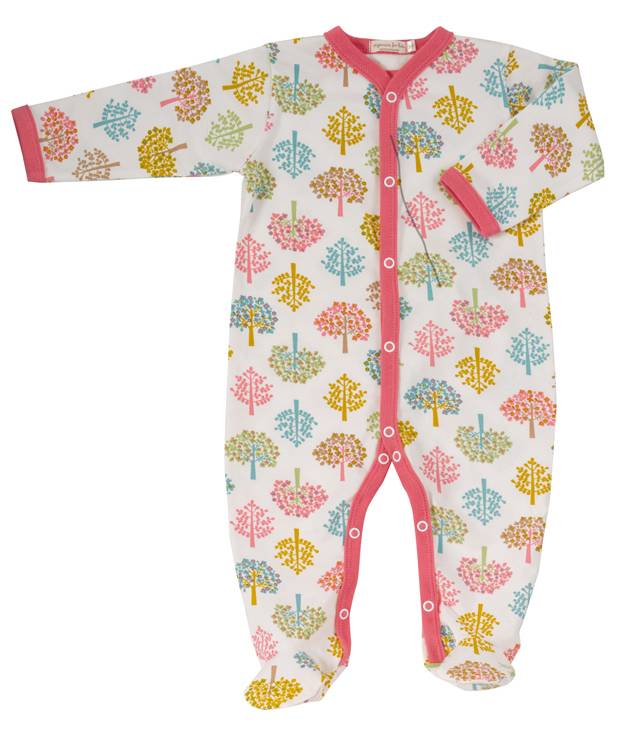 A great contender for the environment this gorgeous seasonal design from Pigeon is made from 100% organic cotton. The company has fantastic planet friendly credentials with its worldly recognised certification from the Soil Association so its original designs are just a bonus. Soft and comfortable this multi-coloured tree print is perfect for your baby girls.
0-12 months, Pigeon, www.pigeonorganics.com, £20.70
Zippy Alarm Clocks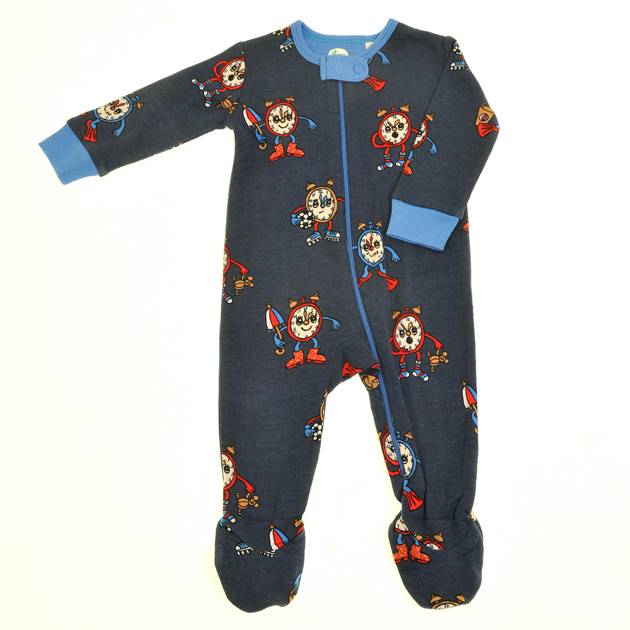 This naughty alarm clock design is our favourite of the Zippy range. It's warm and cosy with soft grippers for when those little feet start walking. The best part is ease, which the zippy brand is famous for. For dads who hate messing about with poppers, one quick slide with the zipper and you're done. Perfect.
New born – 18 months, Zippy, www.zippysuit.com, Suit – £19.00, Beanie Hat £7.00
SPECIAL OFFER: DAD.info users should quote the discount code FIRST10Z for 10% off
Animal Print Bodysuit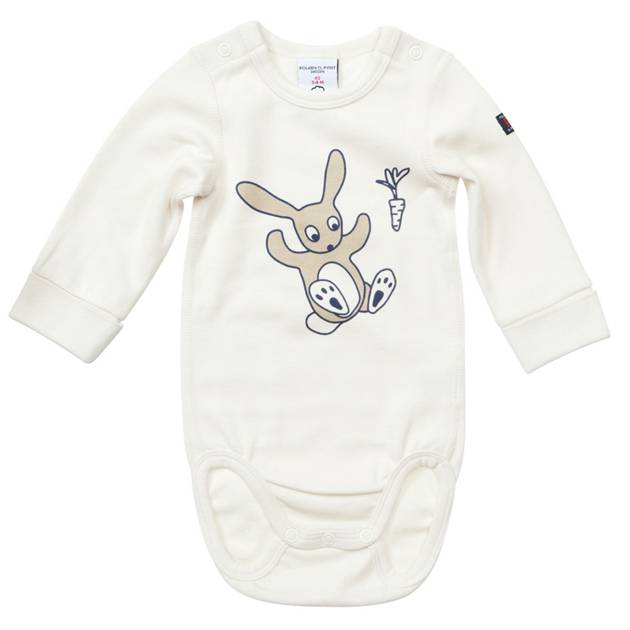 If you want baby gear that's cool, ethical and durable, you'll never go wrong with Polarn O. Pyret [POP]. Vibrant and stylish this Swedish brand has lasted the test of time, over 35 years to be exact. The new animal motif bodysuits are a great addition to their range and as with all their clothing, they're 100% organic cotton. A real classic.
0-6 months, Polarn O. Pyret [POP], www.polarnopyret.co.uk, £12.00
Polo Navy Romper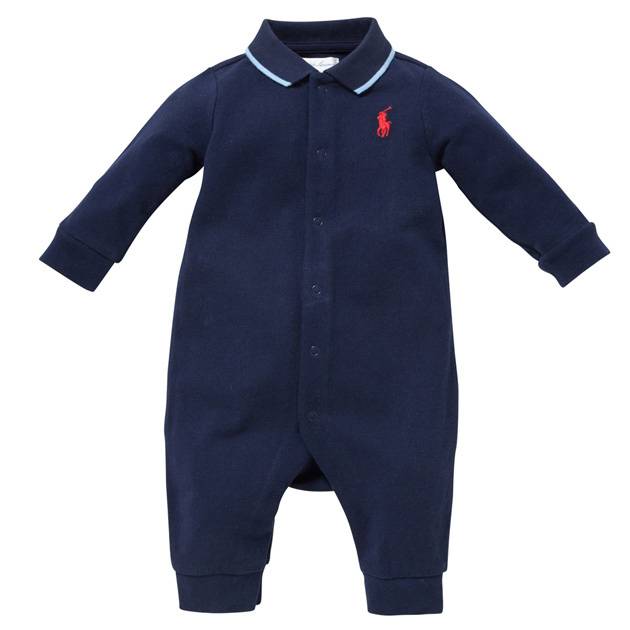 Who would have thought a man famous for his car collection, who started off selling ties 40 years ago would also have a baby-clothing line? Classic in design and stylish for those who can afford the heftier price tag, this durable cotton baby grow is gorgeous. Featuring a sleek collar with contrasting blue edges and the signature polo emblem on the front. Very smart.
3-9 months, Ralph Lauren, www.johnlewis.com, £50.00
Baby Mop
If you're on daddy duty along with house chores you can't get more efficient than this mop grow. Make the crawling and exploring fun and you'll be forgiven for putting your kids to work. Made with cotton and absorbent mop microfibers, this grow cleans your floors whilst your baby crawls. Genius.
3-12 months, Firebox, www.firebox.com, £29.99
Raccoon Appliqué Romper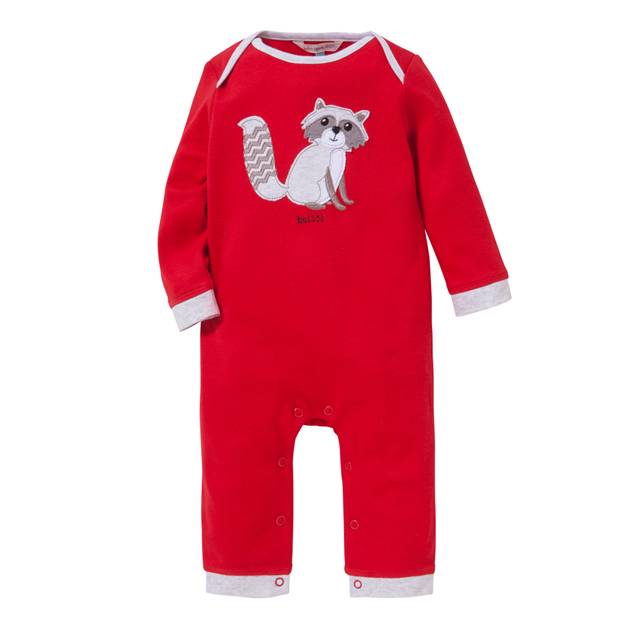 Perfect for autumn and winter this raccoon grow is great value for money. Available for tiny babies as well as newborns and up, it's made with soft cotton for comfort. The fun raccoon emblem along with its rich red colour is eye catching and great for both sexes, while the popper buttons along the crotch make it easier for changing and open feet offer more freedom.
Tiny Baby – 18 months, John Lewis, www.johnlewis.com, £9.00
Welcome Knitted Romper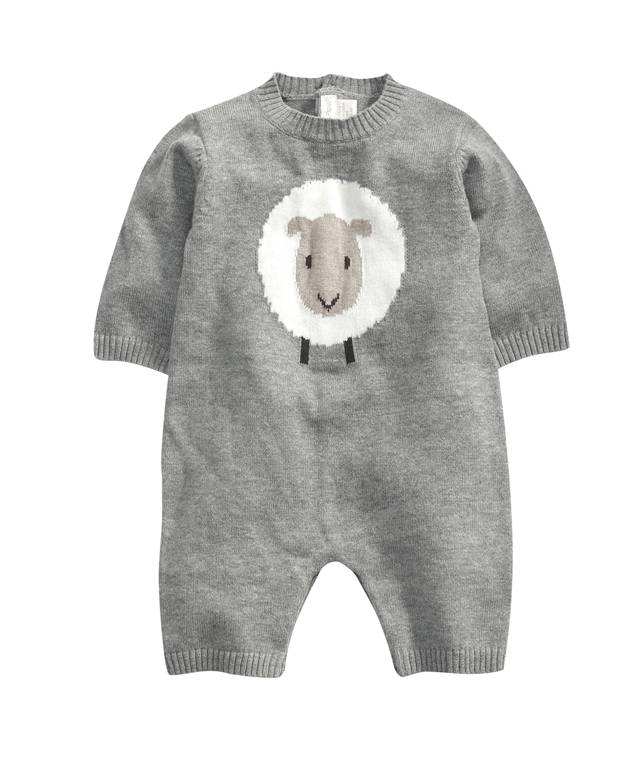 Cute and stylish this knitted romper from Mamas and Papas is ideal for an autumn winter wardrobe. Comfort and design have been combined with a fun sheep detailed knit on the front. The three quarter length offers freedom to choose between bare feet and layering up and the back opening buttons are better for babies who are quick to flip on their fronts.
Newborn – 12 months, Mamas & Papas, www.mamasandpapas.com, £24.00
Cotton Striped Giraffe Onesie
A nice addition to the animal themed grows we've found, this snug giraffe all in one is a cute affordable choice from Marks. Its pure cotton texture makes it gentle on the skin and its long sleeves with open feet make it an all year round grow. Its contrast trim detail adds a twist of style to a nice staple design and is great for day to day.
0-18 months, Marks and Spencer, www.marksandspencer.com, £12.00
Check out some brilliant touchy-feely toys for your little ones here.