Travelling long journeys with little ones can be hard work, especially where food and eating are concerned. If you've ever tried to feed your child whilst balancing them on your knee with one hand and trying to feed yourself at the same time, you'll appreciate this week's round up. With great solutions for portable eating, travelling with your kids just got a whole lot easier
Tidy Tot Tray
Already loved by hundreds of parents, the mountain buggy pod is a portable travel high chair, made from durable denier, easy to clean fabric and well thought out padding for additional support. Easy to use, you simply clip the pod on to the table top with a sturdy aluminium clamp to securely fix it in place. In fact you can do away with a large high chair at home completely as this can be permanently clipped on to your furniture.
The extendable clamp means that the pod can be adjusted as your child grows and used from when they can sit up to around three years old. Perfect if you like to be on the go, this solution is lightweight and with a cool flat folding design it's easy to store back in its included carry bag and thrown into a changing bag or buggy.
Mountain Buggy, www.johnlewis.com, £45
Ingenuity Baby Base 2-in-1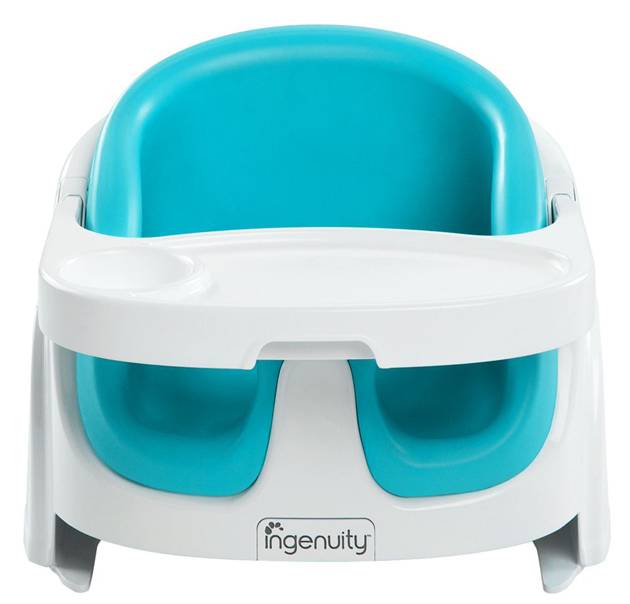 This is a great baby chair for eat or play and once your little one is sitting up, the baby base allows them to engage more in activities around them. This particular chair has two modes of use. It can either sit flat on the floor for play time at home or it can attach safely to a chair for use as a booster seat. The seat itself is designed with a foam insert to give extra comfort, which is easily removed for when your child gets bigger.
A 3-point harness ticks the safety box and the chair comes with its own tray that can be removed and stored under the seat for easy transportation. The baby base 2-in-1 supports your growing child and makes life easier for on the go play, travel and dining. It will not only make your life easier but will help them feel more in tune with the world around them.
Ingenuity, www.johnlewis.com, £34.99