With the exciting arrival of Princess Charlotte and recent sightings of her big brother Prince George, the royalty buzz has taken the country by storm. Shops and retailers are bursting with commemorative gifts and stylish designs in celebration of the royal family and everything we love about Britain. We've rounded up a great selection of gifts and symbolic attire so you can celebrate in style with your own family of royals
Knitted Soldier Toy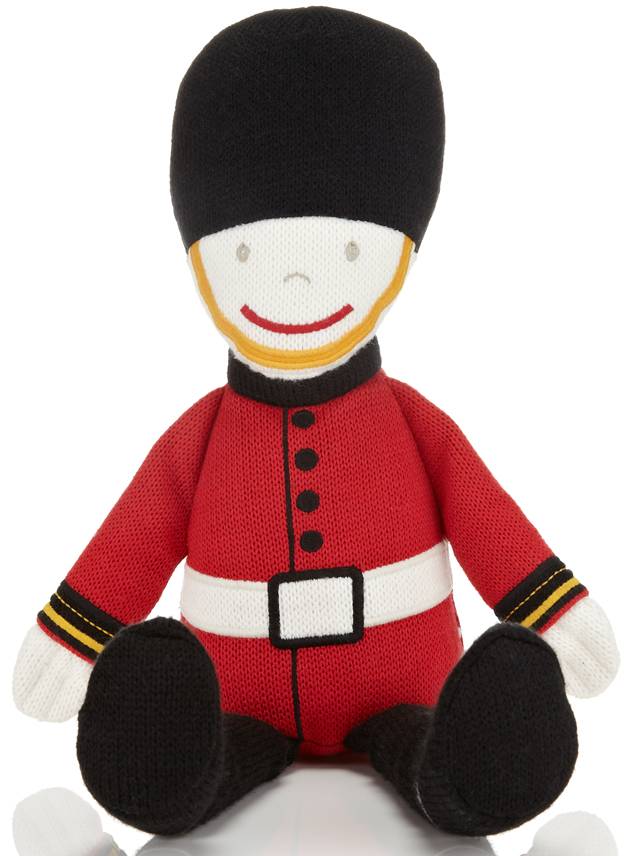 A loveable replica of the Queen's guard, this knitted soldier from M&S will make the perfect gift for your own prince or princess. The uniform detailing is fantastic and he would make a reassuring and huggable friend who can keep guard in their room in the day or watch over them at night.
Marks & Spencer, www.marksandspencer.com, £20
Charlotte Giraffe Rocker
In celebration of the Princess, Nattou has launched a new range of kid's items, of which this Charlotte giraffe rocker is a favourite. A modern twist on the traditional rocking horse, the giraffe's ears are great for holding on to and the seat provides a soft and comfortable place for them to rock from.
Stable in design the wooden base has stoppers built on to prevent any toppling and there's an additional harness for safety. It would make a wonderful addition to any nursery.
Hippychick, www.hippychick.com, £94.99
Cream Lace Party Dress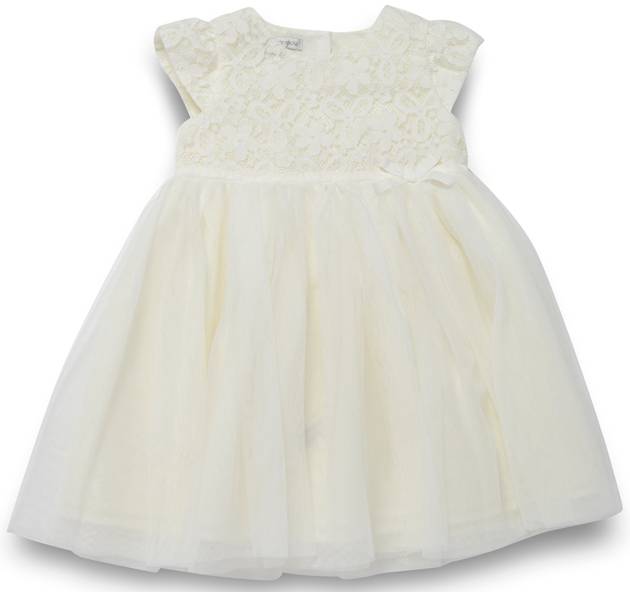 For your own little prince and princess at home, Debenhams designers have a fantastic range of clothing. A perfect piece for the little lady in your life, this cream lace party dress designed by John Rocha comes with a lace top, a full mesh tutu style skirt and button detailing on the back. Even more perfect is that it's machine washable for when princesses get mucky, which they all do.
RJR John Rocher, www.debenhams.com, 0 – 24 months, from £26
Red Bonded Fleece Coat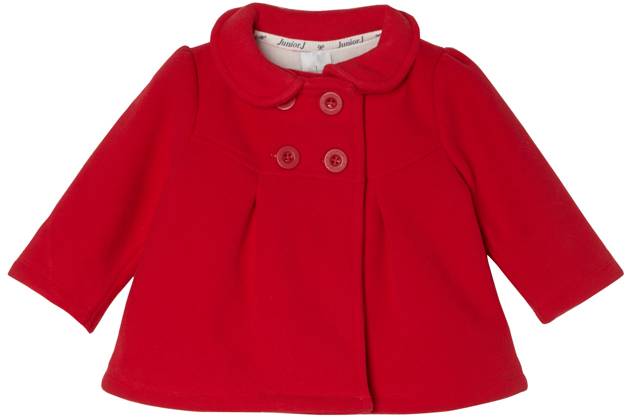 Perfect for wearing over the lace party dress, this bonded fleece coat will keep your little one snug. Made from soft bonded fleece, it has a double-breasted button front and a posh folded collar. Also available in baby pink but we loved the British red.
Jasper Conran, www.debenhams.com, 0-24 months, from £16
An Outfit Fit For A Prince
The sight of Prince George in his smart shirt, shorts and shoes made all the crowds swoon with excitement. Not even two years old and the young man has a fashion following. To replicate his charming look, we've pulled together a similar princely style –
Boys White Short Sleeved Shirt, Boys Blue Chino Short & Babies Blue Tipped Cardigan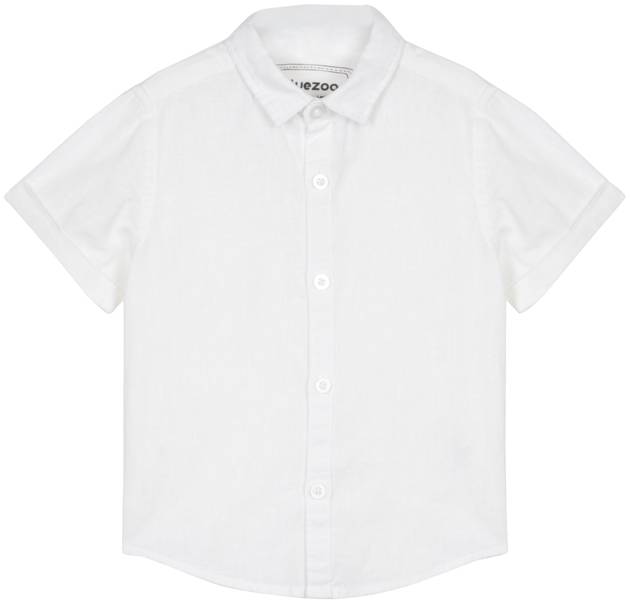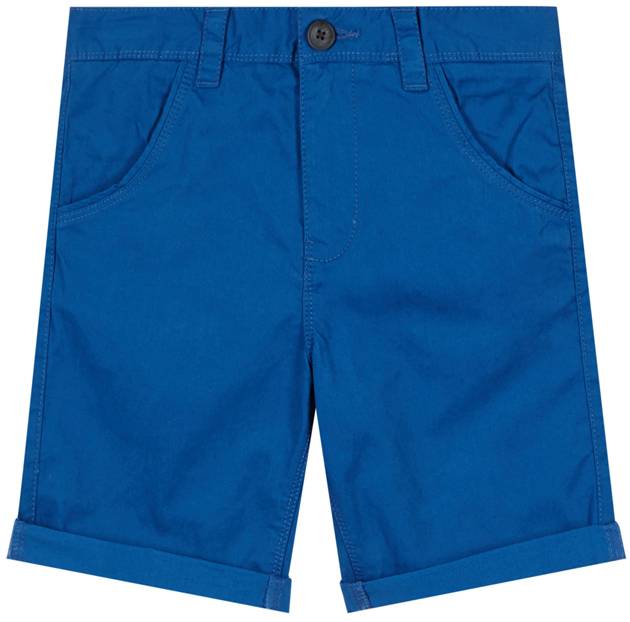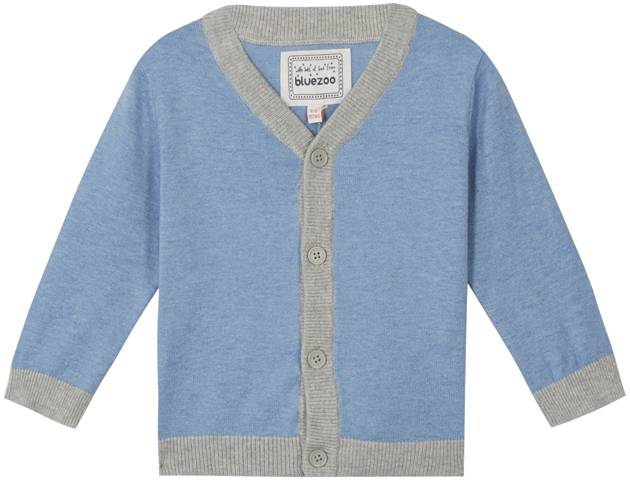 A perfect white linen shirt and great for smartening up any outfit, this should be a staple in any young man's wardrobe. Matched with a pair of boy's chino shorts from Bluezoo that feature four little pockets, belt loops and stitching detail.
To complete the look team up with a cosy cardigan. This blue marl knit has a stylish grey trim, button opening and v-neck front, perfect for a young modern prince. All the clothes are machine washable, classics that can be worn again and again, and all fantastic value for money. Perfect.
Bluezoo, www.debenhams.com, White shirt from £8, Blue shorts from £9, Cardigan from £8.50
George Brogue Shoes
Every prince deserves a princely pair of shoes and nothing speaks majestic more than a pair of classic brogues. You might think this is a hefty price to pay for little feet but this is no off-the-shelf footwear. Each pair of shoes is handcrafted in London from high quality leather made soft enough for little soles.
Presented in a handcrafted wooden box lined in fabric, adds to its charm. It also means that once grown out of, they can be kept as personal memento. A unique and special gift available in three different finishes and perfect for any young prince.
Dorothy and Thedore, www.dorothyandthedore.com, £139
Woven Tunic Dress – Rose Pink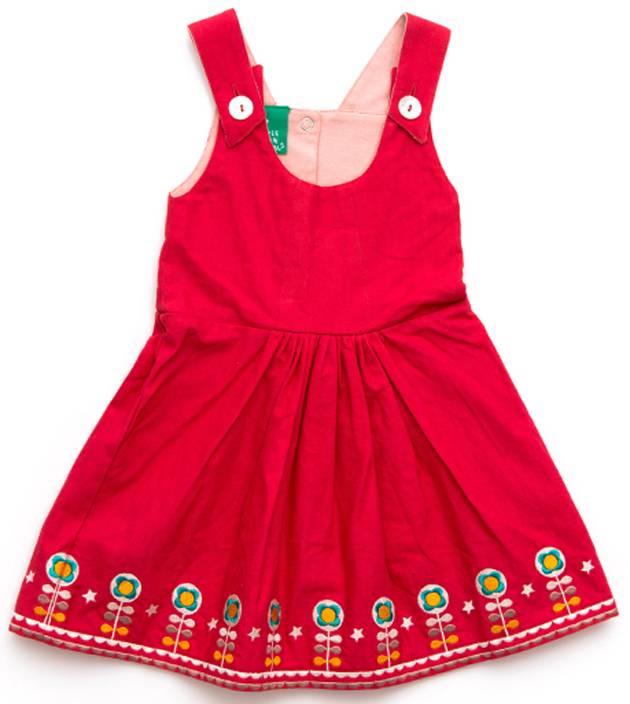 Even a princess needs to be responsible and if you're a family who cares about the environment and where your purchases come from, you'll love the Little Green Radicals. Now ten years in operation, the company has always been 100% organic and Fair Trade certified.
As part of its new summer range comes this vibrant organic cotton tunic dress. Available in different colours with beautiful embroidery detail this will make a gorgeous addition to any summer wardrobe.
Little Green Radicals, www.naturalbabyshower.co.uk, £38
2 Piece Short Sleeve T-Shirt & Aeroplane Appliqué Dungaree Outfit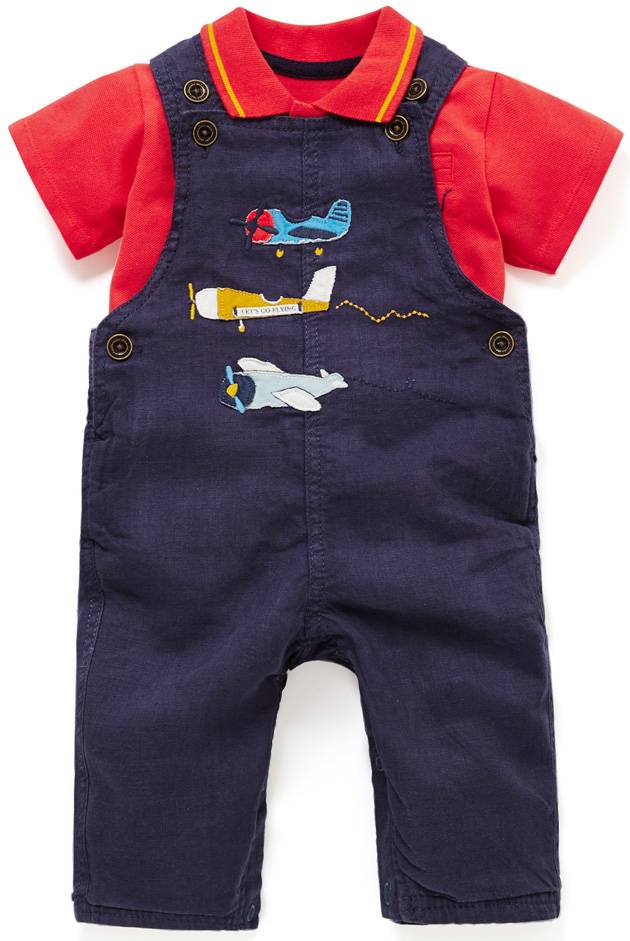 A fun outfit with plane appliqué on the front, this two-piece set is a timeless classic look from M&S and perfect for being out and about with an active toddler. Blue dungarees and red collared t-shirt celebrates our British colours well and the button detailing on the dungarees look smart. The popper buttons under the bottom makes it super easy for changing any messes your young prince might make.
Marks & Spencer, www.marksandspencer.com, £20
Little Brit Cute Bodysuit & All In One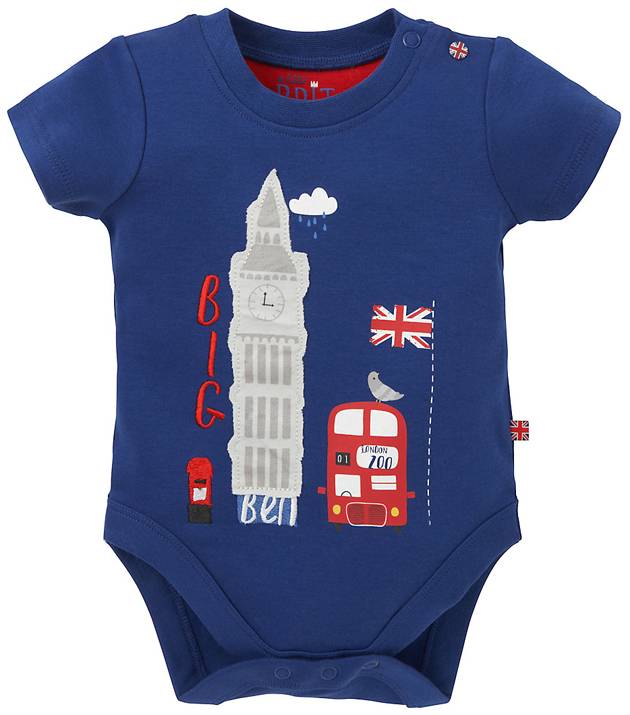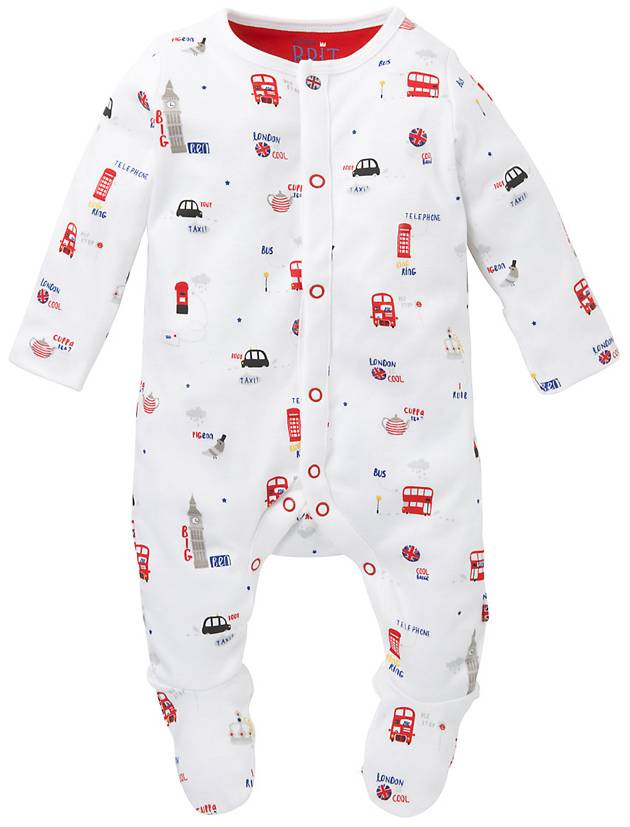 In eager anticipation of the princess, Mothercare has launched three exclusive clothing lines. Our favourite is 'Little Brit Cute' that celebrates London with its iconic landmarks like Big Ben, red double decker buses and minicabs.
The range includes bodysuits, all in ones and bibs all created to celebrate the British colours of red, blue and white. The designs are really fun with loud embroidered slogans, contrasting coloured interior and practical popper buttons. The full range offers great value for money.
Little Brit Cute, www.mothercare.com, Bodysuit £5, All in One £8
H.R.H Leggings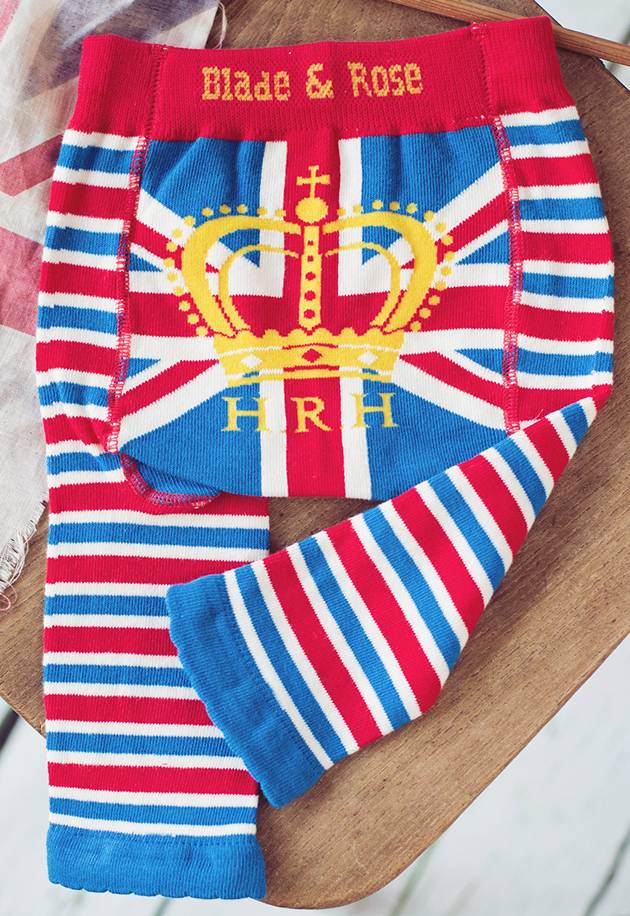 Wow, in all the excitement even baby's bottoms are being adorned with the union jack. A fun addition to their existing range Blade and Rose have released a pair of HRH leggings. As with all their leggings, this latest design is soft and stretchy for the best comfort.
It will allow your little one to waddle around with ease while you have a cheeky giggle at the Union Jack and HRH crown printed on their behind. Perfectly designed for boys or girls.
Blade and Rose, www.bladeandrose.co.uk, Up to age 4, £10
Ocean Spray Tutu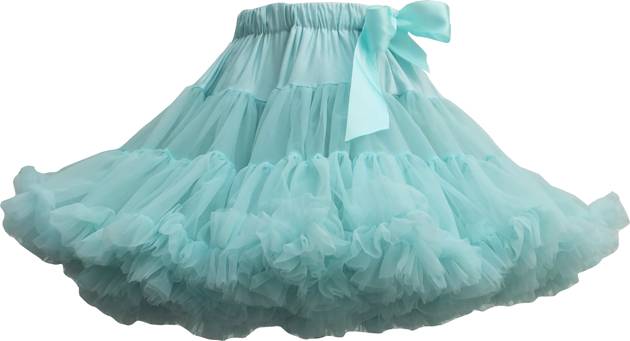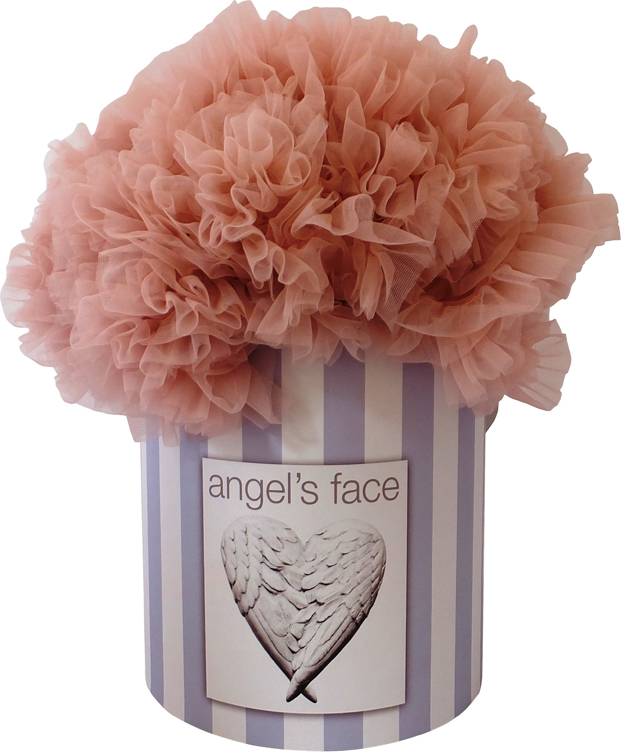 For princesses of all ages and sizes, Angel's Face is the UK's number one tutu skirt brand and all British made. With a fantastic collection and over 30 different colours to choose from, there's something for every occasion. Whether for parties, weddings, fancy dress or just to team up with a pair of leggings, these's skirts are unique and very cool.
Soft and comfy to wear you can even stick them in the machine to be washed with everything else. Uniquely packaged in a vintage style box this would make a great present for all the princesses in your life, even the big ones.
Angel's face, www.angels-face.co.uk, from £35
Guess How Much I love You Booties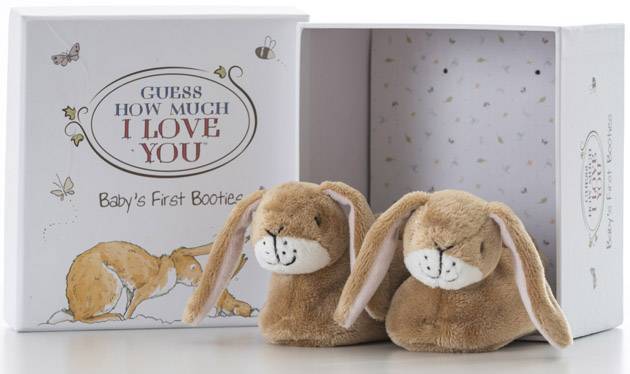 If you've managed to get to this stage in life without having read this book, shame on you. A quick recap to help you out – the story is a tale of Little Nutbrown Hare and Big Nutbrown Hare as they find ways to describe how much they love each other.
Based on the classic tale, these character booties are soft and comfy with rattling toes for when your little one starts to move. Perfect for first time walkers they come beautifully boxed and really are very cute.
Rainbow Designs, www.amazon.co.uk, £12.99
Knitted Union Jack Baby Blanket
Just how patriotic are you? Well if you really fancy embracing it wholeheartedly there's no cozier way to do it than with this knitted union jack blanket from Dorothy and Theodore. Made from soft aran yarn it's designed with two layers of knitting to provide that extra bit of warmth.
Measuring 80cm x 60cm it's the perfect size to put in a buggy, car seat or wrap your little one up in. Not sure if it will stretch out for daddy too but hey you never know.
Dorothy and Thedore, www.dorothyandthedore.com, £49.99
Ronald And Friends Print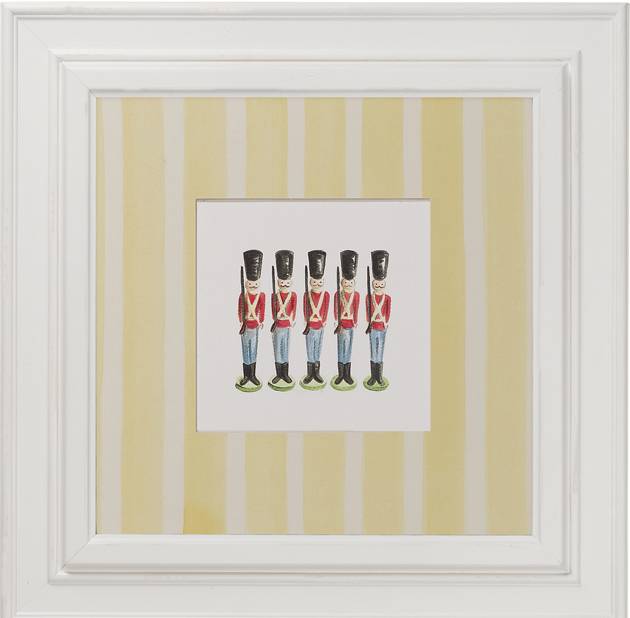 Another lovely way to commemorate the birth of the Princess is to buy a unique art print for your child's room. Bespoke made, this canvas print sold by Gigi Brooks portrays Ronald and his toy soldier friends, all dressed in the best red, black and blue attire. Really well presented and stretched over a custom built wooden frame, the colours are beautiful and will last the test of time.
Gigi Brooks, www.gigibrooks.com, £110
Peppa Pig Art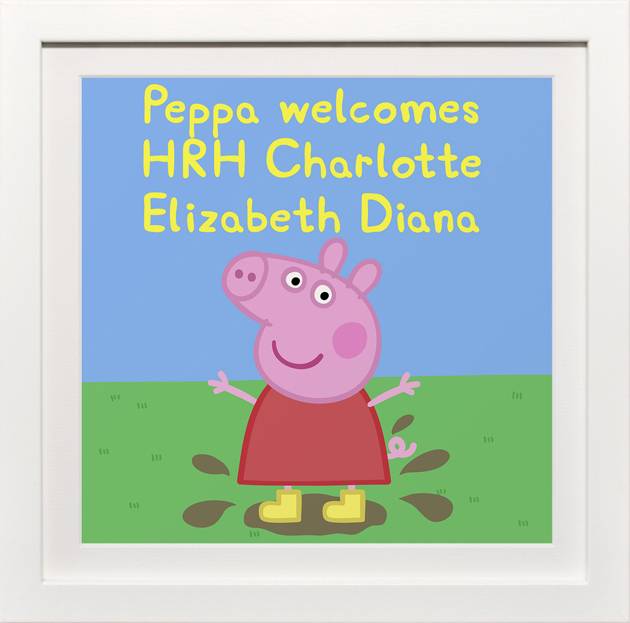 Art You Grew Up With offers a fantastic range of personalised gifts with familiar childhood characters including Peppa Pig and Beatrix Potter. In celebration of Princess Charlotte, one of the first gifts to be sent to Her Royal Highness was a special personsalised artwork from Art You Grew Up With.
Have one made up for your own princess and tell her she shares it with Princess Charlotte. That should certainly earn you some affordable brownie points.
Art You Grew Up With, www.artyougrewupwith.com, from £14.99
Royal Baby 2015 Fine Bone China 8″ Plate & Mug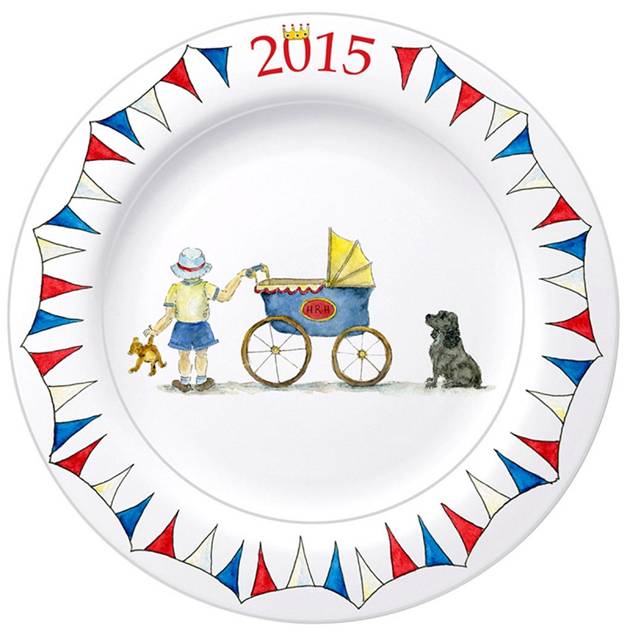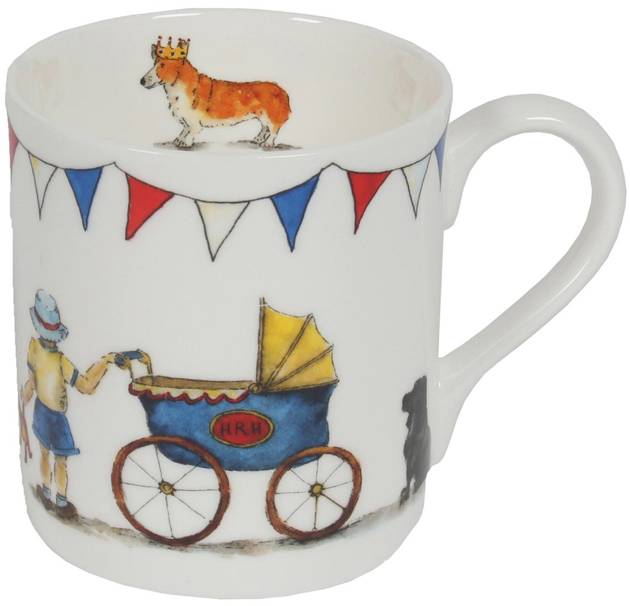 To celebrate this happy event, Milly Green has designed a British range of fine bone china. Each piece in the range is made by Crown Trent of Bond Street and hand decorated with bunting, pram, a corgi and the loyal royal companion Lupo – all in Milly Green's unique style. Available as separate collectible items, they come presented in a posh gift box and will make great gifts to treasure for years.
Milly Green, www.millygreen.com Plate £15, Mug £10
Royal Baby Mug, Emma Bridgewater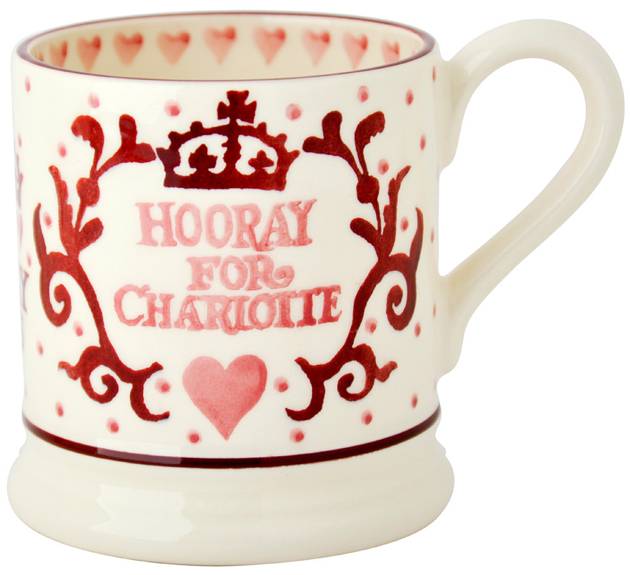 If you're into your commemorative gifts or know someone who is, The National Gallery shop in London has a great selection on offer. There was no way a grand occasion would pass without an Emma Bridgewater design to honour our new arrival and this royal baby mug is fab. If you're concerned about damaging your manliness, it would make a great gift, especially if you have a mate called Charlotte.
The National Gallery, www.nationalgallery.co.uk, £19.95