Touch, vision and sound play a huge part in your child's learning and stimulates their brains from a very young age. Encourage their sensory skills with these fun toys, all suitable from birth…

Babyplay Klank The Robot
Klank is a soft toy robot that comes armed with six great features to keep those little minds entertained. His body is made up of crinkles for touch and sound, and his knots of fabric come with different textures, bright colours and fun patterns. To help with sore gums, his hands are made with plastic teething rings and his body has a little mirror to encourage self-awareness. The handy ring at the top makes it easy to fasten to buggies and bags so is great for home or on the go. With a musical chime, he'll soon become your child's best friend.
Mamas & Papas, www.mamasandpapas.com, £12.95

Blossom Farm Touch & Feel Cubes
Great for stacking and encouraging movement, this set of four cubes is a great way to get your baby crawling. Each cube is made up of soft fabric with different textures, patterns and colours. Part of the Blossom Farm character range from the Early Learning Centre, they include Woolly Lamb, Clover Cow, Cloppy Pony and Whiskers Cat. All the cubes are machine washable, too.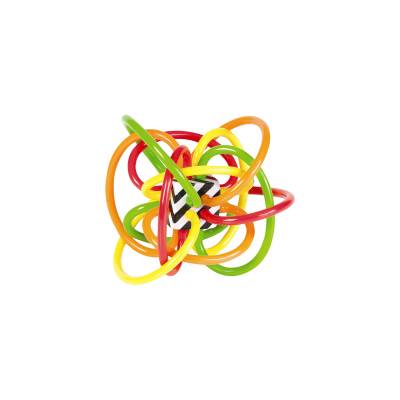 Colour Burst Winkle Rattle
With an air of mad scientist about it, this innovative rattle is made up of brightly coloured loops that are easy for little hands to explore. It's lightweight and therefore ideal for babies learning how to grasp and shake. Although the loops might look rigid they are actually soft and flexible, which make it easy to fold down and fit into a changing bag. Its bright colours assist with visionary skills and you can even pop it in the fridge to soothe teething gums.