Sir Chris Hoy certainly knows a thing or two about cycling, so who better to encourage kids to get on their bikes?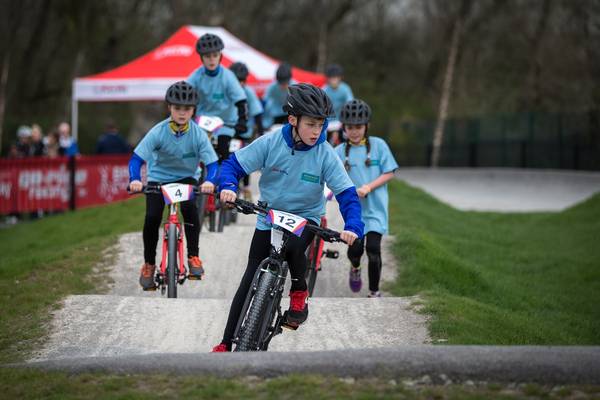 With six Olympic gold medals and one silver, Sir Chris Hoy is Britain's most successful Olympian. Always aiming high, he has partnered with British Cycling's Go-Ride programme and Evans Cycles, aiming to help deliver over two million opportunities for young people to get into cycling by 2020.
Go-Ride
The initiative – where young people experience coaching and competitive racing for the first time, will be supplied with 1,500 bikes from Evans Cycles to run thousands of Go-Ride sessions across the country. 2014 saw over 30,000 young people getting involved with the Go-Ride programme, which also aims to find the next generation of world champion cyclists – as the first step on the Great Britain Cycling Team Performance Pathway.
Commenting on the partnership, Sir Chris Hoy said: "Inspiring young people across the country to start cycling and realise how great it can be is something I really believe in. That's why Evans Cycles and I jumped at the chance to provide HOY bikes for British Cycling's Go-Ride programme over the next four years, and hopefully we can help find the world champions of tomorrow."
Over 60% of the elite riders who will go for gold at Rio 2016 began their career in the Go-Ride programme. The ambition for the new partnership is to enable more children to experience the joy of cycling, unlock their cycling talent, and potentially even inspire them to go for gold at the Tokyo Olympics 2020 and beyond. Go-Ride, which was started over a decade ago, is now British Cycling's flagship programme for young people, supported by Sport England, Sky, the Bicycle Association and Lazer helmets. There are over 300 Go-Ride clubs across the country in communities and schools, where young people are able to sample the various cycling disciplines and enjoy one of the fastest growing sports in the UK. The programme is supported by Go-Ride Racing, which is a calendar of entry-level, local racing events for young riders.
Sir Chris Hoy's top tips to parents to get kids on their bikes…
1. Take your time choosing the bike
Heavy bikes can put children off cycling and will have them struggling up any little ramps or hills on the way. Lots of kid's bikes on the high street weigh an absolute ton, but Evans Cycles pride themselves on selling quality children's bikes (like the HOY ones, naturally) which can endure the same kind of thrashing as an adult's bike.
2. Learn to stop before you start
It's sensible to teach your kids the basics of braking before they start going fast. This will keep them safe during their first parent-free runs and give them confidence and the feeling of control.
3. Lose the pedals
For the very youngest budding cyclists, a great alternative to stabilisers is 'runner' bikes. Try one to help your toddler get to grips with the basics of balance and being in thecycling position for the first time.
4. Safety first
Not all kids want kids' helmets – sometimes they want to be 'big kids' – but once children are old enough to understand, try talking to them about the reasons for wearing a helmet as well as leading by example yourself. And it goes without saying that choosing a great-looking lid that fits well makes all the difference.
5. Get going
Head for somewhere away from busy roads and lots of people where your little ones can have the space to develop their bike handling skills. Wheelies, track-stands and jumps are all things you can work up to.
So could your little one be the next Olympic cycling hopeful?
HOY bikes are available exclusively at Evans Cycles. www.evanscycles.com/hoybikes