As the Transat Bakerly solo transatlantic sailing race kicks off, DAD.info, heads down to the starting line in Plymouth… or should that be Le Plymouth?
Imagine single-handedly sailing from Plymouth to New York on your own. No motors. No company. Nobody but you to look out for icebergs or the unidentified chunks of refuse bobbing around the planet's oceans, which are sometimes big enough to sink vessels of this size.
The fearless skippers of this epic transatlantic race don't even have time to sleep properly, during their epic crossing, snatching naps of under an hour at a time.
25 boats across three classes set sail from Plymouth amid rain and poor visibility at 2.30pm on the May Bank Holiday Monday to tackle one of solo sailing's most thrilling races: the 3,050-nautical mile voyage from Plymouth to New York, across the vast North Atlantic Ocean.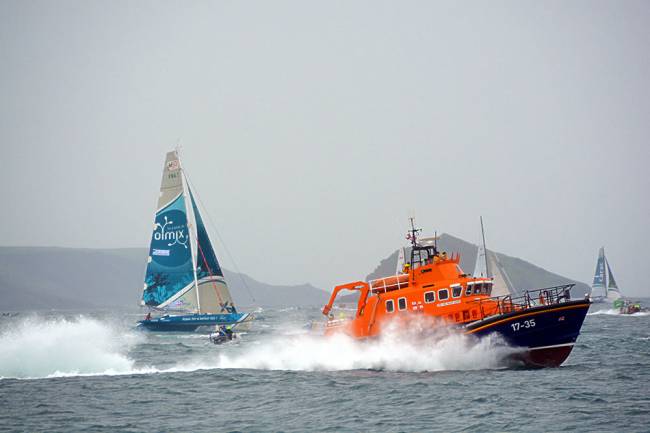 Due to the poor weather, the starting line was moved to outside of the harbour, meaning visibility from shore was very poor, so your DAD.info correspondent boarded a VIP vessel and headed out among the waves to bring coverage from the start line.
Usually held every four years, this 2016 event is actually the first since 2008, so there is much excitement about this race, which has been eight years in the making.
Conceived, nearly six decades ago, as a bet in a pub between a bunch of barmy British sailors, the newspaper-sponsored OSTAR (Observer Single-handed Trans-Atlantic Race) was first competed by just five vessels, each navigating with compass and sextant.
In 1960, British skipper Francis Chichester won the first race in a time of 40 days, 12 hours and 30 minutes, with Frenchman, Jean Lacome finishing last after 74 days at sea.
Times have changed however: Eric Tabarly won the '64 event with large, sleek, and lightweight boat, Pen Duick II, knocking two weeks off Chichester's time, and ushering in an era of French dominance over this British race.
Today Plymouth is like an outpost of France (albeit a very grey, dreary one), with French heard in all the bars and cafes, the programmes and announcements in both French and English, and more navy-blue nautical striped T-shirts than a Jean Paul Gaultier convention.
The event is no longer sponsored by a British newspaper, but by brioche-and-crêpe peddlers, Bakerly, and très chic business-class-only airline, La Compagnie, who fly exclusively from Paris and London to New York.
This year, in honour of Eric Taberly's historic achievement, multi-Transat-winning French skipper, Loïck Peyron is sailing the original Pen Duick II with just a sextant and compass to guide him. It will take him considerably longer than the estimated 10 days it will take most vessels to complete the race, with the fastest three boats – the giant, three-hulled trimarans of the Ultime class – expected to reach New York in only eight days.
Off to a strong start, French vessel, Macif, had a significant lead within only the first few hours of the race, so it looks like this very British race still belongs to France.
Follow all of the action as it unfolds at http://www.thetransat.com/