When there's ice on the ground or chilly rain pouring down, it can be difficult to psyche ourselves up to brave the cold and stick to our fair-weather fitness plans. Fitness First share their top tips…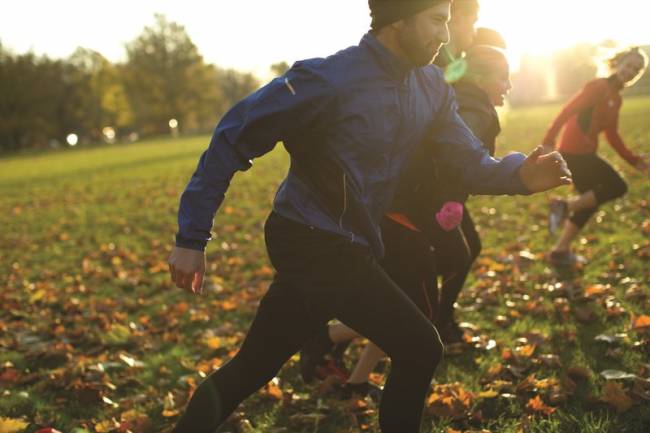 Whether you're training for the marathon or competing a winter 10k run, Fitness First have pulled together the below pointers on how to combat the snow, rain and wind and keep yourself well prepped during the wintery months.
Balance indoor and outdoor runs – When temperatures drop low or snow is piling up opt to play it safe and get out the treadmill. But when the weather is working to your favour, aim for two or more runs per week during the early afternoon when it's the warmest and there's more light. Avoid icy or snow packed paths as running in few inches of snow will offer better traction and cushion. Always keep in mind that you potentially burn more calories in the cold since your body works harder to stay warm.
Ditch your regular running shoes – Regular running shoes won't provide you with the traction you need when slush and black ice cover the ground. Instead of chancing it, grab a pair of running shoes with thick traction or tread that will hold up in the winter months. The shoe may be heavier, but as the winter isn't a time to hard-core train, the weight won't be an issue.
Extend your warm-up – In the winter months, make sure to take a longer warm-up than you normally do during the warmer months. This will help the muscles ease into your run and prevent tears or pulls. If your usual warm-up takes about ten minutes before leading you into your full stride, try working it up to 15 or even 20 minutes.
Gear-up – Your gear and equipment while training is just as important as the actual training plan itself. Wearing running tights will help to keep the legs warmer and if its icy buy a traction device to attach onto the shoes for extra grip against slipping. Wearing gloves, hat or headband will keep you warm. Tip – keep a bag with an extra pair of socks, water and anything else you may need for your run.
Cancer Research UK London Winter Run is on Sunday 4th February 2018- Early Bird places available now. A winter-themed 10km route through London's iconic streets. A truly enjoyable event – check out details here: http://www.londonwinterrun.co.uk/
Updated: 19th September 2017