April 26th event will be an unforgettable experience for participants and observers alike…
Over 35,000 runners might concur with T.S. Eliot's famous The Waste Land line: April is the cruellest month. That's because the 35th London Marathon will take place on day 26, and with 26.3 miles (or 138,336 feet) to sprint, jog, walk or crawl, it's for neither the faint-hearted nor underprepared.
All those draining pre- and post-work trundles, and weary weekend wanderings, the hundreds of miles in the legs will come to a climax, and boy will it be painful. Arg, the bloodied nipples, oozing blisters, chafed groins and blackened toenails. And hit the dreaded wall – that psychological barrier around 22 miles in – and it truly can be hellish, as I found to my extreme discomfort a couple of years ago.
That's what makes it such compelling viewing, a brilliant day out for the family, and why I, for one, am glad I'll be watching the action rather than taking part in this edition. The reason I'm ducking out this time? Well, I was lucky enough to become a dad for the first time in September and – as fellow fathers can empathise – my leisure time has somewhat dwindled.
In fact, I'm now largely limited to a weekly five-a-side footie kick around with other dads, where the convoy of toy-infested vehicles with baby-on-board stickers and cumbersome car seats end up at the pub for the most refreshing drink of the week (and where vital advice on anything from nurseries to boilers to lawnmowers flows delightfully).
I digress. In short, I'm out of training, and the London Marathon is one thing you cannot bluff. However, my father – at the over-ripe age of 62 – has decided to make his bow this year and recently roped me in to assist with his training runs.
We trotted around a couple of half marathons and on both occasions I rather childishly legged it away from my dear old dad in the final furlong or so, my competitive nature bettering my sense of sportsmanship. It was a magical feeling to jog alongside him for most of the way, though, made all the more special and poignant having just welcomed my own son into the world – and of course the mind drifted to musings about my little one and me running races together in the future.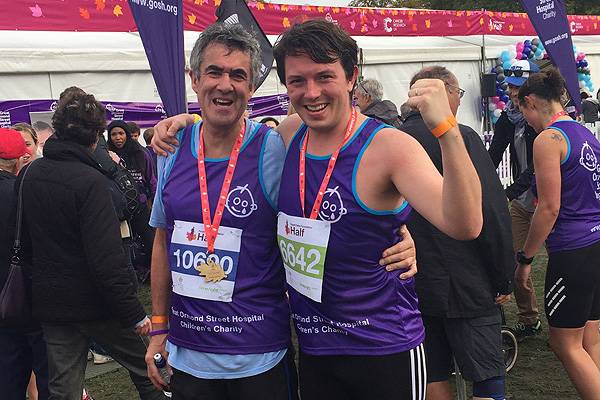 That duo of sparsely supported demi-marathons fuelled a regret that I wasn't lining up for the real deal later this month, though. Nothing comperes to the ballon-and-whistle fest of the London Marathon, and the last stretch along Embankment down the Mall and St. James's Park, in particular, provides an unforgettable rush.
It is unparalleled in its camaraderie, and with the crowd 10-deep in some areas it really is an experience to cherish, even if you are not quite keeping pace with Wilson Kipsang Kiprotich, the Kenyan who achieved a record time of 2.04:29 last year. The steel bands, loud-hailer come ons, the fancy dress, the offers of Jelly Babies and equally boosting high-fives from little ones flanking the route …
With most people running for charity – perhaps in honour of those who are unable to do so, or deceased loved ones – there is a deeper emotional pull which assists and inspires along the 26.2-mile course. The event champions courage, achievement and determination and among the tens of thousands of Lycra-clad participants there are heroes who have surpassed their own expectations, on and off the pavements.
A truly incredible £450 million has been raised in the 34 previous editions of the London Marathon; and the 2009 event, when £47.2 million was topped, remains a Guinness World Record for the largest annual fund-raising event in the world.
So April may be the cruellest month for London Marathon runners, in terms of preparation and anxiety. But get it right and it will be one of the most enjoyable – and memorable – days of your life, and for your proud family. This year my young family and I will be raising a glass from the sidelines in reverence, to my dad and the 35,000-odd other superstars.
Watch The London Marathon on Sunday April 26 from 8.30am on BBC2.