Mustering the inclination to get back into any sport can be tough. Don't go it alone! It's time to get on your bike and meet other folk in the same boat, all with the aim of enjoying cycling…
Any exercise is good exercise, but if solo sports aren't your thing, joining a group of like-minded people to get your fitness fix. Britain's biggest social cycling network, Ride Social pulls together cyclists of all ages and abilities. With numerous dates, distances, durations and maps already on the site, it's easy to choose the group and ride most suited to your capabilities. More confident cyclists can set up their own Social Cycling Group and start establishing public or private rides at a level to suit them, creating the ideal opportunity to take control of their cycling and get the most out of their bike ride.
Ride Social dad Allan Davidson from Hull (below) regularly cycles with his 16 year old son, Lex. "I love cycling with my son. It is great to have some one-on-one time that doesn't involve the distractions of technology! Lex was extremely unwell when he was much younger and riding (with him initially on a trailer bike) and independently on the school run, has helped to keep him active during and after his treatment. I now also take him with me on Ride Social rides. During term time we cycle together on the daily school run and we also do the odd occasional longer ride when it's dry and not too cold or early too. Despite some resistance to early mornings, (teenagers do mornings reluctantly) we enjoy the teamwork in riding tandem and his youth gives extra strength when climbing hills."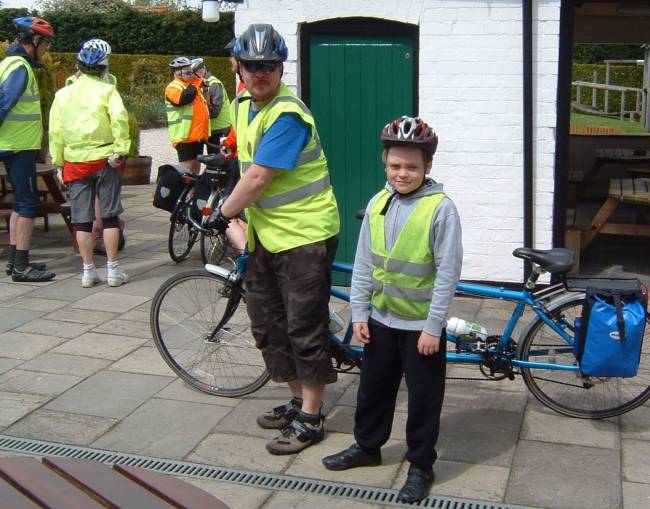 British Cycling's Top tips for dads…
The route – Pick a route in advance, perhaps down a bridle way or around a park with a cycle route. Safe and away from busy roads. There are loads of great places to ride.
The ride – Be realistic about the time you are out, the distance you ride (3 to 10 miles is plenty), the terrain, not too hilly or rough and the pace, not a smash fest. With young kids you'll be stopping to look at trees, cows, flowers and much more. Go at their pace, not yours.
The attraction – Have a stopping point on the ride, such as a play area, café, ice cream stop or pond to feed the ducks, and don't forget to take a picnic!
The kit – Make sure the kids are dressed right for the weather, use a well fitted helmet and I'd also advise on gloves to keep small fingers warm, or protect them is case of a fall.
The bike – Check the bike over before the ride, pump up the tyres and give the bikes a British Cycling M check, takes some spares to mend a puncture just in case.
The experience – It's got to be fun, it's not just a ride to kids, it's an adventure exploring somewhere new and learning about new places, make the experience great so they want to do more!