Many people dread the winter months, especially once Christmas is over and we have to head back to work. However, winter can be a good time to boost your immunity, strengthen your resilience and generally improve your wellbeing. Follow our top tips to bolster your resistance to infection, as well and look after your mental health…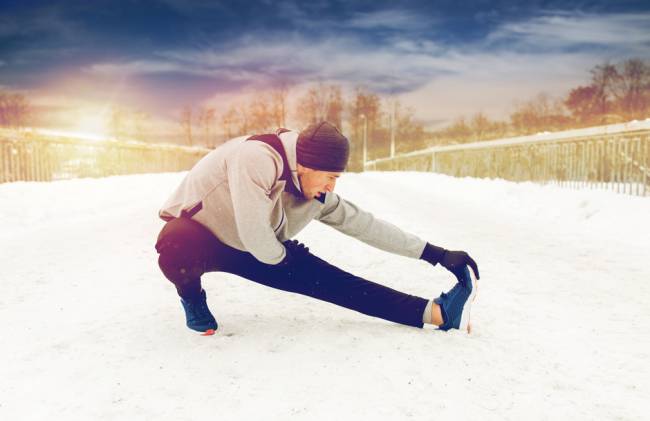 1. Ramp up your fruit and veg intake
A diet rich in fresh fruit, vegetables and wholegrains will boost your immunity and promote good digestion.
Evidence shows that diets high in a variety of vegetables, fruits and whole grains may also help to reduce the risk of bowel cancer, owing to their active vitamin, mineral and fibre content.
An array of antioxidants found in these foods – namely carotenoids, flavonoids, selenium, folate, and vitamins C and E – may help to protect cells from damage. If you are particularly prone to minor infections, a multi-vitamin tablet may help or why not investigate alternative or homeopathic remedies.
2. Reduce fat, sugar and salt
Salt, also known as sodium chloride, is essential in our diet. Sodium is responsible for regulating body water content and electrolyte balance and is necessary to help the absorption of certain nutrients and water from the gut. So it's important not to cut it out completely.
Ceitanna Cooper, Registered Associate Nutritionist at AXA PPP healthcare, says: "It's important not to exceed 6g of salt per day. A healthy amount of salt is anything between 1g and 5g, but this does depend on the rest of your diet. Be aware that foods marked as 'low salt' often include more sugar or fats to help them retain flavour, so they aren't necessarily a healthier option."
3. Avoid left-overs and junk food
To obtain a well-functioning immune system avoid leftovers, preservatives and "junk" food. All of these items will deplete your body's natural protection system. "Fresh is best" is a good rule of thumb. Most pre-packed foods are processed to some degree before we eat them, whether they're minimally processed (like salad mix, bagged dry beans, roasted nuts or frozen fruits and vegetables) or what some nutrition experts refer to as highly or ultra-processed (like ready meals and snack foods).
4. Look after your skin and hair
Your skin and hair will need more nourishment in cold temperatures. Choose quality conditioners and creams. This applies to men as well as women!
5. Get into a good sleep routine
It's important for both our bodies and minds that we get enough rest, as continued late nights and overwork can have long-term effects on our general health.
Try not to have coffee, black tea or any other drinks that contain caffeine after dinner, as it will make it harder for you to get to sleep. A glass of wine may help you to fall asleep, but alcohol can affect the quality of your sleep, making you more likely to wake up during the night. Try to develop a relaxing night-time routine that prepares your body and mind for sleep. It could be taking a hot bath, reading a book, listening to calming music or having a milky drink – but try to stay away from bright lights and heated arguments just before bedtime.
6. Take some form of exercise every day
Exercise boosts immunity, aids digestion and produces "feel good" endorphins. Instead of booking a beach holiday, how about trying something more active like a ski break or cycling holiday to get your blood pumping this winter?
7. Drink plenty of good-quality water
Alcohol and caffeine have a detrimental effect on the way the body absorbs vitamins and minerals.
"Keeping your drinking under control can make a big difference to your health, and your happiness," explains Dr Gary Bolger, Chief Medical Officer at AXA PPP healthcare. "Unfortunately, too many of us find it difficult to keep to healthy limits, so the start of the year is great time to reassess your monthly intake." Paradoxically, alcohol dehydrates you, so it's important to drink water before you begin drinking and in between alcoholic drinks. People often guzzle the first drink because they're thirsty. Alternating alcoholic drinks with water or soft drinks will not only help stop you getting too intoxicated, it will help reduce headaches and hangover symptoms the next day.
8. Learn to relax
Relaxation enhances your wellbeing, so try to get out and go swimming, have a massage or take a walk in daylight hours.
Rushing around with a big Christmas 'to do' list can be stressful, but there are a number of health benefits of being more 'mindful' and 'in the moment'. Taking time to focus on the 'now' and noticing the world around will help you stay positive.
It's ironic that Brits are known for their love of queueing, when nothing makes our blood boil more than waiting in one. Your shoulders tense, you feel hot and your heart pounds, and your mind floods with negative thoughts. In our busy world, many people find themselves stressed and anxious, getting swept along from one thing to the next without having chance to think. Mindfulness is a much-needed pause button. Meditation and mindfulness are starting to make a difference to how people think and react in a variety of situations, from school children to professional athletes and even the military.
For more information of how to stay healthy in the workplace, visit the AXA PPP healthcare Small Business Insight Centre.