We've been feeding cow's milk to children for many years, but did you know that cow's milk protein allergy is the most common allergy among young children? Here's how to spot the warning signs and provide relief if you think your child may be suffering…
In association with PatientClaimline.Com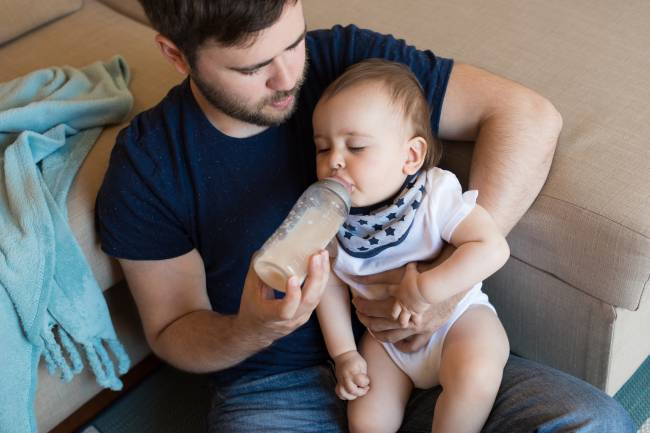 Cow's milk is a foundational aspect of most young children's diets, as it provides essential vitamins and nutrients necessary for growth and development as they age. Parents often don't think twice about giving cow's milk to a child as part of their daily diet, but there are instances where this could create harmful outcomes immediately or over time. When negative reactions to cow's milk occur, it is often the case that a child has cow's milk protein allergy, or CMPA. With this health condition, young children may experience a myriad of symptoms, ranging from mild to severe, that can mimic other less serious health conditions. CMPA deserves attention from parents from the start of a child's life, as it impacts an estimated 2-4% of all children under the age of three.
Cow's milk protein allergy is the most common allergy among young children, but it is a complex issue to resolve despite its prevalence. This is because CMPA can present as either immediate or delayed, with the former taking place within hours of ingesting cow's milk. The latter does not create any symptoms until several days or weeks after feeding, causing some distress and confusion among parents and, in some cases, the child's doctor. To help parents understand CMPA, it is beneficial to review the potential warning signs of the condition along with a proper diagnosis process and alternatives to cow's milk when needed.
Warning signs in infants
Identifying cow's milk protein allergy in small children can present many challenges, mainly due to the fact that the symptoms and warning signs resemble other normal infant conditions that are far less serious. The most common symptoms of CMPA include:
Diarrhea
Bloody stools
Bloating and abdominal pain
Cramping and tenderness in the stomach
Vomiting
A reduced appetite
Weight loss
However, CMPA infants may also show warning signs that are tied to the immune system and allergic reactions, such as skin rash and hives, eczema, wheezing, a running nose, cough or watery eyes. One or more of these symptoms can show up shortly after ingesting dairy or several days afterward, making it even more difficult to get a correct diagnosis from the start.
Diagnosis and treatments
Diagnosing cow's milk protein allergy in young children takes place through a series of steps, starting with a discussion with one's GP about symptoms the child is frequently experiencing. When a cow's milk protein allergy is suspected, the doctor may perform a prick test or a blood test, or an elimination diet may be recommended in order to rule out other causes. In most cases, CMPA also involves a detailed family medical history from the parents, focusing specifically on allergies they experienced as a child or an adult. Once a diagnosis is made, the prognosis for a child with CMPA is incredibly positive, and several treatment options exist.
The problem many parents face in getting a proper diagnosis is the reality that many GPs are not well-trained or confident in their ability to identify cow's milk protein allergy in children. According to a group of medical negligence solicitors, a recent study reveals that nearly 80% of 500 surveyed doctors believe that their colleagues are misdiagnosing CMPA regularly. With an improper diagnosis, infants may experience severe side effects, including increased potential for developmental delays, behavioural challenges later in the life, and digestive issues that are not easy to treat in the future. When symptoms are severe, parents should be referred to a pediatric specialist, a dietician, or both, in order to determine the best course of action for the child in alleviating symptoms and future side effects of CMPA.
Alternatives to cow's milk
Although it may seem as though cow's milk protein allergy has a bleak outlook, the good news for parents is that once the right diagnosis is in place, treatment options are readily available. Pediatric specialists may suggest eliminating cow's milk altogether until the child is older, replacing it with tree-nut milk or rice milk as an alternative. While there are often fewer nutrients and vitamins in cow's milk alternatives, a specialist or dietician can provide options for parents should they decide dairy-free is the most appropriate path.
Parents with children who have cow's milk protein allergy can get an early start toward diagnosis by evaluating the infant's symptoms before heading to their GP. A resource like the symptom checker from Neocate is beneficial in reviewing the medical issues faced by the child, and following up with a journal or diary of symptoms after feeding can be a useful tool. Parents should take the time to recognise the warning signs of CMPA first, and follow up with their GP for a referral when necessary.