The best places in the UK to put pedal to metal
Though a child seat – with its four-point harnesses and body-cradling ergonomics – does resemble a racing style bucket seat, chances are high that your little ones' mum frowns upon you racing round b-roads like Travis Pastrana with your baby on board, or toddlers and teens in tow.
Not that you need to be told not to drive like Lewis Hamilton with you kids in the car, but when was the last time you got the chance to put on your lead boots? Indeed, how many of you were forced to sell up your sporty little number and swap to a boxy-but-good Volvo as soon as the stork paid you a visit?
For the petrolheads and speed junkies inside of all of us, here is our selection of some of the craziest driving days out in the UK today.
Tank paintball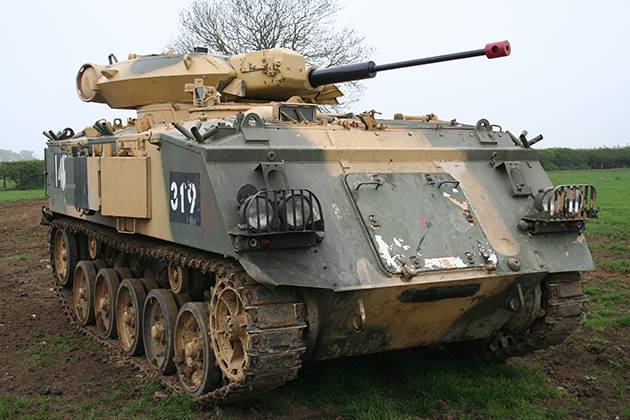 Some argue that, on a subconscious level, people who drive big vehicles are overcompensating for shortcomings in other departments, and this day out will do absolutely nothing to dismiss this theory, as you tear around in a huge tank, spattering others with your messy mark with its enormous paintball gun.
Each tank is crewed by three people who rotate between the roles needed to get the tank moving and into battle – that's driving, arming and, you guessed it, firing. The tank in question is a specially modified 432 APC. In fact, there are two of them – one for your team and one for the opposition. So be prepared to get covered in another team's goo too.
You can try this for yourself in Lutterworth, Leicestershire for £99. For more information visit: www.virginexperiencedays.co.uk
Drive a Formula 1 racing car
Forget taking a fugly, canary yellow Lambourghini out for a spin around a circuit: if you're going to stick to driving on a tarmac track, you might as well make it as exciting as possible and use them for what they were really made for: Formula 1.
With this F1 dream day out, you start by doing five demo laps in a Mini Cooper S followed by a safety briefing. Then, because supercars are still super fun, you get to drive the quintessentially (though not actually) English, Aston Martin V8 Vantage, and the (far classier than a Lambo) Italian stallion, Ferrari 360, for six miles each.
Then you'll go solo for 10 laps in a single-seater Formula Ford, before upgrading to a stunning Formula 3 racing machine.
Next up is the main event, with 10 laps in either the 1996 Italian Forti-Corse FG03 (as driven by Luca Badoer), or the 1994 Arrows FA14 (as driven by Aguri Suzuki). These 600 bhp machines will redefine your notions of speed and road handling and provide an adrenaline rush you just can't get on the school run.
This one is not cheap, but for those with plenty of the folding stuff, you can try this yourself in Wigan, Lancashire for £1,699. For more information, visit: www.redletterdays.co.uk
Monster truck madness
There's only one US-spec monster truck in the whole of the UK, and you have a chance to drive it. These humungous, 7.5 litre trucks are equipped with six foot tall tyres, so you'll need a head for heights just to ascend the very long ladder to the driving seat.
Not only do you get to cause mayhem in this all-American behemoth, but you'll also get to chew up challenging course in a European monster truck as well as Kubota earth mover. You're going to wish you had one of these babies the next time you hit a traffic jam.
You can have a go at this in West Sussex for £229. For more information visit: wish.co.uk
Stunt car driving
Love them or loathe them, pretty much all of us are envious of the stupid stunts those silly, erm, chaps on Top Gear get to do.
Now you can be just like Ryan Gosling or, better still, Lee Majors by learning the skills of a getaway driver or stunt car racer for yourself, with this hardcore driving experience brought to you by Top Gear stunt driver, Paul Swift. Not only is Paul the unknown stuntman that makes Clarkson look so fine, but he's also a seven time-British Motorsport Champion and a Guinness World Record holder.
His team will give you the opportunity to try some of their most exciting driving stunts in their fleet of performance cars, as you learn how to drift, spin donuts, do 360-degree handbrake turns and perform the perfect J-turn just like in the movies. You can even learn how to high-speed parallel park, so you can be even more of a sarky git the next time a friend or partner struggles to get into a tight spot.
Once the stunt driving manoeuvres have been perfected, try your hand at their challenging auto test stunt track. Set your best lap time on their online leader board and complete a head-to-head knock out competition with a special prize for the winner. You too can be a star in an unreasonably-priced car.
Try this for yourself at Silverstone race track for £249. For £20 extra you can add accident damage indemnity, which reduces the potential cost of accident damage from £1,500 to £0, and sounds well worth a score considering what you'll be up to.
For more information, visit: www.silverstone.co.uk
Stock car racing
Better known as banger racing to me and my ilk, stock car racing is kind of like giant petrol-powered dodgems for grown ups.
In this high-octane day out you'll get to compete in an authentic 2000cc single-seater Formula 2 stock car, driving in two race heats of the Stockcar Championship, which is eight laps per heat. Try the Professionals Challenge (in fully race prepared off road Sierra bangers), the Del-Boy Challenge (in Reliant Robins), Push-Me-Pull-You cars (akin to Strictly Come Dancing on four wheels) and the Nag Drag Challenge (driving blindfolded, following instructions from a co-driver).
The excitement builds as drivers' battle it out in the championship finals, with race marshals, live PA commentary, and a crowd of cheering fans egging you on to clinch a winners trophy (and there are certificates for all, win or lose).
Best of all, with these bumber cars you won't have a fairground carny hanging off the back of your vehicle trying to steer it over your shoulder for you.
Have a go yourself in Northampton, Northamptonshire for £189. For more information, visit: www.redletterdays.co.uk
… And if you feel mean having all this fun without the kids, then you can always treat them to a junior driving experience from this selection: www.virginexperiencedays.co.uk/kids