As a condemned shopping centre in Reading is apparently taken over by zombies, DAD.info investigates what must be the UK's ultimate survival-horror experience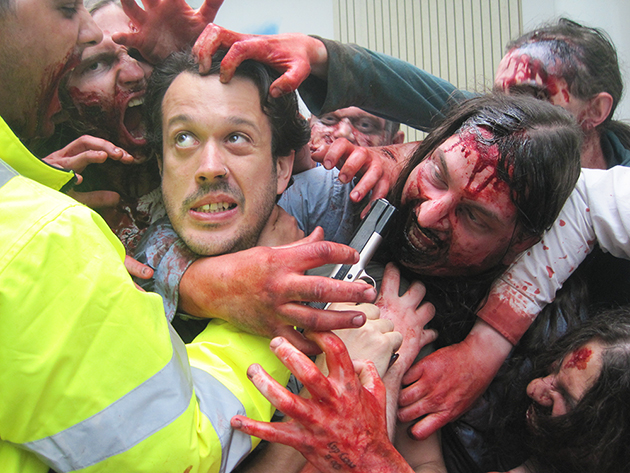 For the last 10 minutes I've been lost and alone in near complete darkness, wandering the labyrinthine corridors and store rooms of an abandoned shopping centre's basement. I'm on a resupply mission having run out of ammunition; my empty shotgun hangs useless by my side. The pen-sized torch in my left hand offers little illumination through doorways to pitch-black rooms, instead lighting up the insane ramblings scrawled across the corridor walls.
I glance at the crazed daubing in front of me, I realise I've already seen it: I've been here before. I'm walking in circles, rudderless in this claustrophobic blackness. Anyone with an overactive imagination would frighten the lives out of themselves down here.
I'm navigating as much by my other senses as by vision: my olfactory unit – having only recently stopped reeling from the stench of rotting human remains in the makeshift medical ward upstairs – detects the smell of damp as I enter a new space. The echo of water dripping from the ceiling tells me the size of the room I'm passing through and now, as I enter a doorway, the sound of my breath against the close walls tells me I'm in a confined space. A small room with locked doors.
I listen closely: distant gunfire; a chorus of unintelligible cries and groans a few floors above me; my own footsteps; my heartbeat; the creak of the one door I neglected to check, opening behind me! I wheel round, my torchlight falls on a face of rotted flesh, rows of hungry teeth exposed by a bloody mouth hanging agape, gashed open from nose to cheek. Decomposing fingers grasp for my throat…
"I'm already dead!" I shout. The zombie halts his attack, flashes me a brief grin and then shuffles off to find more human flesh to feast upon. I settle for a Jammie Dodger and a cup of tea back at the safe room, while a nice man reloads my airsoft 'shotgun' for me.
Today I'm choosing to spend my Saturday locked inside the now derelict Friar's Walk shopping centre in Reading, being chased by legions of the living dead. Why? Well, Lee Fields, director of Zed Events, has rented out the condemned complex in its entirety and filled it with an army of grotesque zombies, beleaguered tactical units and the occasional militant nut-job just so members of the public can get a real-life experience of what it would be like to try to survive a zombie apocalypse.
Fans of the horror sub-genre can don tactical vests, get their hands on some realistic-looking airsoft weapons and pump lead (read, small plastic balls) into the decaying flesh of an undead infestation. The whole thing is very much an homage to George A Romero's satirical horror classic Dawn of the Dead… but with better special effects.
Nicholas Thompson – who has worked on movies such as Confine, starring Daisy Lowe – is the make-up artist responsible for the look (and, if you're unlucky enough, the feel) of the zombies: "I use a palette of natural effects and skin tones," he says, "zombie movie fans who come to these events want to see movie-quality effects rather than a slap of red and a cut with some ketchup oozing out of it."
This event will surely evoke fond memories for anyone who ever spent their early teens running around disused quarries or back gardens, shooting their mates with BB guns. If this pursuit then seems somewhat childish for a bunch of thirty-something adults, consider that when you were a kid you never had the kind of budget you'd expect from an early Peter Jackson film at your disposal… and with Nicholas' gruesome creations stalking you through an unlit, abandoned shopping complex, this is very much playtime for grown-ups.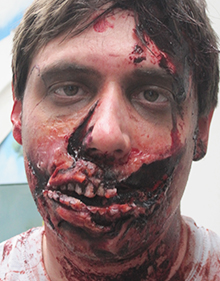 The day is broken up into two main sections: first, all players are led through a plot-driven, movie-style search and rescue encounter, guided by the remnants of an armed police unit. Latterly, small teams of combatants are sent into the Z-zone alone to fend for themselves in a couple of video game style missions.
After our initial briefing and receiving our 'tac' vests, equipment and weapons, we begin our elaborate story mission, replete with undead hordes popping out of everywhere from grisly, stinking field hospitals to children's soft play areas. We're on a quest to find out what has become of a missing police unit, so we navigate the makeshift barricades, descending emergency shutters and derelict storerooms in search of the shopping centre's security CCTV footage.
I won't continue and spoil the story too much, but I'll admit that after the initial creeping fear of being attacked in the dark subsides, I start to feel rather cocky as I stalk the empty halls and deserted shops, pump-action shotgun slung over my shoulder. Rather than being terrified, it has to be said that I feel decidedly safe from these Romero-style shuffling zombies, surrounded as I am by 18 fellow armed combatants and 'police' all toting smoke grenades and assault rifles, helping us cut down reanimated corpses.
As the story concludes, we're sent to load up our guns before beginning a capture-the-flag style second mission, where we must recover ammunition cans and documents. I find the game a lot more intense and claustrophobic than the choreographed movie-style experience.
Ill-organised, my teammates are quickly divided and individually conquered by the zombie hordes who now move as fast as 28 Days Later's reanimated corpses. I soon fall foul of a faulty gun which reminds me of the pesky airsoft games of my childhood, but once re-equipped and sent back out alone into the abandoned building, I'm still feeling confident enough to blast my way through the undead legions without back-up.
It's pretty hectic out here, I'm strafing, ducking, diving into cover, fleeing and at times running backwards while spraying 'bullets' at the lightning-quick flesh-eaters. They're clearly just as intent on the win as us this time. I soon realise the folly of my trigger-happy ways in having gone it alone though: when I run out of ammo in the face of a crowd of zombies, I'm forced to flee to the upper levels only to be met by a locked door, leaving me no option but to hide and wait for certain 'death' as a menacing horde of undead slowly ascend the stairs toward me. The irony of me carrying a prop ammunition tin next to my empty shotgun is not lost on me as I'm 'eviscerated'.
The third game, which involves working together to protect a 'mad scientist' (one of our group), sees the teams more focused as we arrange ourselves into an advanced unit, rearguard and personal escorts to protect the possessor of the antivirus.
Though we successfully keep him from harm, without a clear mission objective other than to protect him for 15 minutes, we are torn between our desire to simply win the game, and therefore camp out in darkened corners of derelict shops forming a protective shield around him, or to have fun and get into a massive gun battle with the zombies.
We end up combining the two, losing half of our unit to a surprise attack and then fortunately stumbling into the B-team and regrouping far from the zombie massacre, extinguishing our torches and sitting tight in the darkness, guns trained on doorways, ears pricked for approaching groans.
If all of this sounds like the Resident Evil videogames made (desiccated) flesh, or like playing a part in a real-life horror B-movie, then that's exactly how it is. It's the most fun you can have with a BB gun.
Related articles:
Our five favourite Halloween celebrations around the world
The best Halloween family days out
REVIEW: On Set With John Carpenter – The Photographs of Kim Gottlieb Walker