Panel discussion on equal rights for both parents forms part of a series of free events inspired by Laurie Slade's acclaimed new adaptation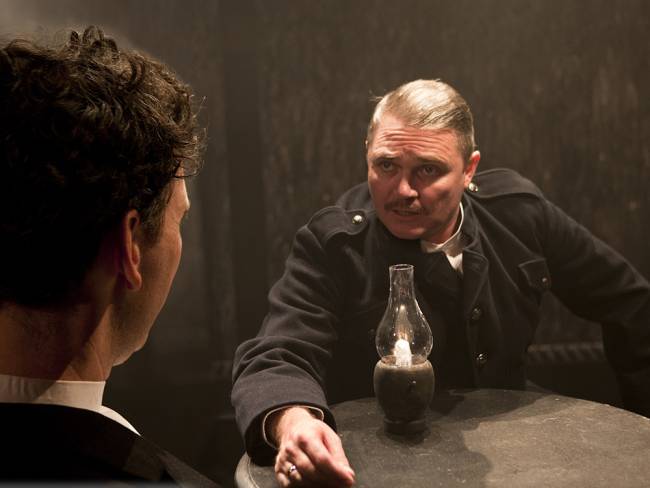 On Monday 30 March, a debate entitled 'Parenting Rights: Does Mummy or Daddy Know Best?' considers whether equal parenting is truly possible and how we can strive for equal rights for mothers and fathers.
The panel will consist of Matt O'Connor (Founder, Fathers 4 Justice), and Sally Peck (Editor of the Telegraph's parenting hub, Mother Tongue), as well as cast members from Laurie Slade's acclaimed new version of August Strindberg's The Father: Alex Ferns, Robert Wilfort and Thomas Coombes. More guests are to be confirmed.
Produced and chaired by theatre industry commentator Terri Paddock, the series of debates will take place throughout the run of The Father and will provide a forum for some of today's most respected thinkers, prominent activists, arts practitioners and cultural leaders to engage with the play's themes of equality, parenting and attitudes to gender roles. Key speakers will include Caroline Criado-Perez, Lucy Ann Holmes, Polly Neate, Polly Toynbee, Sally Peck, Stephanie Street and Alistair Smith.
This adaptation of The Father, to be given its London premiere at Trafalgar Studios from 17 March, will mark the first time August Strindberg's play has been performed in a London theatre in 50 years.
Directed by Abbey Wright, former Resident Assistant Director at the Donmar Warehouse, Laurie Slade's contemporary version of Strindberg's masterpiece will star Alex Ferns as the Captain. The adaptation originally ran in a critically acclaimed production at the Belgrade Theatre, Coventry in 2012 and has subsequently been broadcast on BBC Radio 3.
Two more spin-off debates taking place are 'Feminism in the age of Fifty Shades of Grey,' on Monday 23 March, which will ask where feminism stands in light of E.L. James's Fifty Shades of Grey and The Sun newspaper's Page 3. Joining the panel will be: Natalie Collins (Founder, Fifty Shades is Domestic Abuse campaign); Caroline Criado-Perez (journalist, feminist campaigner and author of Do It Like a Woman); Lucy Ann Holmes (Founder, No More Page 3); Polly Neate (CEO, Women's Aid); Tim Robey (Telegraph Film Critic) and Polly Toynbee (Guardian columnist and ex-BBC Social Affairs Editor).
The final panel discussion will take place on Tuesday 7 April, and will look at 'Women in the Arts: What's being done about gender equality', with a panel made up of: Stella Duffy (theatremaker, campaigner and Creator of Fun Places); Alistair Smith (Editor, The Stage), Stephanie Street (actor, writer, Founder Member of The Act of Change project); Emily Dobbs (actor in and producer of The Father), June Watson (Actor in The Father) and Abbey Wright (Director of The Father and the forthcoming The Mentalists).
All panel events will take place directly after evening performances and are free and open to anyone with a valid ticket or ticket stub to any performance of The Father.
To book, visit: www.atgtickets.com