With Father's Day approaching, this is a great time to get a little kudos with your significant other and treat her and the kids to a day out at the mall. If you think that sounds like a wasted weekend or Hell on Earth, then fear not – we'll show you how to turn a shopping trip into a day fit for a dad…
In association with Liverpool ONE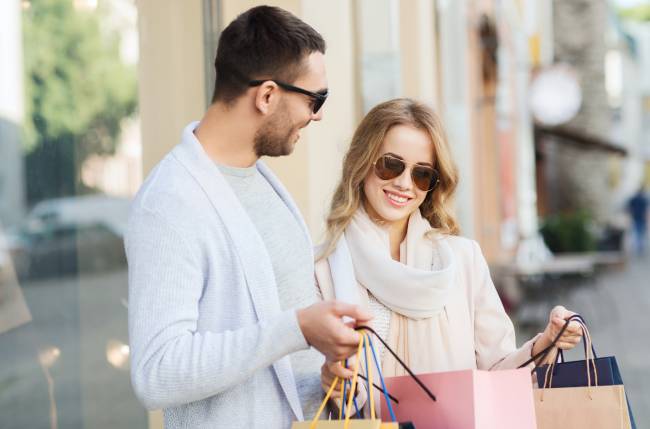 Let's face it, we lads are not known for our love of shopping. While many of us are becoming more style conscious than ever and not averse to picking out some men's fashions (and some among us are even purchasing an extensive array of grooming products), the idea of walking around women's clothes shops all day still fills us with dread.
With Father's Day just around the corner though (17th June this year), we shouldn't be too reluctant to join our other halves on a visit to to the shops: take your partner to the mall without whinging and you may earn some major Cub Scout credits (or Brownie points, if you must) while dropping some gentle hints about which gifts you'd like to wake up to on Fathering Sunday.
Keep it subtle though, so start out the day by taking the lady in your life to a few clothing stores, from Victoria's Secret to Zara, at open-air shopping complex, Liverpool ONE. Don't worry, your children will have an even shorter attention span for women's fashions than you so, after half an hour or so, be a hero and offer to keep them entertained while she heads to Urban Decay for make-up, or treats herself at Pandora or Swarovski. Aren't you a great guy?
Well, kind of – there's plenty to entertain your little ones at Liverpool ONE, and let's face it, the things that keep our kids happy tend to put a smile on our faces too, so it's really not going to be much of a chore. After a trip to the Disney Store or the Lego Shop, tire your tots out at Jungle Rumble indoor adventure golf, or – on sunny days – along the nature trail in Chavasse Park, before heading to the 18-screen cinema, to take in the latest summer blockbuster in 3D or IMAX.
That's right, an IMAX screen in a shopping complex. The ODEON at Liverpool ONE even has D-Box seating, which – combined with 3D cinema action – creates a totally immersive big-screen experience as your chair moves in sync with the movies, simulating fast-and-furious car chase acceleration, or the Earth's apocalyptic rumblings. It's awesome (and your children will love it too).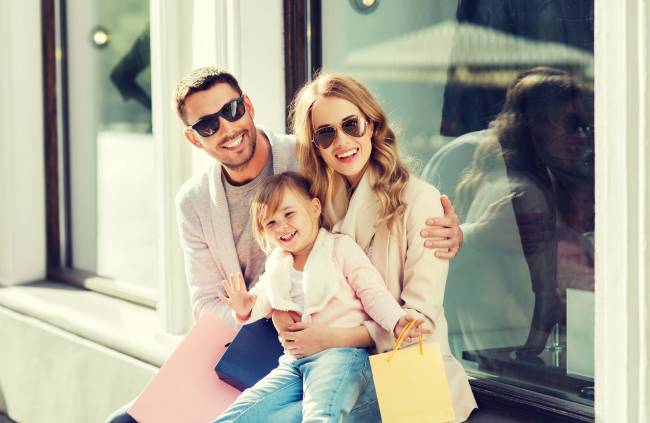 After a day of fun at the flicks, pick up your partner and take her for dinner. What a total gent you are, and isn't it a happy coincidence that there are so many man-friendly – uh, we mean child-friendly – menus at Liverpool ONE? With Thai food, pizza, and more burritos and burgers than you can shake a stick at, head to Tortilla, Wahaca, or Barburrito for a Mexican feast; Jamie's Italian, Zizzi, Pizza Hut, or Pizza Express, for – well – a pizza, of course; or you can treat your family to a burger at Ed's Easy Diner, Five Guys, or Gourmet Burger Kitchen.
After making a fuss of your partner and looking after the kids all day while she enjoys a shopping spree, you should have earned some serious kudos (just for having fun, watching a movie and eating a slap-up meal), so on the way back to the car, perhaps you'll spot something you've always wanted at The Apple Store, Game, HMV, or Evans Cycles, that you can casually mention before heading home? Liverpool FC and Everton fans might want to quickly pop into the official LFC Store or the Everton Two Shop to give your family a few gift ideas for their wonderful partner/dad, and out-of-towners can still get their sports fix at JD Sports, Sports Direct, or Adidas.
Hey – you've earned it, after all!
For more information on the extensive facilities, shops, and entertainment at Liverpool ONE, visit liverpool-one.com