Of course you're leaving it to the last minute: you're a man. You may be desperate for ideas, but flowers are forgettable, chocolates a cliché, dinner done to death, and buying lingerie is really a gift to yourself, not to mention a minefield.
Planning an unforgettable day away for your partner is the way to go, so check out our top tips for amazing Valentine's Days (and nights) that have not yet sold out. Hurry up and book though, you slackers!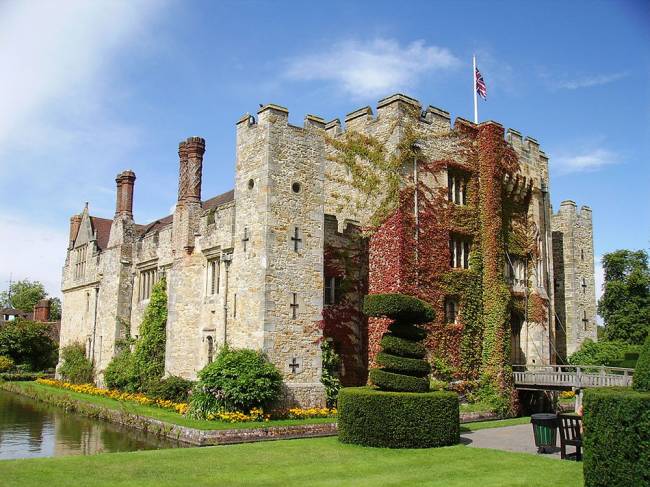 Hever Castle's Valentine's Day and Stay – Kent
Get lucky with your lady by booking a trip to Hever Castle and Penshurst Place on Friday 13 February.
If the sumptuous sets and moody machinations of BBC Two's Wolf Hall have given you a taste for all things Tudor, then why not spend Valentine's weekend exploring, eating and sleeping in the locations where one of history's great tales of passion played out?
The early days of King Henry VIII and Anne Boleyn's romance centred around Anne's childhood home in Kent, Hever Castle, and the imposing Penshurst Place and Gardens where Henry stayed so he could be close to his beloved – and where scenes from Wolf Hall were recently filmed.
A three-course meal with wine, coffee and chocolates will follow in the impressive Tudor Suite Dining Room, with music from a harpist adding to the romantic experience. Then it's off to the bedroom to treat your partner like a queen…
Wake up on Valentine's Day and enjoy a champagne breakfast with a red rose for each couple. To round off a memorable occasion, a private guided tour of Hever Castle will take place after you check out, and all packages include complimentary access to the castle and grounds.
Hever Castle's Valentine's Dine & Stay packages start from £190.00 per person.
For more information, visit: www.hevercastle.co.uk
A romantic rail ride – Devon
Enjoy your own Brief Encounter moments with a romantic ride along the South Devon Railway on a period-perfect steam train.
This seven-mile former Great Western Railway branch line, built in 1872, runs along the picturesque valley of the River Dart between Buckfastleigh and Totnes. Stopping at Buckfastleigh, couples can stroll the beautiful grounds of the famous Buckfast Abbey, meet the Dartmoor otters and see Buckfast Butterflies for a romantic Valentine's Day out.
There is free parking for those who park at Buckfastleigh station and an adult return ticket is priced at £14.00. For more information, call: 01364 644370
The Dark Side of Love masked ball – London
If you want to experience a very different Valentine's date this year, you could try heading down to the Coronet Theatre on Friday 13 February for a delinquent night of delirium and debauchery. Naked, gold-covered cupids will wait on you hand-and-foot as you bathe in hot tubs while mischievous succubae and incubi launch the occasional cream cake into the crowd. 200 performers will entertain you with vaudevillian cabaret, burlesque, mime, fire and fetishism, as murderpunk bands play twisted tunes, traveling menageries ply the halls and DJs spin vintage vinyl.
Meanwhile, in the confines of the basement, there's an onion-chopping event so the lovelorn, jilted, heartbroken and star-crossed have a good excuse for some crying-in-public group therapy.
For more information, visit: www.acuriousinvitation.com
Laugh at Love – Exeter
Exeter Phoenix, located on the city's famous Gandy Street, is showcasing a production that shows the path of true love in a kaleidoscopic whirl of funny and feel-good tales for Valentine's Day.
The folk and fairytale inspired production includes free marriage guidance and Lovehearts sweets and there will even be charm boxes available to purchase as a memento. For those looking for a good laugh at the ludicrous side of love, this is the perfect production.
Saturday 14th February from 8.00 PM. Tickets cost £6.00. For more information, call: 01392 667080