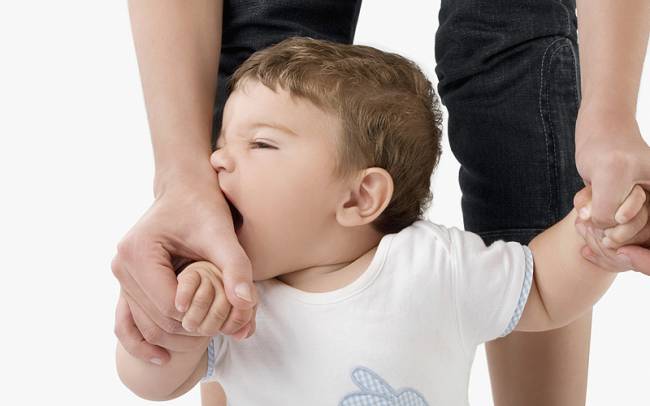 Inevitably, your little one will come home from nursery with a bump or bruise from time to time. But being bitten by a hungry peer, on consecutive days, creates an unwanted and unhappy dilemma – what do you do?
What do you do when your precious, vulnerable little one, aged a mere 18-months, leaves nursery with a full-mouth bite mark on his hand? Worse, what happens if the next day he returns home having suffered an almost identical mauling – though this time with the skin pierced – on the other hand? How would you react? Is a tetanus jab the answer when one of your offspring's peers has a Mike Tyson moment, or two, or more?
Of course the nursery workers have a duty of care to protect their clients' youngsters, but to demonise and single out an evidently hungry individual seems wrong, too. What would you do?
My wife, Clare, and I were faced with these puzzlers, and this unwanted and unhappy dilemma, the other week, when our bundle of joy, Freddie, was bitten on consecutive days. Not that he complained too much, typically. We felt obliged to flag up our worry that he was being victimised, and – more pertinently – didn't seem safe at nursery. After all (and with apologies to Oscar Wilde), to be bitten once may be regarded as a misfortune; to be bitten twice looks like carelessness.
The nursery head admitted that they had never had to deal with a child quite so prone to biting before. Sure, they had had the odd nibbler, but the phase – usually borne out of a frustration of not being able to communicate – seemed to soon pass. Never had they endured a serial repeat offender. She let slip that the child in question had previously targeted another poor victim, and that they had tried to determine the reason for the biting. Was it tiredness, hunger (!), excitement, or something else? They did not know; he seemed to bite whatever the occasion.
A meeting with the biting child's parents was hastily arranged by the nursery head, not that my wife, Clare, and I were optimistic about the outcome of such a confab. What could the parents do? It was embarrassing for everyone, though we vowed to organise a playdate between Freddie and the biter, so they would feel more comfortable with each other. Sensible? I regretted this immediately, for fear that it would mean further exposure to the gnashing kid.
Ah well. It's been almost a fortnight since Freddie has been bitten (and no play dates have been organised), so perhaps the staff at the nursery are keeping them apart.
Our son has bigger worries, in truth, as he is currently undergoing 'cold turkey' treatment from his monkey comforter, which he claims he need in order to sleep.
Since he was about a month old Freddie has had one of three of these monkeys – we have them on rotation, so as they don't become too mangled and malodorous – in his cot. He sucks the label, protruding from the animal's bum, even as he snoozes. It's gross. And we were starting to wonder whether the monkey sucking was affecting his health, as some nights he would cough unrelentingly.
It's been two sleeps without monkey now. Freddie yearns for his comforter, inevitably, though we will have to be strong, not cave in and never return the slimed-on simian sleep soother. Hopefully it will soon pass, the monkey business at nursery and at home, and life will become less punctuated by bites. If not, I'm thinking of dishing out mouth guards, en masse.